Quick Steps You Can Take to Improve Your Business Website's SEO Today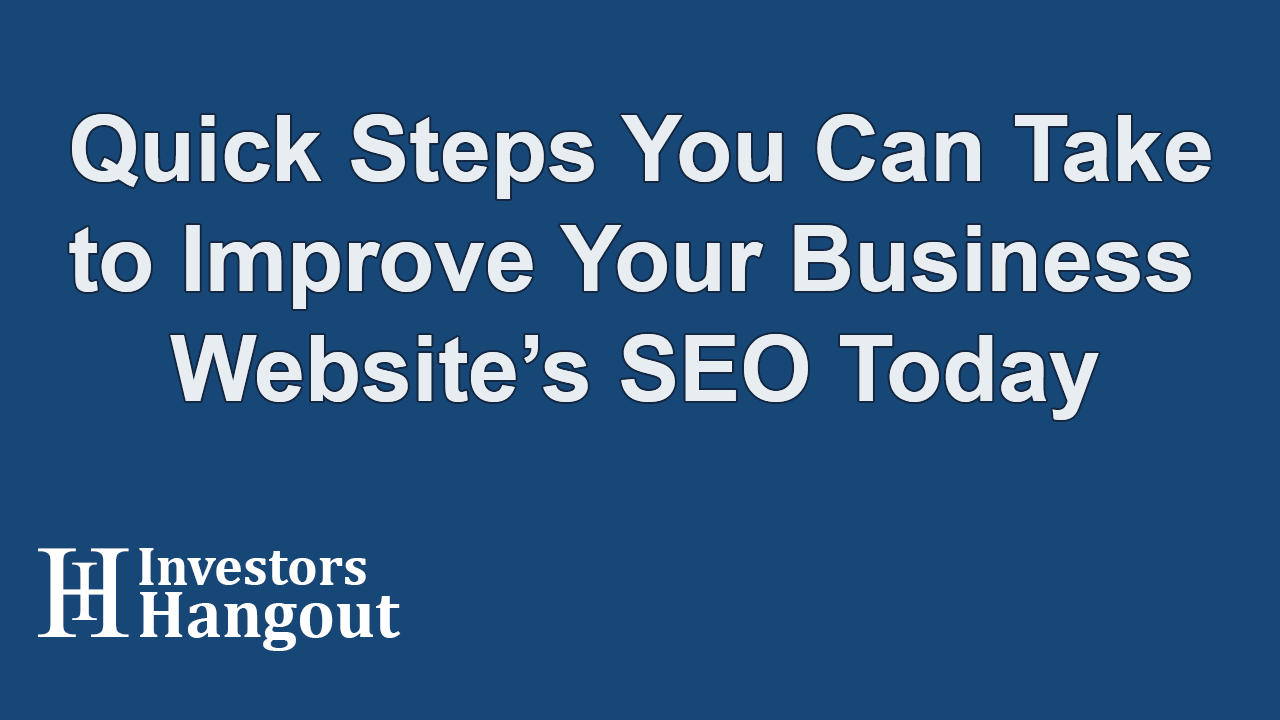 Author: Editor
Views: 4454
Updated: 04-09-2019
What makes your business strategy effective and attractive? Do you want the world to know how great your business is or you just want them to stumble on your business by mistake and lose the opportunity to 'Wow' them?
If you want the world to know about your amazing business then "SEO" also known as Search Engine Optimization is your best option and here are a few quick tips to boost your SEO regime to not only boost your own business but if you want to outsource this service and gain money from this which is quite popular these days, then these quick tips can also help reshape your SEO reseller plans.
Here are some quick steps to step up your business's SEO game
Optimization of Social Media profiles
In today's day and age, Social Media marketing is everything and maintaining your presence in the market is most effectively accomplished by Social Media profiles. There are various techniques to maximize your presence on social media such as, using phrases and words that best describe your business.
For example, to optimize your Facebook page for searches in your local area or anyone wanting to know your company, it is very important to include your address, city, state and zip-code. Also trade off sharing your social channels on your business website and vice versa. This is accomplished by both SEO and SEM (Ad marketing) which will put your website on the top rankings at a price.
Optimize your social media content/ updates
To optimize your content, the inclusion of relevant search keywords is crucial as it's the key for people to find your business on the internet. Whether it may be your monthly statistics or your services as a business or if you're a business about broadcasting financial news, all these have different specific keywords and if you want your content to stand out then you have to work on optimizing ways for people to find you straight on the first click and that can be achieved through optimizing content.
Making your content shareable
Linking your business with the audience is the core premise behind SEO and that can be achieved through website to website relationships with links acting as a bridge. Likes, comments, retweets and Instagram stories are major players in putting weightage to your content. The days of writing 20 pages just to get your point across are gone and today you just have to make a compelling post to get the attention of the reader and in turn you get to improve the value of your SEO. Another method used by tech youtubers and social media experts alike is the placement of share buttons to different social media handles on a content post which makes it easier for the reader to enjoy your content first and share it along to his/her peers and colleagues etc.
Use Pinterest
Shareable content is also created through Pinterest. Pinterest is amazing at improving the keyword strategy and link building for the content of your business's website. Google indexes pages from websites with heavy traffic faster and higher in a SERP (search engine results page). You can increase your content's visibility in SERP's by adding relevant keywords that will give your website a boost of views by keeping the keywords within the Pinterest board, the board's description and you can even describe an individual pin in 500 characters.
Be Consistent with your content posting
Another method to be successful in making your presence known is to generate good content but also on a regular basis to keep the dust off of your business and you can keep the content and your presence fresh and be relevant.
For example, when you have a business that constantly produces new products but under the same genre, you have to promote them regularly while keeping your integrity and content quality so you have to keep posting and keep your marketing busy and fresh.
Invest in an SEO tool
Depending on how much you regard the progression of your business to grow as quickly as possible you should really invest in a SEO tool because nowadays competing with other company's SEO rankings can be a challenge and impossible without the help of SEO software's like Moz, HubSpot's keywords tool and Yoast etc.