Is Investing in Penny Stocks Worth it?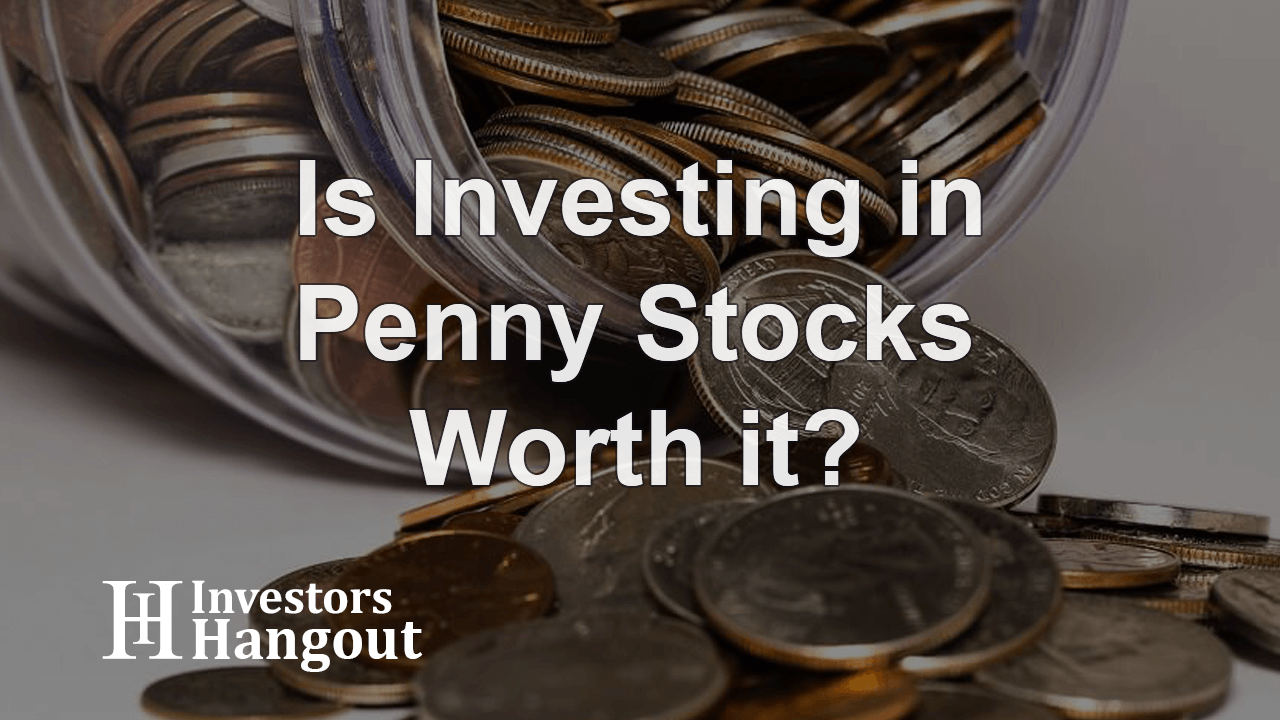 Author: Anita
Views: 720
Updated: 10-11-2021
In the simplest of terms, the SEC has defined penny stocks as any stock that lists for under $5 per share. Although the dollar amount was originally set for any stock that sold for $1 or less, inflationary trends over the past two or three decades have caused the powers-to-be raise the amount. Thus, what do we know about penny stocks today? You'll find many savvy investors who use the discussion forums and message boards at Investors Hangout to be of great help where penny stocks are concerned. They discuss trends, share data analysis and help newbie investors learn the ropes quickly.
Understanding more about Penny Stocks
If you're just starting out investing in penny stocks, know this. Just like the stocks that are listed on the NASDAQ, the NYSE, or any of the other major markets, there is a certain element of risk involved. That is especially true where penny stocks are the subject at hand. The term "micro-cap stocks" are often used interchangeably with "penny stocks." From a technical standpoint, micro-cap stocks are based on market capitalization whereas penny stocks are viewed in terms of their listing price.
Many of the Investors Hangout participants will tell you that, compared to traditional stocks, penny stocks involve a higher level of risk. Most investors who dabble in these types of stocks do so in order to make a quick profit with short-term holdings. Keep in mind that successful companies don't start off that way. Granted, there are a lot of success stories like Amazon and Facebook, but chances are, you'll lose money looking for the next "big thing."
Conversely, there is the potential for high returns on a small investment. Furthermore, you won't find penny stocks listed on any of the major markets due to SEC rules and regulations. For all intents and purposes, you'll find penny stocks in one of two places – either on the Over-the-Counter Bulletin Board (OTCBB) or on the Pink Sheets. You should approach these exchanges with caution, for two reasons:
First and foremost, the SEC does not require these companies to file with them

Secondly, finding information about these companies is hard which makes it difficult for the investor to formulate any conclusions about the survival of these companies and whether or not they're worth the risk.
Just be aware that whether they are listed on the OTCBB or the Pink Sheets that no minimum standards are required to remain listed in these two venues.
Why is the Element of Risk so high?
For some investors, penny stocks are the stuff that dreams and fantasies are made of. For others, they can be a hellish nightmare. Fundamentally speaking, investing in penny stocks has the potential to be a richly rewarding experience. Additionally, scams are a huge concern in the penny stock arena. The bottom line is that you need to be aware of all the pitfalls involved when investing in these stocks. Here are 4 aspects of penny stocks that make them so much riskier than the traditional major market stocks:
A lack of publicly available information – as we mentioned above, acquiring tangible information from these different penny stock companies has been challenging for some investors that visit Investors Hangout. So this makes it extremely difficult for a person to make a well-informed investment decision. Unfortunately, when you do find information about these penny stock companies, it's not always credible.

Little if any company history – there are two common characteristics that hold true where many penny stock companies are concerned. Many micro-cap or penny stock companies are relatively new in business while others are close to filing bankruptcy. Most of them have poor track records, if any at all. So how do you determine if it's a potentially good investment if there's no historical information?

A low level of liquidity – when a penny stock lacks liquidity, we typically see one of two problems emerge. First and most important, selling the stock could be extremely difficult, if you can sell it at all. Thus, you may have to find a buyer who feels it's a more lucrative investment. Second, low liquidity levels bring about fraudulent activities, such as price manipulation and scams.

NO minimum standards are required – the SEC does not require penny stocks on the OTCBB or Pink Sheets to meet the same rigid standards that are required of stocks listed on the major markets such as the NASDAQ and the NYSE. Where those "shadier" stocks are concerned, that's exactly the reason for being listed on those particular exchanges. The OTCBB requires the filing of timely SEC documents whereas the Pink Sheets, don't have such requirements.
Investors Hangout offers numerous discussion forums and stock message boards. We also feature live feeds that discuss the hottest stocks on the market. This helps you stay abreast of the latest developments, data analysis and a lot of information that you may not be privy to at other websites. For more information, visit our site today.