Pink Sheet Stocks Explained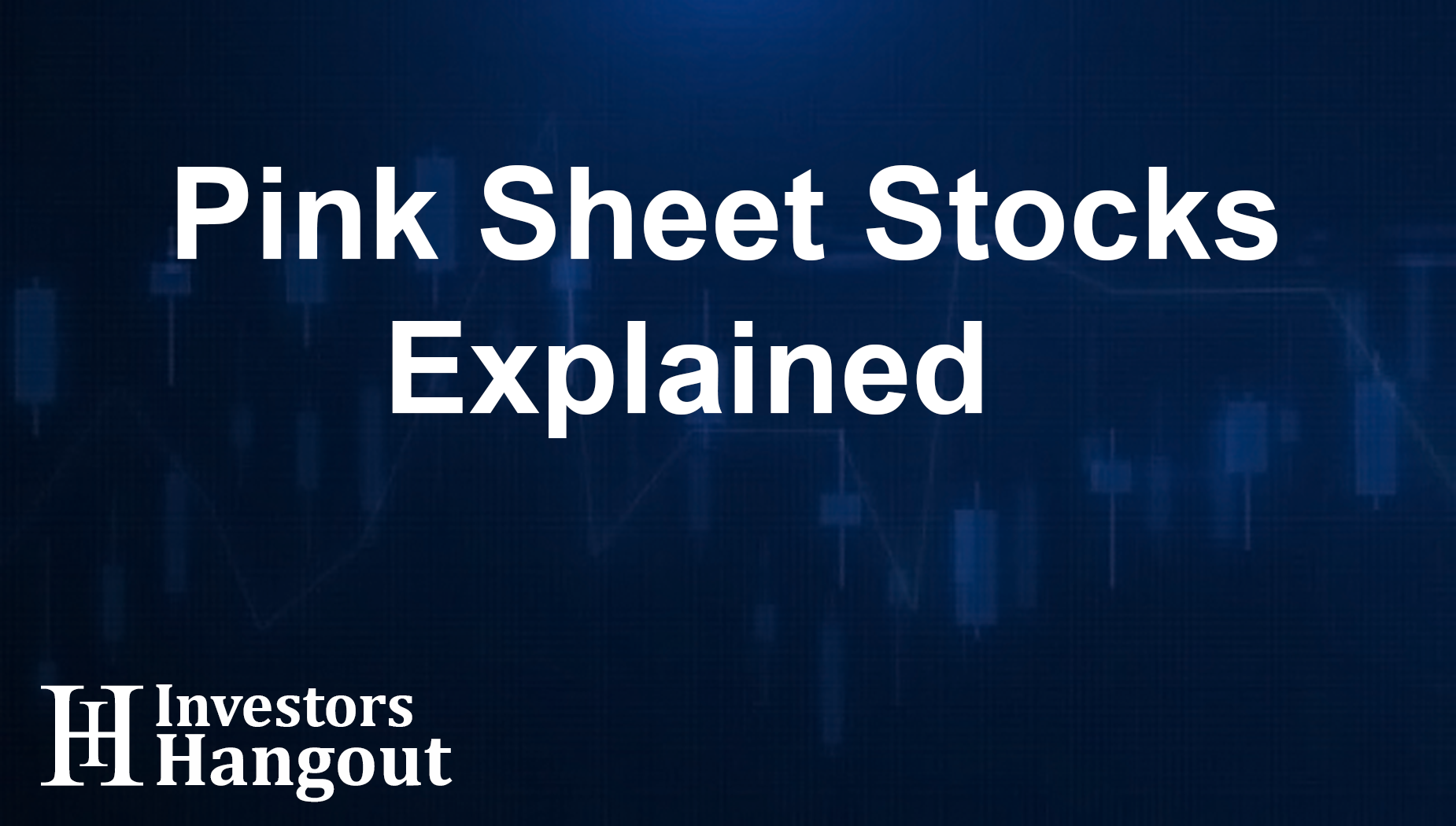 Author: Sejal
Views: 1279
Updated: 10-11-2021
Pink Sheet Stock is a compilation of regular publications of bid and ask-prices of OTC (Over the Counter) stocks. Since they were printed on pink papers, they are known as Pink Sheet Stocks. The National Quotation Bureau compiles the Pink Sheet Stocks.
Pink Sheet Stocks are the same as other stocks where traders of stock market are involved. Companies which are listed in pink sheet systems do not need to meet the minimum requirements to file with the SEC. A decentralized OTC market is used by traders to trade pink sheet securities.
Pink sheet stocks are not actively traded on the Over the Counter Bulletin Board (OTCBB). Pink sheet stocks are traded through NQB. Some units of pink sheets are also handled on NASDAQ with very strict measures.
Some Facts about Pink Sheets
Pink Sheet Stocks are also known as Penny Stocks because of their frequent-minuscule financial value.

Many foreign companies which are restricted to their financial and accounting disclosures generally opt for Pink Sheet Status.
Benefits of Pink Sheet Stocks
These stocks allow investors to find those firms and stocks which cannot be found anywhere.

In Pink Sheet Stocks, small-sized firms could offer good potential growth for investors.
Financial Requirements for Pink Sheets
In order to invest in Pink Sheet Stocks, investors need to fulfill these financial requirements:
To get listed in the Pink Sheet, a company needs to file a form, Form 211, with the OTC Compliance Unit.

The statement filed by the company must be according to the accounting practices of GAAP.

For international companies to be listed in Pink Sheet, home or local country accounting standards must be followed.

The minimum bid price for the listing of a company in Pink Sheet is $0.25 with at least 50 shareholders.
Trading Hours of Pink Sheet Stocks
Trading of pink sheet happens between 9:30 am and 4:00 pm EST. Holidays observed by the market of pink sheet stocks are same as the NASDAQ market.
Risks Involved in Pink Sheet Stocks
SEC does not promote trading of pink sheets because they have very high market risk. With the pink sheets, information about the companies is very limited. In pink sheet stocks, a thin trading volume combines with lack of information and creates a volatile environment, which is generally market manipulated.
Reasons Why Companies Trade on the Pink Sheets
There are approximately 15,000 stocks which trade on the pink sheets. There are several reasons for a company to trade on the pink sheets:
A firm fails to meet the basic requirements for the major stock exchange.

An organization is removed from the major exchange because of the lack of financial information of the company.

A company tumbles off after their stock price goes down under $1.00.

A foreign company does not want to meet the listed requirements of the major US exchange when they effectively meet the necessities in their home country. Employing a group of the administrative and lawful workforce who are specialists in US security law and documentation filing is costly, particularly considering the organizations to have a comparable group of deal with these prerequisites in their home country.
Things to Look Upon While Buying Pink Sheet Stocks
Do proper research of the company
It becomes very difficult to get information of those companies which are traded on the OTC exchange because these companies are very small and closely held also they do not require to file the financial statements with the regulatory authorities.
Companies traded on the OTC are divided into eight tiers on the basis of information available about these companies. Those companies which lack in having any information are listed in the lowest tier. Investors should have proper knowledge of these eight tiers and should be cautious of purchasing stocks of lower tiers.
Consult an investment advisor
It is advised to consult your investment broker before you invest in pink sheet stocks. Your broker may have relevant information about the companies in which you are willing to invest. The information from the broker will help in investigating the company. In order to buy and sell stocks on the OTC exchange, the investor needs to open a brokerage account.
The Bottom Line
Investment in pink sheet stocks is good for those who have a very high risk tolerance capacity and who understand that their entire investment can be wiped out in seconds. Apart from that, investment in pink sheet stocks is fun! Before investing in pink sheets always do a proper investigation of the company.