CMGO Stock Price (CMG Holdings Group Inc) Back On The Rise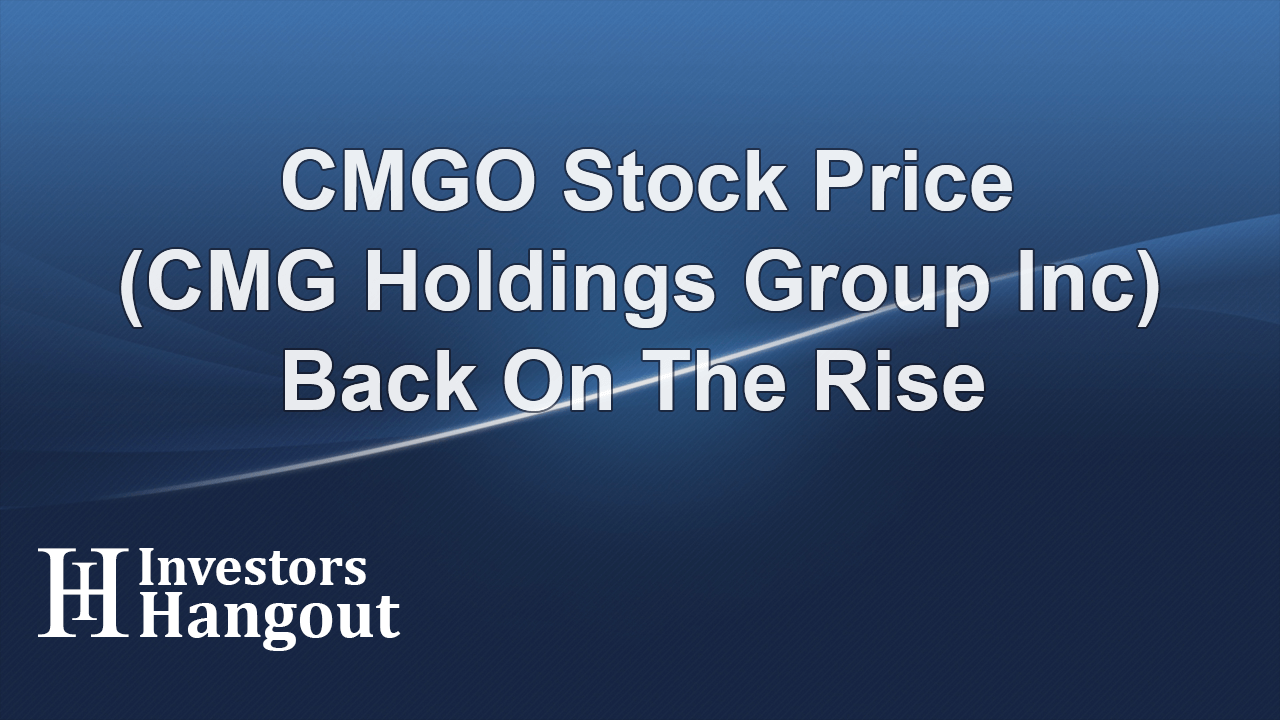 CMGO Current Trading Conditions
CMGO Stock closed Monday April 1st 2019 at .02 with 13.35 million shares traded. Currently the PPS (Price Per Share) is above the 20 and 30 day simple moving averages which are key levels I watch for.
Past Trading Conditions
CMG Holdings Group Inc has seen a steady climb up the daily stock chart staying above the key indicators I watch 10, 20 and 30 day simple moving averages. Looking at the chart it appears this stock really began moving on March 4th 2019 when the stock broke through the 10, 20 and 30 day simple moving averages which triggered a nice rally. Since 03-04-2019 the stock price has been riding the upper bollinger band staying above the 10 day simple moving average. The good thing here, in my opinion, is that this stock has been trading healthy with it's ups and downs. It's important for stocks to have a few red days here and there similar to what you seen with a few days up and a day or two down. This keeps the PPS steady and solid minimizing big swings in the stock price.
CMGO Stock Chart Bottom Line
Over the past few trading days CMGO stock price has been pulling back from 03-22-2019 – 03-28-2019. On 03-28-2019 the stock tapped and tested the 20 day simple moving average and held making this a level of solid support. As of right now it appears that the stock is gaining momentum again with the bounce off of the 20 day simple moving average. What I will be watching for now is a break of the 10 day simple moving average to confirm which is at .0212. In my opinion, with volume and a break of .0212 CMGO could breakout again for another move up!
CMGO Stock Chart Video Analysis (CMG Holdings Group Inc.) - 04-01-2019
About CMG Holdings Group Inc
CMG Holdings Group, Inc., a marketing communications company, engages in the operation of organizations in the alternative advertising, digital media, experiential and interactive marketing, and entertainment sectors. The Company is involved in the production and promotion, event design, sponsorship evaluation, negotiation and activation, talent buying, show production, stage and set design, and data analysis and management activities. It also offers branding and design services, such as graphic, industrial and package designs across traditional and new media, public relations, social media, media development and relations, and interactive marketing platforms to provide its clients with customary private digital media networks to design and develop individual broadcasting digital media channels to sell, promote, and enhance their digital media video content through mobile, online, and social mediums. The Company serves clients across the marketing communication industry. CMG Holdings Group, Inc. is based in Chicago, Illinois.
After further research I could not find any other recent news or information on CMG Holdings Group Inc besides OTC Markets which is showing a Stop Sign and a recent shareholder update.
CMG Holdings Group, Inc. Issues Shareholder Update
On March 5th 2019 CMG CEO Glenn Laken announced that they settled its outstanding case with Hudson Gray and other defendants. CMG stated that because of an active NDA they can't discuss much of the settlements. This announcement comes hand in hand with the stock price and chart movements around the beginning of March like we discussed above. The CMG lawsuit was litigated for over four years which involved 6 terabytes of stolen data. The case was financed personally on behalf of CMG shareholders. Glenn also stated that they are preparing to report again with a target date of 04-01-2019. From all of the information I've gathered it seems like CMGO has had a rough past. However, with this recent update things could be turning around.
What do you think about CMGO? Let us know on the CMGO Message Board