Can You Get Rich Trading Penny Stocks?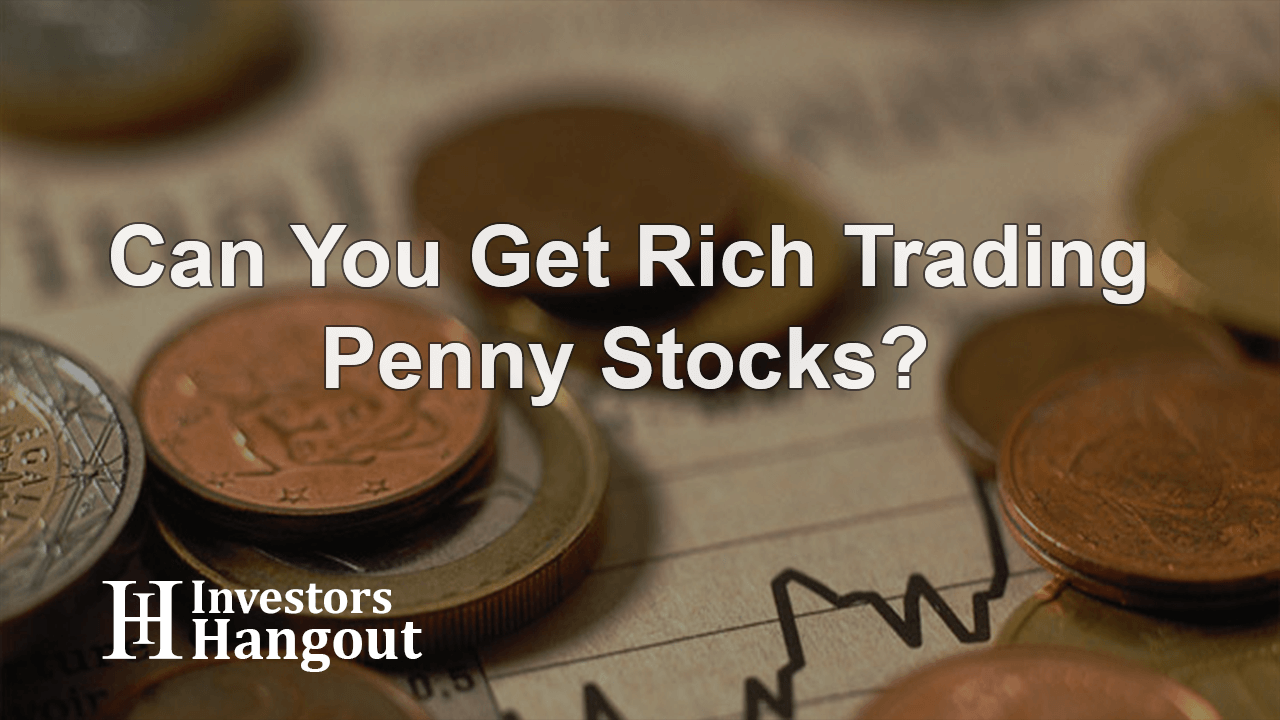 Author: Anita
Views: 1248
Updated: 10-11-2021
In recent years, we've seen a dramatic increase in day trading of penny stocks. This is due in part to a person's ability to turn small investments into large returns and the lower entry barriers that you don't find in the major markets. While savvy penny stock investors quickly learn the potential for making a profit quickly, the majority of them will lose what they invest. So, we ask the question, can a person make a lot of money trading penny stocks?
Although the answer to that question is "yes", you have to realize that trading penny stocks is considerably different from trading normal stocks. If you have any hope of making money with these stocks, you'll need to understand the mechanics of trading penny stocks. If you're just getting started with penny stocks, visit the Investors Hangout. Here you'll find a number of FREE stock trading message boards and investment tools that will help you with your market research.
A subjective Definition
It's important to understand that penny stocks have been subjectively defined as any stock that sells for $5 or less. Furthermore, they're often called by other names such as micro caps and small caps. But the one thing that all penny stocks have in common with one another is that you won't find them listed on any of the major stock markets. As a result, they require a different approach than the more traditional stocks.
You normally see traditional stocks traded on the major exchanges such as the NASDAQ and the NYSE whereas penny stocks are typically traded in the Over-the-Counter (OTC) markets. Consequently, most penny stock trading is done with an online brokerage. Technically speaking and no matter how low the price they are listed at, any stock that's listed in the major markets will not be a penny stock.
Stocks listed on the major exchanges are not viewed as being volatile. Consequently, those provide the investor with a higher level of confidence. Furthermore, those major markets have certain requirements that must be met before any stock can be listed, namely annual listing fees and a minimum market cap. This gives the market the option of delisting any stocks if its price drops too far to meet these criteria.
How to find a potential Money-Maker
As with any stock, Investors Hangout cautions investors about the potential risks involved when trading penny stocks. Many companies turn out to be fly-by-night entities because of their extreme volatility. With penny stocks, making a profit is a combination of two things – knowing what to look for and trading smart. Here are 5 qualities to look for in a potentially profitable penny stock:
First and foremost, don't invest what you can't afford to lose – the risk/reward factor is greater than what you'd experience with large-cap stocks. Therefore you should never invest more than what you can afford to lose. Remember, there are never any "guaranteed" money-makers.
It's all about Diversification – since this is one of the factors in successful penny stock trading, it begs the question "How many of these stocks should I have?" Unfortunately, there is no hard-and-fast answer. Some investors will say that you should purchase 10 to 20 penny stocks while others will tell you to invest in up to 100.
Profitable Companies – invest in companies that have consistently shown a profit while they've been in business. There are 2 schools of thought concerning this:
On one hand, whether you're trading in penny stocks or not, invest in only companies that are publicly traded. This provides you with greater investment liquidity than what you'll find in other private investments. The risk is higher, but you can exit faster.

Conversely, you have built-in longer holding periods with private investments. In some cases, these holding periods can be up to 5 years. The bottom line is that you have to be able to cope with uncertainty when investing in penny stocks.
Strong balance sheets – start by looking for companies that are financially strong. The best companies to invest in are those with an LTD (Long-Term Debt) that is 50% of shareholder equity or less. Try to focus your investing on companies who have a less-than-market-cap LTD. The key is to look for a company whose profits are current.
Understand the Company you're investing in –it's important to know exactly what you're getting into when trading penny stocks. As the old adage says, never invest in a stock if you don't know what that company does.
The bottom line when it comes to trading penny stocks is this. For every success story about trading penny stocks, the damage trail along the investment highway is littered with hundreds of financial failures. Investors might get confused and that is why discussing with experts helps. With a multitude of forums and educative resources available online, we can help. Sign up today at Investors Hangout and chat with experienced penny stock investors to learn more about penny stocks. We'll be available to help around the clock. Don't wait any longer, sign up today and explore the cutting edge data analysis and latest information on all stocks.