Why Investing in Penny Stocks Can Be a Bad Idea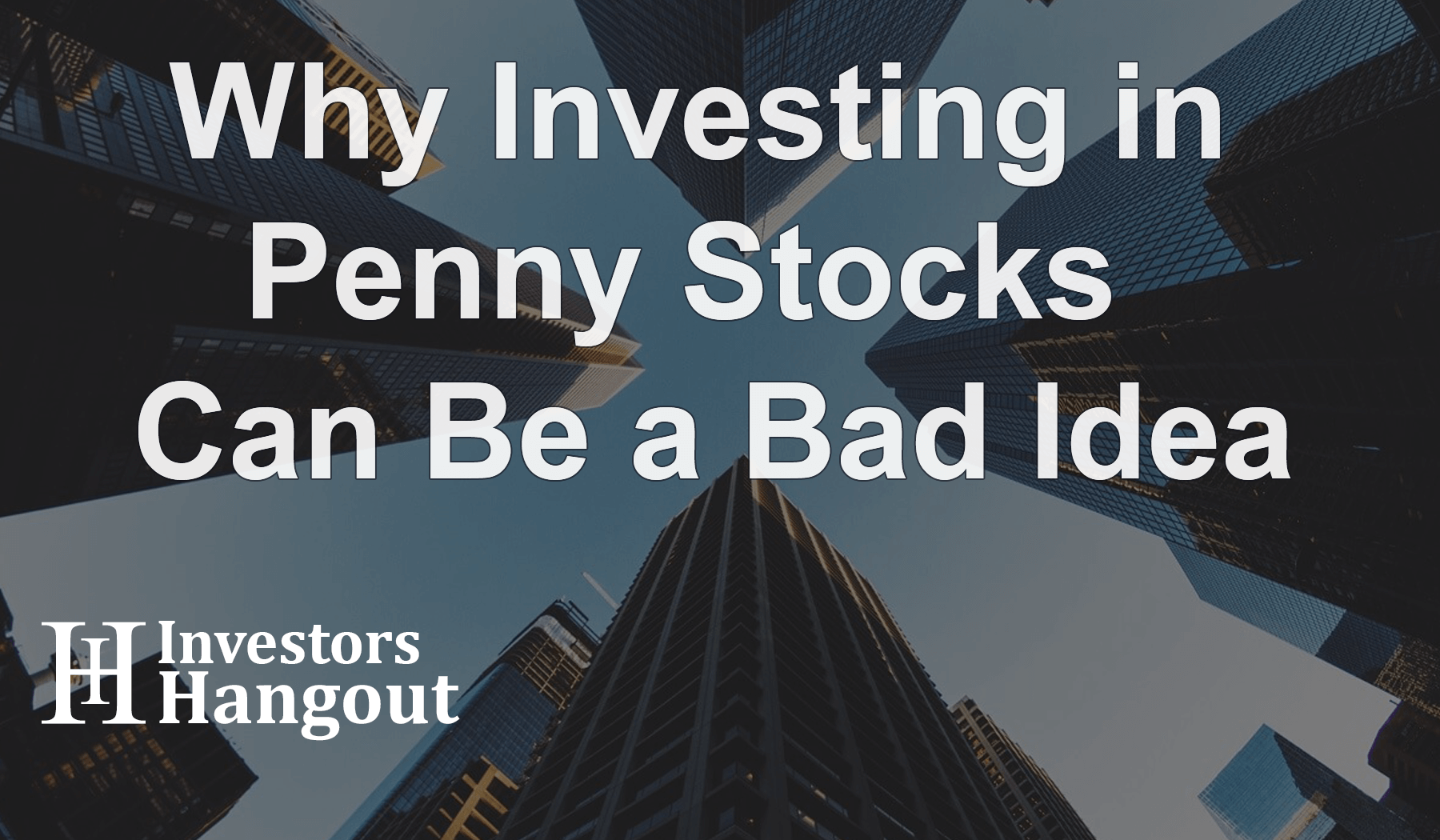 Author: Samuel
Views: 868
Updated: 10-11-2021
If you have not been around the penny stocks trading block, you won't know how someone feels when they are tired and sick of hearing the same lies all of the time. If you have not fallen a victim of these schemes, avoid the wrong path that will challenge your trading skills and end up wasting a lot of time and money. You don't have to be a victim and therefore learn the truth behind the penny stock trading.
However, the most consistent mistake that most investors make is lack of experience with the penny stocks. When seen at first glance, they appear legion, but end up coming down because they tend to fluctuate tremendously and therefore look like an opportunity to gain a higher return. Unfortunately, it's like everything we come across in life and therefore not straightforward.
Sometimes, it might turn precisely opposite of what you expect from penny stocks and end up wiping out all the savings you have within seconds.
The possibility of Losing Money from Penny Stocks
Penny stocks have dangers that you will find most of the experienced investors avoiding. If you don't understand some of the most significant risks you can come across, consider them similar to playing slot machines, unlike a disciplined investing program.
On the other hand, you can expect to lose the significant amount that can set your journey by creating a passive income and live off the cash that is generated by your portfolio.
Overview of Penny Stocks
This "penny stock" phrase describes shares of an organization trading at very low amounts and lacks specific facts and hard rules. According to various institutions, penny stocks are considered as anything that is trading with $5 per share or less.
Moreover, these penny stocks offering companies have small market capitalizations, minimal operations and little or no profits. So, they will end up trading in pinks sheets and over-the-counter because they lack respectable stock exchange that can permit them for listing.
However, in some rare circumstances, some giants can also fall and become penny stocks. It can happen when most financial institutions and banks go broke after becoming over-leveraged. So, if they don't go bankrupt and want to maintain, semblance can be forced to undergo reverse stock split so that they can keep their shares above their penny stock thresholds.
Here are various factors why investing in penny stocks could be a bad idea:
Low Trading Volume
If you want to buy penny stocks, you will need to find penny stocks that have trading volume. Unlike bigger companies traded, penny stocks tend to have lower trading volume. This can be for many reasons, but one main reason is lack of interest. If you buy a penny stock that doesn't have much trading volume you may have a hard time selling it.
You Must Have Trading Skills
If you have never done stock trading before, then penny stocks are the best for you. You might have little money and feel overwhelmed to trade, but forget that it could be your losing way.
You need to first learn some secrets of trading before investing in penny stocks. For larger companies, on the other hand, you can purchase their shares without worry, but it's opposite to penny stocks.
It might be a bad idea for you to invest in the stock market without having basic level tactics
Scammers
In the Securities and Exchange Commission, they say that those companies that operate outside the stock exchange must not register their shares and they can sell without any regulations to the offshore investors. They are outside the United States, and that is where the penny stock scammers come in to manipulate the investors.
What these scammers do is to purchase the unregistered with low-cost company shares and especially from the offshore location and end up selling the penny stocks into American investors with an inflated price. However, the influx of these unregistered shares will cause a massive drop in the company's stock price. Here is where the thieves will make a lot of money, and the U.S investors are left with empty pockets if not little.
When you come across someone telling you the good story of how you can become rich with penny stock trading, you need to be cautious. They will try to convince you using e-mails, phone calls or even approach you. When you listen to them, you will end up losing all of the money you have.
You need to know that in the stock market, no one fits the path to riches and especially in penny stocks. So, the best way is to avoid the scam schemes that will come to you promising unlimited success and do your research to find a legitimate company.
Pump And Dump Schemes
Fraud is something that will happen anytime and anywhere including penny stock trading. The promoters are paid so that they can drum up interests to unknown stocks. So, if you are an inexperienced investor, you will be encouraged to buy shares and pump the price of penny stocks. After the penny stocks reach an inflated price, the scammers will then sell all their shares (dump) making a huge profit. The investors will be left with high and dry shares.
Most of the pump and dump scammers are experienced with penny stocks and will even email you through newsletters where a publisher gets paid to hype up unpromising shares. So, when you get a newsletter, you can then read on its website the fine print. It's where you can realize that promoters or companies pay the author so that they can feature them in the newsletter.
It's not always a good idea for you to invest in penny stocks; on the other hand, the scammers will use short-sell so that they can make a profit. The shorting will work after the investors borrow shares and then sell them immediately at a higher price in the open market as they hope that the company stocks will fall and will later scoop up the shares they sold at a lower price. He will then return the shares lenders and nets the profit.
The penny stocks scammers will, therefore, short-sell a stock and must ensure that shares fall after they spread damaging and false rumors regarding that company. So the investors will hold a losing stock, and the short-sellers will make it through their short-selling tricks.
Penny Stocks Lowdown
You can define these penny stocks in various ways. Most of the people will logically assume that penny stocks are referring to those stocks that are trading with less than $1.
On the other hand, SEC defines these penny stocks as those stocks that trade with less than $5. Typically, the penny stocks will trade on OTCBB or pink sheets. However, you need to approach both exchanges with many precautions because these penny stocks selling companies don't file with the SEC. So, you don't have to put much of your hope with penny stocks trading on OTCBB.
You cannot find relevant information that will help you formulate a logical conclusion about a company trading as a penny stock. So, it's hard to know whether the company will survive or not. It doesn't matter whether the penny stocks are trading on the OTCBB or pink sheets, it becomes challenging for you to get credible information. However, always keep in mind that these markets lack standardization so that a company can remain trading on the pink sheets.
The penny stock scammers will deceive by luring investors to invest in these worthless and cheap stocks and take all their money. Ensure you are careful so that you won't be among the victim of penny stock scams. That is why it's essential to avoid trading into penny stocks without experience.
Difference Between Research And Promotion
If you have not done enough research on your own, avoid the advertisements you come across in newsletters. The writers are compensated by promoters so that they can write flattering reports regarding their penny stocks. You will get a convincing case that might make you invest in penny stocks. If you are a wise investor, you have to learn ways that you can distinguish between legitimate equity and stock promotion when you do in-depth research.
On the other hand, you can read the "disclosures" that you find at the end of the report to check whether the writer has been directly compensated for their news about the company that they are recommending. When you realize that is the case, know that it was an advertisement and not a research report.
Bottom Line
Investing in penny stock is a huge gamble; you might have better odds and gain a higher profit when you visit a casino rather than dabbling in these penny stocks. They have a short-term potential to gains and have a sustainable benefit after you buy from proven companies that have a strong track record. When you have to invest, and you want to speculate plays, the best option is to get a company trading more than $3, but you will only pull the trigger after you have done substantial research and are confident with your decision.