Top 5 Penny Stocks You Should Be Watching This Week 03-10-2019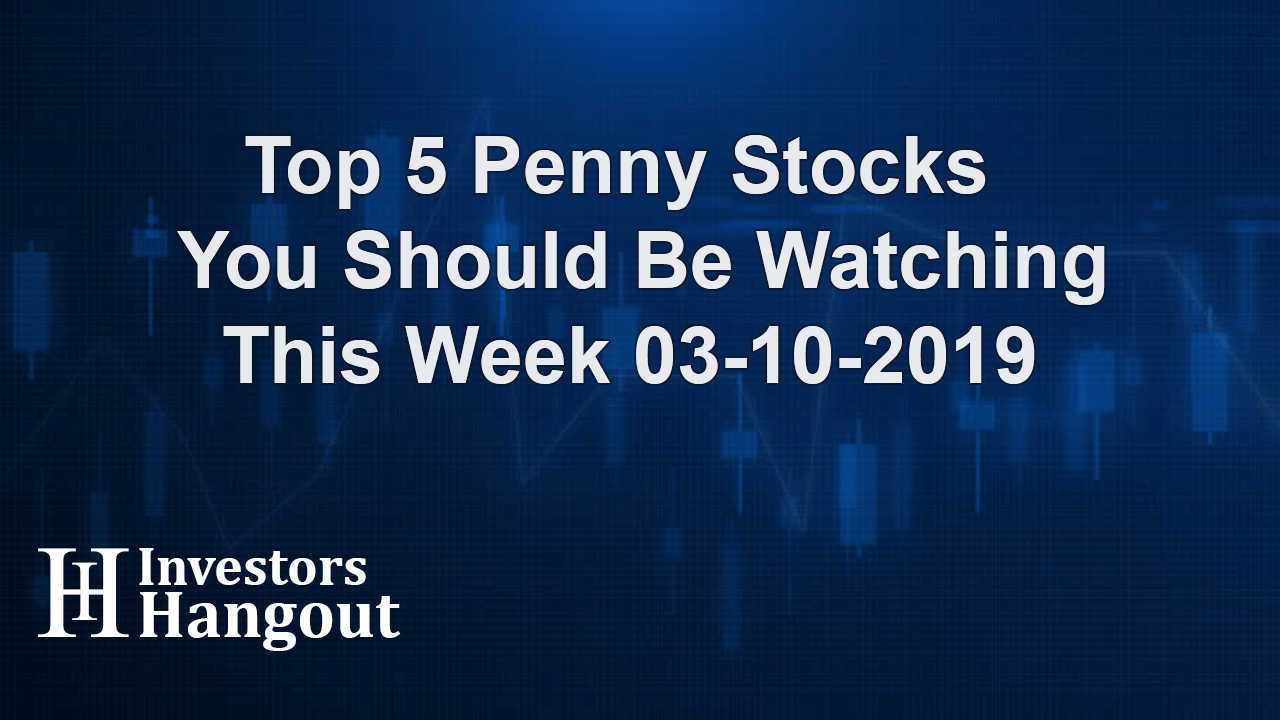 Listed below are the Top 5 Penny Stocks in my opinion you should be watching this week. All of these stocks have a decent amount of volume to sustain trading at the current levels.
Don't forget if you have a stock you would like me to take a look at send me a message here. If you see your favorite stock on this list please don't forget to share!
Here we go in no particular order.
Vystar Corp - Traded Under Stock Ticker Symbol: VYST
VYST Stock closed Friday at .0585 with 32 million shares traded. As of right now the current stock price is between the 20 day and 30 day sma (simple moving average). What I am going to be watching for with VYST is a possible bounce off of the 30 day sma which is currently at .0557. However, if it doesn't bounce off of the 30 it will have the 10 sma right under the 30 at .05 which will be a solid support as well as the .04. Resistance levels .06-.07-.08. In my opinion it won't take much buying pressure to move this stock up higher. For those interested, I did a more in-depth stock analysis on this one on 02-14-2019 covering the historical trading activity here
What do you think about VYST? Let us know on the VYST Message Board.
Strategic Asset Leasing Inc - Traded Under Stock Ticker Symbol: LEAS
LEAS Stock is setup similarly to VYST between two simple day moving averages. Last Monday was a big day for LEAS when the stock opened at .0047 hitting a high of .0094 closing up 160% at .0086. As of Fridays close LEAS closed at .0036 +9.09% with just about 88 million shares traded. After three straight days of closing red last week I think it might be time this one begins to rally again. I will be watching for the break of the 10 sma at .0042 to confirm. Resistance levels are at .0040/.0050 Support .0030/.0020
To share your opinions or do further research check out the LEAS Message Board
KYN Capital Group Inc – Traded Under Stock Ticker Symbol: KYNC
KYNC Stock had a really big day Friday opening at .0020 hitting the high of .0057 closing the day up +150% at .0050! The best part is this stock had plenty of volume as well with 225 million shares traded. What makes this one interesting to me is that it appears it could be the first day of a multi day rally. From the looks of it, the volume really picked up on March 1st with the stock price breaking the 10, 20 and 30 days moving averages hitting the high of .0042 to close at .0022 up +175%. I will be watching the volume to continue Monday with another green day in my opinion.
Share your opinions here on the KYNC Message Board
Bebida Beverage Co. - Traded Under Stock Ticker Symbol: BBDA
After several years of not much action BBDA Stock is on a roll lately. It all started on March 4th when the volume really picked up with 480 million shares traded pushing the PPS (price per share) from the open at .0001 to the high of .0005 closing the day at .0004 up +300%. Not a bad day! March 5th was even bigger taking the price from .0004-.0015 closing .0012 up another +200%. The following two days were red walking the price down a little to our current levels. I mean, 200%? Who wouldn't take profits? Which, in my opinion, is what was happening. Now, BBDA Stock price is currently at .0010. As long as volume continues I think this stock will either trade around the current levels or with buying pressure could very well begin to lift this one again. Support levels .008-.0006 Resistance .0010-12-14. Keep an eye on this one!
Do you think BBDA will continue? Let us know on the BBDA Message Board
Northwest Biotherapeutics Inc. - Traded Under Stock Ticker Symbol: NWBO
NWBO Stock is one I've followed for a very long time. This stock has been trading within a channel from .20-.30 for about 2 years now. As of Friday the stock closed at .2950 with 878 thousand shares traded. What catches my eye with this one is how quickly it moved when the volume came in on February 27 pushing the stock price from .2388-.3190 over a multi day run. Now, after three red days (Tuesday, Wednesday and Thursday) it appears that NWBO began to stabilize on Friday. I'd like to see these current levels continue to hold and maybe trade sideways for a few days before a possible next move up. In my opinion it's important that the support level of .28 holds in coming days. Support .0028-.0026 Resistance .30-.32
Let us know what you think on the NWBO Message Board
I have not been compensated for this report nor do I own shares. My analysis is always my opinion and you should never use it as a reason you buy your stocks or any investment. Always do your own research and consult with a registered financial professional.
Did we miss your favorite stock? Let me know and maybe it will make my next list! You can message me here!