Stock Trading Courses Explained for Beginners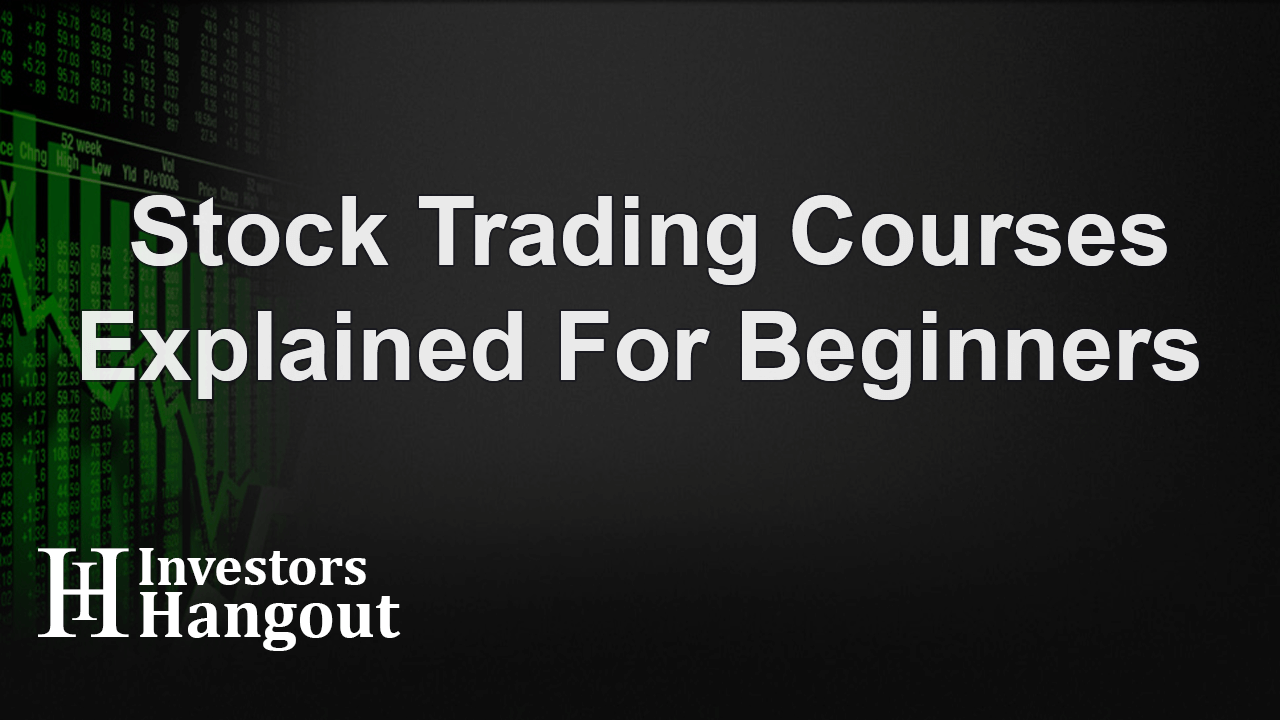 Author: Anita
Views: 1812
Updated: 10-11-2021
For many day trading beginners, being active in the financial markets is an exciting way to profit from long-term investing. But beginners beware – there are risks involved that you need to be aware of before you get started. However, there are several benefits as well including the ability to work from home, be your own boss, make own schedule, and have a potential to earn unlimited income and profits. When you combine these factors with how easy it is to get started, day trading can be very appealing.
Getting started in day trading is relatively easy as there's no degree or specialized training involved. However, it can be challenging to excel at it and become successful in the process. One of the main problems is that the beginner tends to overlook the many emotional, financial, and time commitments that are involved in being successful. Consequently, approximately 90% of beginners fail within their first year of trading. As a result, it's important that you develop a strategic approach to your trading.
A Word about Stock Markets
Stock markets are oftentimes referred to as secondary markets where share owners can participate in transactions with potential buyers. The corporations that you find in the stock market typically don't purchase, sell, or trade their own shares. However, they may engage in the issuance of new shares or stock buybacks. The reality is that you're buying those shares from an existing shareholder, not from a company. Additionally, when you sell them, you're selling them to an investor, not a company.
In-Person Trading Courses
There are also many in-person trading courses available throughout the US that will teach you the basics and help you get started trading stocks. These courses provide the latest technologies and state-of-the-art computer workstations so you can learn about stocks by trading on a professional platform as well as analyzing current trends. Course instructors are excellent teachers and are typically licensed, professional traders with years of experience and expertise.
The failure to learn and understand how the start market works could have disastrous results for beginning investors. Whether you're just getting started or you're a veteran investor refreshing your trading skills, attending an in-person stock trading course can expand your knowledge and enable you to trade with confidence.
Online Stock Trading Courses
If you've ever considered getting started in trading stocks over the internet, there are many online stock trading courses available. These courses will help you learn what stock trading is all about, how to develop a solid trading strategy, and so on. Whenever you purchase shares of stock, you are buying a piece of that company. In other words, you become a co-owner along with other shareholders.
As a beginner, it's important to learn about stocks and what is involved in trading them on the market. Trading in the stock market also affords you the opportunity to learn about other investment tools such as commodities, FOREX, or futures. In-person or online trading courses will not only help you get started in the stock market, it will make you more confident when investing.
In addition to the above, you can access online stock trading courses from home, the office, or just about any place that you have a computer and internet connectivity. You can learn the basics by watching live examples conducted by experienced investors and traders. At this point, you can move on to more advanced, interactive classes for FOREX, futures, stocks, and other investments while sharing the course instructor's computer while at the same time exchanging your ideas with your fellow classmates.
Investors Hangout is one of the world's most active online communities for beginning and experienced stock traders. We offer hundreds of FREE forums and stock message boards that you can benefit from. For more information visit our website today.