Quantum Materials Corp - Technological Progress in


Post# of 13142
Posted On: 02/15/2020 12:20:36 AM

Quantum Materials Corp - Technological Progress in QD Blockchain, QD Display, QD Solar cell and Solid State QD LED Lighting
QD Distributed Ledger Technology in Blockchain
We will help global companies in multiple sectors to design and implement quantum dots into their product lines and supply chains for anti-counterfeit measure, for tracking and for securing their products from manufacturer to the end users. Our effort will culminate signing of multiple licensing deals in the proprietary QDX Distributed Ledger Technology (QDX DLT). The QDX™ Platform combines the molecular power of quantum dots and the security of DLT in blockchain to address the $1.2 trillion global counterfeiting and product liability problem. Sectors such as apparel, luxury brands, oil & gas, high security ink and paper, defense, environmental, cannabis and many more are looking for solutions such as the QDX platform with the desire to integrate across their supply chains. Quantum dots have the potential to be used in many applications as markers to identify physical items in specific locations in time and space and the QDX platform for the first time in history bonds the physical and the digital in a tamper proof highly secure digital environment and for the first time quantum dots will be "branded", registered and serialized as they are produced and associated with a cryptographic hash identifier in the blockchain.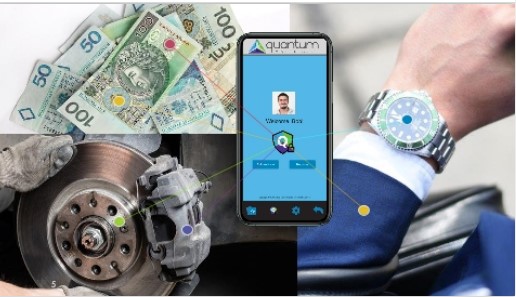 Quantum Dot Display Technology
As a phosphor replacement in flat panel displays, PQDs have the potential to provide industry best color gamut picture qualities due to their extremely narrow emission wavelength profile. For comparison, todays industry leading low cadmium or cadmium free QLED displays can only deliver roughly an 80% Rec 2020 coverage while PQDs have the ability to deliver roughly a 98% Rec 2020 coverage (with properties that include: PLQY>95%, FWHM <25 nm and adjustable peak position). As we are approaching the final stage of bringing to market our first commercial level red-green QD infused film component, we see tremendous potential in advancing the performance level of our QD based film components even further with the incorporation of PQD's to bring the color gamut up to nearly 100% of the new color standard Rec 2020 coverage, which will set a new standard in flat panel display color.
We have innovated a disruptive quantum dot display technology that achieves an industry-leading 95% Rec 2020 color gamut coverage. We have demonstrated our 100% cadmium-free 55 inch QDX™ display to selected customers who have shown strong interest in that display technology which is achieved by utilizing the Company's proprietary quantum dot enhanced film while eliminating the costly barrier film. We are working with display manufacturers, film manufacturers and chemical companies to bring this next-generation technology to market as a superior and lower cost QD-based display solution. In addition, incorporating QDX quantum dot infused films into LCD displays can materially increase color gamut levels, improves viewing angles, increases display brightness levels and lower production cost. One of the most efficient ways to achieve a wide color gamut LCD display is with narrow-band red and green quantum dots deposited directly on an optical film. This film is then backlit using blue phosphor LEDs. We have manufactured red & green quantum dots with extremely narrow FWHM (full width half max) of 16 & 34 nanometers respectively, these infinitesimally small semiconductors with precise emission wavelengths possess uncharacteristically high stability.
FWHM Spectrum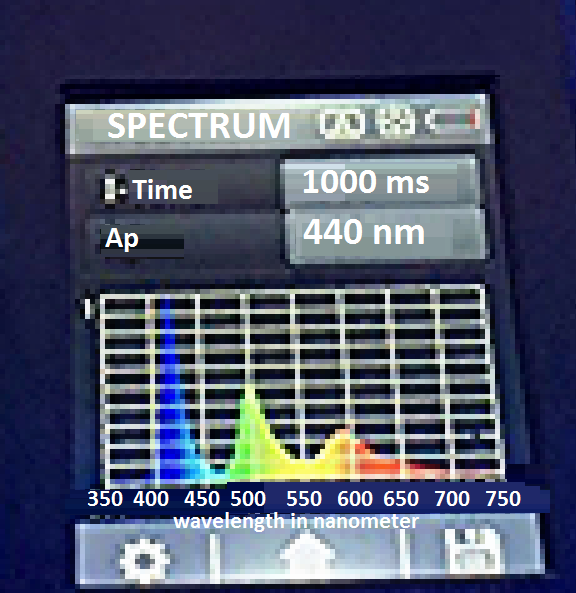 We have received very encouraging indications of interest from OEM electronics manufacturers that are looking to increase the color rendering capabilities of their displays without adding cadmium and upon reaching this milestone, we believe we are now in a position to partner to commercialize this technology in order to get our QD materials into consumer displays. With the advent of this low cost, high performance offering, we believe we can materially disrupt the industry and create a market condition wherein QD enhanced technology can become a de-facto standard in consumer displays. In addition to QMC's film based solution for maximizing color gamut in LCD displays, the Company is continuing to optimize it's direct phosphor design variant which places the quantum dot materials directly on to the surface of the LED, further improving color rendering performance and lowering cost. The Company expects to be in a position to announce a working display with this variant of QD design in the near future, giving display OEM's an additional low cost avenue for increasing color gamut without the use of cadmium.
Display manufacturers continue to court us and our cadmium free quantum dot technologies. As mentioned in our 2019 highlights, our achievement in the industry's first 100% cadmium free RoHS compliant, quantum dot LCD display film that exceeds 95% Rec 2020 color gamut created strong interest in multiple display OEMs who inquire further testing of the technology which has the potential to license our capabilities. We remain active in our effort to license our display technologies to one or more significant display industry companies.
Quantum dot solar cell technology
We have developed a high volume, low cost, continuous flow production process that produces extremely high purity Perovskite Quantum Dots (PQDs) with significantly improved stability at a fraction of the cost of the high purity silicon used in silicon solar cells. Perovskite quantum dots are leading a breakthrough in materials technology, but the commercialization of these materials has been hampered due to inabilities to produce large volumes of these materials at low cost points while still achieving long term reliability. PQDs have many unique properties that make them an ideal material for utilization in applications such as next generation solar cells and displays. For instance, in solar cells perovskites have demonstrated conversion efficiencies of 22.7% which is higher than today's best dye-sensitized or thin-film technologies (CiGS, CdTe) and can also extend efficiency (up to 1.3x) of silicon PVs when coated as an absorption enhancement layer. High purity PQDs hold the promise to achieve high conversion efficiencies while also solving many of the reliability and stability challenges. QDSC have theoretically maximum potential quantum efficiency (PCE) of 65% compared to a maximum 29% PCE using current silicon module technology.
Next-generation quantum dot solar cell factories will use new thin-film flexographic roll-to-roll printing methods at a fraction of the capital expenditure of same-size silicon panel factories. Advantages of the flexographic method include the ability to potentially increase printing press speeds of up to 600 meters/minute with modern printers, large rolls that can be cut to finished size, low viscosity ink formulations for faster drying and the ability to bond layers of the solar cell together in-line. Production can be scaled-up by increasing the running speed without a large increase in infrastructure costs and is a major factor in lowering the levelized cost of energy over the life of the production system.
Solid State quantum dot LED Lighting
We have successfully surpassed the one year anniversary and exceeding 10,000 hour continuous on-time durability test for the Company's cadmium-free quantum dots in a remote light emitting diode (LED) application. The QD-LEDs were under continuous power at 2.5 Volts DC at 70mA and were measured initially, incrementally and at the 7000 hour mark with no measurable degradation of intensity, peak emission or FWHM, which is the measure for color purity. Passing 10,000 hour mark for continuous on time is a major achievement in proving our quantum dots and our encapsulation technologies can enable QD-LED's and the wide range of potential QD-LED applications. Through this development effort we have also made significant discoveries that have improved performance of our electroluminescent quantum dot materials, paving the way for next generation display and lighting applications.
Our team continues to demonstrate the extraordinary accelerated discovery that can be accomplished using our patented continuous flow process. This patented technologies in the hands of our brilliant scientist keep Quantum Materials on the forefront of nanomaterial implementation and discovery.

(0)

(0)
Quantum Materials Corp. (QTMM) Stock Research Links



---