Press Release NioCorp Signs Confidentiality Agre


Post# of 30
Posted On: 11/24/2014 10:36:35 AM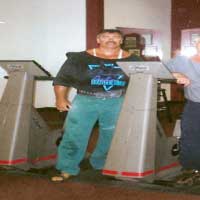 Press Release
NioCorp Signs Confidentiality Agreements with Credit Suisse & Morgan Stanley
By
Published: Nov 24, 2014 9:06 a.m. ET
0 1
VANCOUVER, BRITISH COLUMBIA, Nov 24, 2014 (Marketwired via COMTEX) -- NioCorp Developments Ltd. ("NioCorp" or the "Company&quot

(tsx venture:NB)(otcqx:NIOBF)(frankfurt:BR3) is pleased to announce the signing of individual confidentiality agreements with Credit Suisse Securities (USA) LLC and Morgan Stanley & Co. LLC.
The purpose of each confidentiality agreement is to commence the review of non-public information and seek counsel on the Company's long-term planning strategy. "We are extremely pleased to have two elite firms, Credit Suisse and Morgan Stanley, involved this early in the process. I believe that financial relationships with firms of this magnitude should be established now so by the time the technical studies are complete, the Company can proceed immediately to the next step of the project." stated Mark Smith, CEO of NioCorp.
About the Company: NioCorp is developing the only primary niobium deposit known to be under development in the United States, and the highest grade undeveloped niobium deposit in North America, located near Elk Creek, Nebraska. The Company has filed an updated NI43-101 compliant resource report, available on SEDAR, reporting an Indicated resource of 28.2 Million Tonnes grading 0.63% Nb2O5, containing 177 Million Kg's of Nb2O5, and an Inferred resource of 132.8 Million Tonnes grading 0.55% Nb2O5, containing 733.7 Million Kg's of Nb2O5, (at a 0.3% Nb2O5 cutoff grade). Niobium is mainly used in the form of Ferro-Niobium to produce HSLA (High Strength, Low Alloy) steel, to produce lighter, stronger steel for use in automotive, structural and pipeline industries. The U.S. imports 100% of its niobium needs.
Peter Dickie, President, Corporate Secretary and Director
Cautionary Statements:
Neither TSX Venture Exchange nor its Regulation Services Provider (as that term is defined in the policies of the TSX Venture Exchange) accepts responsibility for the adequacy or accuracy of this release.
Certain statements contained in this press release may constitute forward-looking statements. Such forward-looking statements are based upon NioCorp's reasonable expectations and business plan at the date hereof, which are subject to change depending on economic, political and competitive circumstances and contingencies. Readers are cautioned that such forward-looking statements involve known and unknown risks, uncertainties and other factors that may cause a change in such assumptions and the actual outcomes and estimates to be materially different from those estimated or anticipated future results, achievements or position expressed or implied by those forward-looking statements. Risks, uncertainties and other factors that could cause NioCorp's plans or prospects to change include changes in demand for and price of commodities (such as fuel and electricity) and currencies; changes or disruptions in the securities markets; legislative, political or economic developments; the need to obtain permits and comply with laws and regulations and other regulatory requirements; the possibility that actual results of work may differ from projections/expectations or may not realize the perceived potential of NioCorp's projects; risks of accidents, equipment breakdowns and labour disputes or other unanticipated difficulties or interruptions; the possibility of cost overruns or unanticipated expenses in development programs; operating or technical difficulties in connection with exploration, mining or development activities; the speculative nature of mineral exploration and development, including the risks of diminishing quantities of grades of reserves and resources; and the risks involved in the exploration, development and mining business. NioCorp disclaims any intention or obligation to update or revise any forward-looking statements whether as a result of new information, future events or otherwise.
Contacts:
NioCorp Developments Ltd.
Julie Champlin
Investor Relations Manager
(720) 639-4650
info@NioCorp.com

(0)

(0)
NioCorp Developments Ltd. (NIOBF) Stock Research Links



---