"NioCorp Continues to Deliver Strong Niobium Ass


Post# of 30
Posted On: 11/21/2014 4:13:48 PM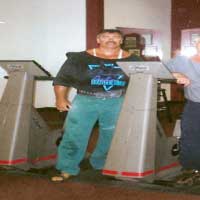 "NioCorp Continues to Deliver Strong Niobium Assays"
NioCorp Continues to Deliver Strong Niobium Assays
Vancouver, British Columbia - November 21, 2014 - NioCorp Developments Ltd.("NioCorp" or the "Company&quot

[TSX-V: NB; OTCQX: NIOBF; and FSE: BR3]
is pleased to announce additional assay results from its Phase II drilling program and advancement operations in Elk Creek, Nebraska.
The final analytical results have been received from drillhole NEC14-014. NEC14-014 was drilled along a southwest to northeast section line through the defined Niobium resource. The results continue to support niobium mineralization in the area of the defined resource and its continuation at depth.
The final analytical highlights for NEC14-014 appear below: (Please note that due to the angle of the drilling and other factors, these results do not represent the true thickness of the Niobium resource.)
NEC14-014 Final Results
• 390 m interval between 511 - 901 m (open at depth) at 0.68% Nb2O5
◦ 15 m (511 - 526 m) at 1.27 % Nb2O5
◾ 5 m (520 - 525 m) at 2.03 % Nb2O5
◦ 126 m (649 -775 m) at 1.06 % Nb2O5
◾ 15 m (721 - 736 m) at 1.59 % Nb2O5
◾ 8 m (654 - 762 m) at 1.66 % Nb2O5
The collected core samples from drillhole NEC14-014 were systematically processed and shipped for certified analytical analysis at Actlabs in Ancaster, Ontario to support NioCorp's corporate objectives for the project. "The drilling results from the Elk Creek deposit remain impressive. We are excited that our drilling program continues to provide results that support our objective of developing a world-class niobium asset." said Mark Smith, CEO of NioCorp.
Review by Qualified Person and Quality Control:
Brad Ulry, B.Sc., P.Geo., Dahrouge Geological Consulting Ltd., a Qualified Person as defined by National Instrument 43-101, is responsible for the Elk Creek drilling operations and has read and approved the technical information contained in this news release.
Samples for NEC14-014 were continuously collected from the carbonatite's upper contact at the base of the overlying limestone to the end of the drillhole. Samples were submitted to Activation Laboratories Ltd. (ActLabs) of Ancaster, Ontario. HQ diameter core was split into half-core samples and approximately 25% of the submitted core samples consist of quality control and quality assurance samples. Drillhole NEC14-014 ended in carbonatite and remains open at depth.
About the Company:
NioCorp is developing the only primary niobium deposit known to be under development in the United States, and the highest grade undeveloped niobium deposit in North America, located near Elk Creek, Nebraska. The Company has completed an updated NI43-101 compliant resource report, available on SEDAR, reporting an Indicated resource of 28.2 Million Tonnes grading 0.63% Nb2O5, containing 177 Million Kg's of Nb2O5, and an Inferred resource of 132.8 Million Tonnes grading 0.55% Nb2O5, containing 733.7 Million Kg's of Nb2O5, (at a 0.3% Nb2O5 cutoff grade). Niobium is mainly used in the form of Ferro-Niobium to produce HSLA (High Strength, Low Alloy) steel, to produce lighter, stronger steel for use in automotive, structural and pipeline industries. The U.S. imports 100% of its niobium needs.
For further information, contact Julie Champlin, Investor Relations Manager at
(720) 639-4650 or at info@NioCorp.com
"Peter Dickie"
_______________________________________
Peter Dickie
President, Corporate Secretary and Director

(0)

(0)
NioCorp Developments Ltd. (NIOBF) Stock Research Links



---