Option update, V.NB | 2 hours ago


Post# of 30
Posted On: 11/03/2014 10:10:36 AM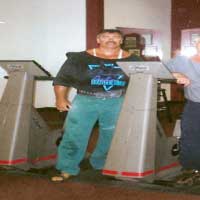 Option update,
V.NB | 2 hours ago
VANCOUVER, BRITISH COLUMBIA--(Marketwired - Nov. 3, 2014) -
NOT FOR DISTRIBUTION TO THE U.S. NEWSWIRE OR FOR DISSEMINATION IN THE UNITED STATES
NioCorp Developments Ltd. ("NioCorp" or the "Company&quot

(TSX VENTURE:NB)(OTCQX:NIOBF)(FRANKFURT:BR3) is pleased to provide the following update concerning the option agreement (the "Option Agreement&quot

with Alberta Star Development Corp. ("Alberta Star&quot

on the Company's 100% owned Archie Lake property (the "Property&quot

.
As part and parcel to the Option, Alberta Star will subscribe for $1,540,000 in the Company's current private placement financing of Special Warrants (the "Offering&quot

to obtain 2.8 million Special Warrants, with the condition precedent (the "Threshold Precedent&quot

that the Company be in receipt of a minimum of $10,000,000 in subscriptions to the Offering (including that of Alberta Star). The Option, the Offering and the investment by Alberta Star in the Offering are all subject to final approval of the TSX Venture Exchange (the "TSXV&quot

.
Update: NioCorp has been advised by Alberta Star that the TSXV has granted conditional acceptance for the Option, and for the participation of Alberta Star in the Offering. By return, NioCorp has advised Alberta Star that subject to the receipt of Alberta Star's subscription, the Threshold Precedent has been met as Niocorp has received (exclusive of Alberta Star's subscription) in excess of $8,500,000 in subscriptions for the Offering, for a total in excess of $10,000,000. Furthermore NioCorp advises that preliminary approval of the Offering has been received from the TSXV. Satisfaction of these conditions allows for finalization of the Option and the Offering participation.
Details of the Offering, as well as the Option with Alberta Star are contained in the news release dated October 27, 2014. The Company anticipates both the Offering and the Option will be submitted to the TSXV for final approval shortly. Niocorp advises that it intends to close the Offering on a partially brokered and partially non brokered basis, and that there will be no commission on Alberta Star's and certain other subscriptions to the Offering.
ON BEHALF OF THE BOARD
Peter Dickie, Director, President and Corporate Secretary
NioCorp Developments Ltd.
(604) 568-7365
www.NioCorp.com

(0)

(0)
NioCorp Developments Ltd. (NIOBF) Stock Research Links



---