News! NioCorp Announces Terms of Its Special Wa


Post# of 30
Posted On: 10/23/2014 1:25:00 PM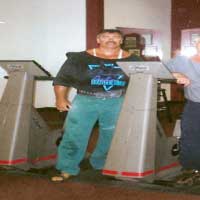 News!
NioCorp Announces Terms of Its Special Warrant Financing
NioCorp Developments Ltd. ("NioCorp" or the "Company&quot

(TSX VENTURE:NB)(OTCQX:NIOBF)(FRANKFURT:BR3) is pleased to announce the terms of its previously announced private placement of special warrants (the "Special Warrants&quot

for aggregate gross proceeds of up to $16.5 million (the "Offering&quot

. The Offering is being conducted on a best efforts private placement basis by Mackie Research Capital Corporation (the "Agent&quot

.
Under the terms of the Offering, the Company will issue Special Warrants at a subscription price of $0.55 per Special Warrant. Each Special Warrant will entitle the holder to receive upon exercise, for no additional consideration, one unit of the Company (a "Unit&quot

. Each Unit will consist of one common share of the Company (a "Common Share&quot

and one full Common Share purchase warrant (a "Warrant&quot

. Each Warrant will entitle the holder thereof to acquire one additional Common Share at an exercise price equal to $0.65 at any time up to twenty-four (24) months from the closing date of the Offering.
The net proceeds from the Offering will be used by the Company for continued development of NioCorp's Elk Creek niobium project, including, but not limited to, ongoing drilling, metallurgical studies including pilot plant work and detailed engineering ahead of a feasibility study, and for general corporate purposes.
The Company intends to file and obtain a receipt for a final short form prospectus of the Company filed pursuant to National Policy 11-202 and Multilateral Instrument 11-102, issued by the securities regulators in such jurisdictions in Canada in which a holder of Special Warrants is resident, within 75 days following the closing date.
The closing of the Offering is expected to occur on October 30, 2014 and is subject to certain conditions including, but not limited to, the receipt of all necessary regulatory approvals including the approval of the TSX Venture Exchange.
About the Company: NioCorp are developing the only primary niobium deposit known to be under development in the U.S., and the highest grade undeveloped niobium deposit in North America, located near Elk Creek, Nebraska. The Company has filed an NI43-101 compliant resource report, available on SEDAR, and is in the process of filing an updated NI43-101 compliant resource estimate reporting an Indicated resource of 28.2 Million Tonnes grading 0.63% Nb2O5, containing 177 Million Kg's of Nb2O5, and an Inferred resource of 132.8 Million Tonnes grading 0.55% Nb2O5, containing 733.7 Million Kg's of Nb2O5, (at a 0.3% Nb2O5 cutoff grade). Niobium is mainly used in the form of Ferro-Niobium to produce HSLA (High Strength, Low Alloy) steel, to produce lighter, stronger steel for use in automotive, structural and pipeline industries. The U.S. imports 100% of its niobium needs.
ON BEHALF OF THE BOARD
Peter Dickie, Director, President and Corporate Secretary
Neither TSX Venture Exchange nor its Regulation Services Provider (as that term is defined in the policies of the TSX Venture Exchange) accepts responsibility for the adequacy or accuracy of this release.
Certain statements contained in this press release may constitute forward-looking statements. Such forward-looking statements are based upon NioCorp's reasonable expectations and business plan at the date hereof, which are subject to change depending on economic, political and competitive circumstances and contingencies. Readers are cautioned that such forward-looking statements involve known and unknown risks, uncertainties and other factors that may cause a change in such assumptions and the actual outcomes and estimates to be materially different from those estimated or anticipated future results, achievements or position expressed or implied by those forward-looking statements. Risks, uncertainties and other factors that could cause NioCorp's plans or prospects to change include changes in demand for and price of commodities (such as fuel and electricity) and currencies; changes or disruptions in the securities markets; legislative, political or economic developments; the need to obtain permits and comply with laws and regulations and other regulatory requirements; the possibility that actual results of work may differ from projections/expectations or may not realize the perceived potential of NioCorp's projects; risks of accidents, equipment breakdowns and labour disputes or other unanticipated difficulties or interruptions; the possibility of cost overruns or unanticipated expenses in development programs; operating or technical difficulties in connection with exploration, mining or development activities; the speculative nature of mineral exploration and development, including the risks of diminishing quantities of grades of reserves and resources; and the risks involved in the exploration, development and mining business. NioCorp disclaims any intention or obligation to update or revise any forward-looking statements whether as a result of new information, future events or otherwise.
This press release is not for distribution or dissemination in the United States and accordingly, shall not constitute an offer of securities in the United States. The securities that may be issued pursuant to this press release are not currently qualified by prospectus or registered under the U.S. Securities Act of 1933, as amended (the "Securities Act&quot

, or the laws of any state, and may not be offered or sold in the United States, or to, or for the account or benefit of United States persons (as defined in Regulation S under the Securities Act) or persons in the United States absent registration or an applicable exemption from the registration requirements. The securities are subject to resale restrictions under applicable securities laws.
NioCorp Developments Ltd.
Peter Dickie
Director, President and Corporate Secretary
(604) 568-7365
www.NioCorp.com
Read more at
http://www.stockhouse.com/news/press-releases...ROB0y9a.99

(0)

(0)
NioCorp Developments Ltd. (NIOBF) Stock Research Links



---