( HTSC ) Here To Serve Holding Corp. Appoints Pres


Post# of 136
Posted On: 07/14/2014 11:52:34 AM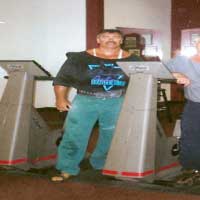 ( HTSC ) Here To Serve Holding Corp. Appoints President of Technology Division, LLC .EmailPrinter
FriendlyShare: facebook ↓ More.
.StumbleUponLinkedInTwitterFarkRedditdel.icio.usMySpacesmaller Text larger
Image:
http://www.accesswire.com/images/696/hts_hold...edium.jpeg
"We are preparing our "Go-To-Market" strategy. Our deliberate focus on building the right team and executing our first ever launch in the mobile app market will be defined by the excellence of people we have to lead our organizations," said CEO Jeff Cosman.
MILTON, GA / ACCESSWIRE / July 14, 2014 / Here To Serve Holding Corp., (OTC Markets: HTSC), a diversified holding company, today announced the appointment of Ed Kniep IV to the role of President of Here To Serve Technology Division, LLC. In this newly created position, Mr. Kniep IV will focus on building the Company's "go-to-market" strategy for the upcoming launch of cConnectsTM. Mr. Kniep IV will remain in St. Louis, MO and build his team from there while reporting directly to Jeffrey Cosman, CEO of Here To Serve Holding Corp.
Mr. Kniep IV's responsibilities correlate directly with the success he has experienced in the past as President and CEO of Shaughnessy Kniep Hawe Paper company, an independently owned 130 year old distributor of paper, graphics and packaging products based in St. Louis. A graduate of Miami University in Oxford, OH and MBA from Washington University in St. Louis, Ed expanded Shaughnessy both geographically in new markets, as well as organically through a broader product portfolio. In 14 years at Shaughnessy, Mr. Kniep IV developed into an exceptional leader earning positions from General Manager to Vice President and finally President & CEO. At Here to Serve Technology Division, Ed will be responsible for finalizing our initial pricing strategy, hiring his sales and marketing team, develop the overall customer service model and drive a global market approach to this new market technology. In addition, Mr. Kniep IV will get up to speed with our new package of offerings we are developing in the City Government & Municipality space.
"Ed's talent is bringing an exceptional mechanical approach to a business model with a research and execution background. However, behind his success, Ed has delivered what I feel is the most important part to any organization, which is building an exceptional team at Shaughnessy. In addition, Ed demonstrated a keen focus on developing strategies, which deliver results year over year," said Mr. Cosman. "The paper industry has been a dynamically changing marketplace for a number of years and with the imminent launch of Here To Serve Tech Division's - cConnects(tm), we need a strategic-disruptor like Ed to dominate the launch in the marketplace."
"I am ecstatic about having such an accomplished and dynamic professional to lead our technology division. As we approach August and preparing for the launch of cConnectsTM, I realized it was time to hire an executive who could make the hard decisions on launch strategy, pricing, sales and marketing, and customer support. Ed easily fit the requirements of this position and was available for us to bring on board. Ed takes our organization to another level with his expertise and success," said Jeffrey Cosman, CEO of HTSC.
Here To Serve Holding Corp., encourages the investment community to follow all HTSC developments as it starts its practice of releasing news and other financial and product updates on its Facebook page at www.facebook.com/HereToServeHoldingCorp as well as its Twitter feed at
https://twitter.com/htshc
.
ABOUT HERE TO SERVE HOLDING CORP.
Here To Serve is a diversified holding company with two distinct divisions: a Waste Division and a Technology Division. The Waste Division is being built through an aggressive acquisition strategy. The Technology Division consists of wholly owned applications, as well as partially owned software products, each creating cloud based mobile platforms for industries ranging from business services, healthcare, law enforcement and governmental services. Here To Serve Holding Corp's products include: Interactive Defense System TM, for law enforcement and other municipal departments and cConnectsTM, for efficient scheduling, communication and fleet/asset management using mobile and web based portals.
Forward-Looking Statements
Comments are based on current management expectations, and are considered "forward-looking statements," generally preceded by words such as "plans," "expects," "believes," "anticipates," or "intends." We cannot promise future returns. Our statements reflect our best judgment at the time they are issued, and we disclaim any obligation to update forward-looking statements as the result of new information or future events. We urge investors to review the risks and uncertainties within its filings with the OTC Markets and/or Securities and Exchange Commission.
Contact:
Jim Canouse
(678) 871-7457
ir@htsc.com
Image:
http://www.accesswire.com/images/696/hts_hold...edium.jpeg
Source: Here To Serve Holding Corp.
The Wall Street Journal news department was not involved in the creation of this content.

(0)

(0)
Here To Serve Holding Corp (HTSC) Stock Research Links



---