Here To Serve Holding Corp. releases details about


Post# of 136
Posted On: 07/10/2014 3:37:49 PM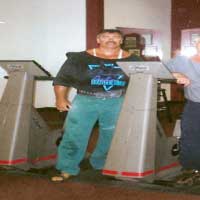 Here To Serve Holding Corp. releases details about its recent Shareholder Meeting and offers comments from its CEO.
Jul 08, 2014
OTC Disclosure & News Service
Milton, GA -
HTSC CEO reinforces the company's strategy to build a larger, more profitable company with acquisitions in the solid waste industry. The launch of its proprietary ground breaking mobile app, cConnectsTM, looks to be a very real growth driver for the company, as the company plans for its inevitable controlled launch in the coming months.
Milton, GA Tuesday July 8th, 2014 -- Here To Serve Holding Corp., (OTC Markets: HTSC), is pleased to update the investment community on the success of its July 6th, 2014, shareholder meeting.
The company would like to thank those in attendance, as well as those shareholders who could not make the meeting but were able to meet with the CEO, Jeffrey Cosman while he was working in Florida.
HTSC remains committed to providing useful information to current and future shareholders who are making investment decisions based on the future growth plans of Here To Serve Holding Corp and its subsidiaries. The points outlined below were covered by the company in the shareholder meeting and were defined by its CEO as "significant" milestones to accomplishing the previously disclosed strategy over the next six-months. As of July 8th, 2014 HTSC has completed or is currently working on the following:
◾Engaged the law firm of Lucosky Brookman LLP as its SEC counsel.
◾Engaged a New York Stock Exchange (NYSE) member Investment Banking firm.
◾Working with King & Spalding on the patent process of cConnectsTM.
◾Working on the version of cConnectsTM which will be the final beta version prior to submission of Version 1.0 to the iTunes and Google Play stores
◾Engaged an online marketing firm to assist with the "social" launch of cConnectsTM and drive visibility through SEO strategies.
◾Interviewing investor relation (IR) firms who will support the HTSC growth story in the public markets.
◾Filed Form D notices with the SEC for previous 2010 and 2011 transactions.
◾Finishing a two-year financial audit of Meridian Waste Services.
On July 6th, 2014 HTSC held a shareholder meeting in St. Augustine, FL. At the meeting Jeffrey Cosman, CEO of HTSC and Rachel Cosman were re-elected to the Board of Directors. Jeffrey Cosman was appointed as Chairman of the Board and Rachel Cosman was appointed as Secretary. The shareholder vote also approved the ability of the Board of Directors to implement a stock option plan at the sole discretion of the Board.
"I am very pleased with this shareholder meeting, along with the direction the company is moving with future growth possibilities. HTSC is a very exciting story. Our targeted acquisitions remain confident in our story and our potential customers (non-Beta Site) of cConnectsTM are excited about being involved with our future launch, side-by-side with our Beta Site," said Jeffrey Cosman, CEO of HTSC. "In Florida working on several projects, I was able to meet and speak with HTSC shareholders who would be unable to be at the shareholder meeting but had asked to meet to discuss my agenda for the meeting. I feel this type of constructive involvement is crucial to the next steps of a potential IR program I will approve in the coming weeks. Based on our recent recognized financials, which we will report the first 45 days of Meridian Waste Services as HTSC, our incredibly small float and the upcoming announcement of more growth possibilities with cConnectsTM and solid waste acquisitions, we believe our valuation is poised for massive growth."
Here To Serve Holding Corp., encourages the investment community to follow all HTSC developments as it starts its practice of releasing news and other financial and product updates on its Facebook page at www.facebook.com/HereToServeHoldingCorp as well as its Twitter feed at
https://twitter.com/htshc
.
ABOUT HERE TO SERVE HOLDING CORP. Here To Serve is a diversified holding company with two distinct divisions: a Waste Division and a Technology Division. The Waste Division is being built through an aggressive acquisition strategy. The Technology Division consists of wholly owned applications, as well as partially owned software products, each creating cloud based mobile platforms for industries ranging from business services, healthcare, law enforcement and governmental services. Here To Serve Holding Corp's products include: Interactive Defense System TM, for law enforcement and other municipal departments and cConnectsTM, for efficient communication and fleet/asset management using mobile and web based portals.
Forward-Looking Statements
Comments are based on current management expectations, and are considered "forward-looking statements," generally preceded by words such as "plans," "expects," "believes," "anticipates," or "intends." We cannot promise future returns. Our statements reflect our best judgment at the time they are issued, and we disclaim any obligation to update forward-looking statements as the result of new information or future events. We urge investors to review the risks and uncertainties within its filings with the OTC Markets and/or Securities and Exchange Commission.
.
Contact:
Jim Canouse
(678) 871-7457
ir@htsc.com

(0)

(0)
Here To Serve Holding Corp (HTSC) Stock Research Links



---