News! Here To Serve Holding Corp. Enters Into Agr


Post# of 136
Posted On: 05/28/2014 11:35:44 AM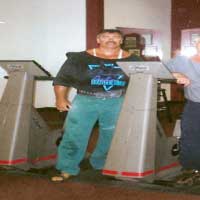 News!
Here To Serve Holding Corp. Enters Into Agreement To Acquire Assets Of An Additional Solid Waste Company; Company Also Releases More Details of Previous Acquisition Announced May 14, 2014
HTSC CEO says company's strategy for the future includes additional acquisitions in the solid waste industry, up-listing to the NYSE MKT, registering an S1 with the SEC, completing a secondary offering and launching a proprietary ground breaking mobile app, cConnects
PR Newswire
ATLANTA, May 28, 2014
ATLANTA, May 28, 2014 /PRNewswire/ --Here To Serve Holding Corp., (OTC: HTSC) (OTC Pink), which had previously announced on May 14, 2014 that it had closed on the acquisition of nearly all of the assets and operations of its initial waste management company, Meridian Waste Services in St. Louis, MO area, today announced that its Waste Division has entered into a Letter of Intent ("LOI&quot

to acquire assets of another solid waste company in a Southeastern market.
The Company anticipates that the transaction will add additional revenue and positive earnings to HTSC.
On May 15th, 2014, HTS-Missouri Waste Division, LLC ("HTS-MWD&quot

, a wholly-owned subsidiary of Here To Serve Holding Corp., acquired the 100% of the assets of Meridian Waste Services, LLC from its then partners for over $20 million in cash and stock in the Company.
Financing of the transaction consisted of a senior debt facility of $9.5 million, $1.5 million in seller subordinated financing, roughly 13.2 million restricted shares of HTSC and 71,210 Preferred Shares –Series B. In addition, HTSC secured two credit facilities for ongoing capital expenditures and working capital. HTSC anticipates HTS-MWD will add annual revenues in excess of $11.5M, annual EBITDA close to $2.9M and Net Income of over $1.2M.
In releasing additional details of the transaction and its effects on the Company's structure, Jeff Cosman, CEO of HTSC said: "After the acquisition there are roughly 55,000,000 shares outstanding with an estimated 19,000,000 shares in the float. We issued restricted shares to the partners of Meridian. We are working on cleaning up the balance sheet of "inheritance taxes" from investors of the previous entity (FTCH). Despite all of this, HTSC is a tightly held company with significant earnings going forward. In addition, the culture is ground breaking, in that, it has a start-up technology mentality in the Tech Division coupled with the precision of execution and a mature business model in the waste industry. We are breaking new ground for Pink Sheet companies and we will exit out OTC Markets with considerable momentum for our existing shareholders and a dedication to create a growth vehicle for new potential shareholders."
Cosman went on to say: "Here To Serve is focused on several milestones in the next 6 months; completing a two-year audit of Meridian Waste Services, additional acquisitions in the solid waste industry, up-listing to the NYSE MKT, registering an S1 with the SEC, completing a secondary offering and launching its ground breaking mobile app, cConnects."
"We are clearly defining our tasks for the next 6 months", added Jeff Cosman. "I remain confident our organization can execute the strategy to create a growth investment vehicle for those interested in waste management and technology. I believe the Waste and Technology divisions can offer customers in our markets an efficient opportunity to communicate with our organization. Our core proprietary technology product, cConnectsTM, is more than an internal platform for communication; it is a dynamic cross-platform mobile app creating efficient communication for all industries, organizations and social environments. Partnering with a significant player in the cloud-based solutions and business processing industry for the beta testing of cConnectsTM has far surpassed our expectations for the future. We continue to receive positive feedback while anticipating our "go-live" date in the coming month(s)."
HTS-MWD has begun the two-year audit of Meridian Waste Services. HTSC is finalizing its Investment Banking partner to lead the secondary offering and will retain SEC legal counsel in the coming weeks to finalize the S1 registration.
HTSC is also pleased to announce its new corporate address: 12540 Broadwell Road, Suite 1203, Milton, GA 30004.
On April 2, 2013, the U.S. Securities and Exchange Commission issued guidance permitting companies to use social media sites including Facebook Inc. (FB) and Twitter Inc. to communicate company announcements HTSC encourages the investment community to follow all HTSC developments as it starts its practice of releasing news and other financial and product updates on its Facebook page at
https://www.facebook.com/pages/Here-To-Serve-...01?fref=ts
as well as its Twitter feed at
https://twitter.com/htshc
.
ABOUT HERE TO SERVE HOLDING CORP. Here To Serve is a diversified holding company with two distinct divisions: a Waste Division and a Technology Division. The Waste Division is being built through an aggressive acquisition strategy. The Technology Division consists of wholly owned applications, as well as partially owned software products, each creating cloud based mobile platforms for industries ranging from business services, healthcare, law enforcement and governmental services. Here To Serve Holding Corp's products include: Interactive Defense System TM, for law enforcement and other municipal departments and cConnectsTM, for efficient communication and fleet/asset management using mobile and web based portals.
Follow us on Twitter:
http://twitter.com/htshc
Forward-Looking Statements
Comments are based on current management expectations, and are considered "forward-looking statements," generally preceded by words such as "plans," "expects," "believes," "anticipates," or "intends." We cannot promise future returns. Our statements reflect our best judgment at the time they are issued, and we disclaim any obligation to update forward-looking statements as the result of new information or future events. We urge investors to review the risks and uncertainties within its filings with the OTC Markets and/or Securities and Exchange Commission.
Contact:
Jim Canouse
(678) 871-7457
ir@htsc.com
SOURCE Here To Serve Holding Corp.
Copyright © 2014 PR Newswire. All Rights Reserved
The above news release has been provided by the above company via the OTC Disclosure and News Service. Issuers of news releases and not OTC Markets Group Inc. are solely responsible for the accuracy of such news releases.

(0)

(0)
Here To Serve Holding Corp (HTSC) Stock Research Links



---