New Update: Waste Management Acquisition Still on


Post# of 136
Posted On: 03/27/2014 11:57:17 AM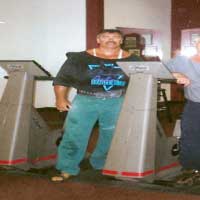 New Update:
Waste Management Acquisition Still on Track for Here To Serve Holding Corp.  
'Immediate Significant Revenue Recognition' 
ALPHARETTA, GA – March 27, 2014, Here To Serve Holding Corp., (OTC Markets: HTSC), is updating our
shareholders regarding the status of our solid waste acquisition. As of today, we are working out the final details of the
agreements and finalizing all the necessary steps it takes to transfer the contracts, titles, leases, as well as other items to
make this a smooth transition, once the deal closes.  We anticipate this taking only a few more days.  While the initial
closing timeline was delayed, HTS is committed to the right process for their shareholders and our acquisition company.  
This acquisition will be a big win for the shareholders of Here To Serve, as it will immediately transform the company into
a revenue generating and profitable business.   The management of Here To Serve will continue to update its
shareholders on the progress of the acquisition and looks forward to announcing the highly anticipated final closing of the
deal. 
On April 2, 2013, the U.S. Securities and Exchange Commission issued guidance permitting companies to use social
media sites including Facebook Inc. (FB) and Twitter Inc. to communicate company announcements   F3 encourages the
investment community to follow all F3 developments as it starts its practice of releasing news and other financial and product updates on its Facebook page at
https://www.facebook.com/pages/F3
- Technologies/461042987299984 as well as its Twitter feed at
https://twitter.com/f3technologies
. 
ABOUT HERE TO SERVE HOLDING CORP. Here To Serve is a diversified holding company with two distinct divisions:  a Waste Division and a Technology Division.  The Waste Division is being built through an aggressive acquisition strategy.  The Technology Division consists of wholly owned applications, as well as joint venture software products, each creating cloud based mobile platforms for industries ranging from business services, healthcare, law enforcement and governmental services.  Here To Serve Holding Corp's products include: Interactive Defense System TM , for law enforcement and other municipal departments and cConnects TM , for efficient communication and fleet/asset management using mobile and web based portals. 
Here To Serve Holding Corp. is a publicly traded company, and is quoted on the OTC Markets, ticker symbol HTSC.  
Follow us on Twitter:
http://twitter.com/f3technologies
FORWARD-LOOKING STATEMENTS :  The statements in this press release constitute forward- looking statements within the meaning of federal securities laws. Such statements are based on our current beliefs and expectations and are inherently subject to significant business, economic and competitive uncertainties and contingencies, many of which are beyond our control. In addition, such forward-looking statements are subject to assumptions with respect to future business strategies and decisions that are subject to change. Potential risks and uncertainties include, but are not limited to, technical advances in the industry as well as political and economic conditions present within the industry. We do not take any obligation to update any forward-looking statement to reflect events or developments after a forward-looking statement was made. omments are based on current management expectations, and are considered "forward-looking statements," generally preceded by words such as "plans," "expects," "believes," "anticipates," or "intends." We cannot promise future returns. Our statements reflect our best judgment at the time they are issued, and we disclaim any obligation to update forward-looking statements as the result of new information or future events. We urge investors to review the risks and uncertainties within its filings with the OTC Markets and/or Securities and Exchange Commission. . Contact: Jeff Cosman (678) 871-7457
http://www.otcmarkets.com/otciq/ajax/showNews...2112114377

(0)

(0)
Here To Serve Holding Corp (HTSC) Stock Research Links



---