Email SKY.com on Stre


Post# of 3
Posted On: 03/26/2014 12:23:16 PM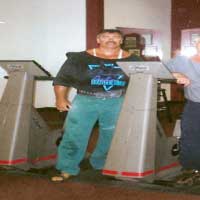 In an era when you can stream Game Of Thrones at broadband speeds while sitting in an aircraft, the black box seems to be a dated piece of technology.
Why can't airliners also stream their critical operational data back to the ground?
The black boxes of Air France flight 447 lay 13,000 feet beneath the southern Atlantic Ocean for two years before they gave up their grim account.
The flight data recorders of Malaysian Airlines flight MH370 will likely take even longer to recover.
Black boxes - which were originally introduced in the 1950s at the beginning of the jet age - already record reams of flight data each second.
The depth of the sea in the Indian Ocean search area
Critics of in-flight data streaming say to transmit that amount of information would be costly, and, given the relatively rare occurrence of planes being lost in extremely remote areas, uneconomic.
Some also argue that costly infrastructure would be needed to upgrade older planes.
"What is needed - and available - is data on demand, not all data all the time," said Richard Hayden, director of Canadian company FLYHT Aerospace Solutions Ltd, which makes in-flight data streaming equipment.
"The streaming function can be a background function in a system that is otherwise doing good things for an operator in normal operational circumstances."
In an emergency, the Afirs (Automated Flight Information Reporting System) streaming system made by FLYHT can transmit a GPS location system back every second, and information on operational performance of a plane every four seconds.
Mr Hayden also argues that the system is easy to implement.
"There is no infrastructure investment required to globally implement aircraft triggered data transmission, and thereby no unusual cost associated with having such a capability in place on all aircraft," he said.
He said 40 operators already use the Afirs system.
On Monday, Chris McLaughlin from Inmarsat, the UK-based satellite company that tracked MH370, told Sky News a limited tracking system would cost $1 per hour of flight.
The cost of the search operation for Air France Flight 447 was at least $37m (£22.4m).
Data streaming could bring other benefits too.
The control room of UK company Inmarsat
Canadian manufacturer Bombardier's new C-Series of jets, due to enter service in 2015, will all feature live data streaming as standard and the company sees the forensic benefits as secondary to the immediate services it offers.
Live streaming offers live maintenance diagnostics, and airlines can use the rich data for flight and operations planning.
According to Ben Behm, vice-president of commercial airline programmes, streaming would be carried out using an array of technologies depending on coverage, including VHF, 3G towers on the ground and satellites.
Astraea, an ambitious UK-based attempt to create a system to fly normal aircraft from the ground, have tested the idea of a mesh network, in which planes in the air pass information between themselves and the ground.
One report into Air France Flight 447 found the Afirs system was too complex for a "short-term solution", but recommended a simpler form of live data streaming in the short and medium-term.
The report noted that the "additional cost of such messages represents only a small fraction of the total costs of communications for any transatlantic flight".
The final definitive BEA Air France report also suggested implementing a basic system by 2018.

(0)

(0)
---