CALGARY, ALBERTA--(Marketwired - March 24, 2014)


Post# of 3
Posted On: 03/26/2014 12:20:14 PM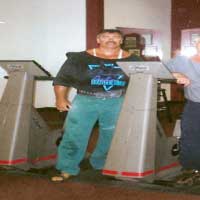 CALGARY, ALBERTA--(Marketwired - March 24, 2014) - FLYHT Aerospace Solutions Ltd. ("FLYHT") (TSX VENTURE:FLY) management has received requests from national and international media to give numerous interviews over the past two weeks regarding the company's Automated Flight Information Reporting System ("AFIRS™") technology and its capabilities.
Many of our shareholders have requested information and access to these media items and thus we have published a list of interviews and articles in which FLYHT management appeared or was quoted. Visit the FLYHT website for links to the coverage, which we will keep updated.
More information about the real-time data streaming program, FLYHTStream™, can be found at www.flyht.com/solutions/flyhtstream/ .
About FLYHT Aerospace Solutions Ltd.
FLYHT provides proprietary technological products and services designed to reduce costs and improve efficiencies in the airline industry. The Company has patented and commercialized three products and associated services currently marketed to airlines, manufacturers and maintenance organizations around the world. Its premier technology, AFIRS™ UpTime™, allows airlines to monitor and manage aircraft operations anywhere, anytime, in real time. If an aircraft encounters an emergency, FLYHT's triggered data streaming mode, FLYHTStream™, automatically streams vital data, normally secured in the black box, to designated sites on the ground in real-time. The Dragon is FLYHT's latest product, a revolutionary light weight portable satellite communications device that blends existing FLYHT technology with that of the iPad.
AFIRS, UpTime, the Dragon, FLYHTStream and AeroQ are trademarks of FLYHT Aerospace Solutions Ltd.
Join us on social media!
Neither the TSX Venture Exchange nor its Regulation Services Provider (as that term is defined in the policies of the TSX Venture Exchange) accepts responsibility for the adequacy or accuracy of this release.
FLYHT Aerospace Solutions Ltd.
Thomas R. French, CGA
Chief Financial Officer
403-291-7427
tfrench@flyht.com
www.flyht.com

Investor Relations: The Howard Group Inc.
Dave Burwell
Senior Associate
(888) or (403)-221-0915
dave@howardgroupinc.com

Bristol Institutional Relations
Glen Akselrod
President
(905) 326-1888
glen@bristolir.com
Read more at
http://www.stockhouse.com/news/press-releases...Dqlcho2.99

(0)

(0)
---