Penny Stocks Aren't For Everyone – Here's Why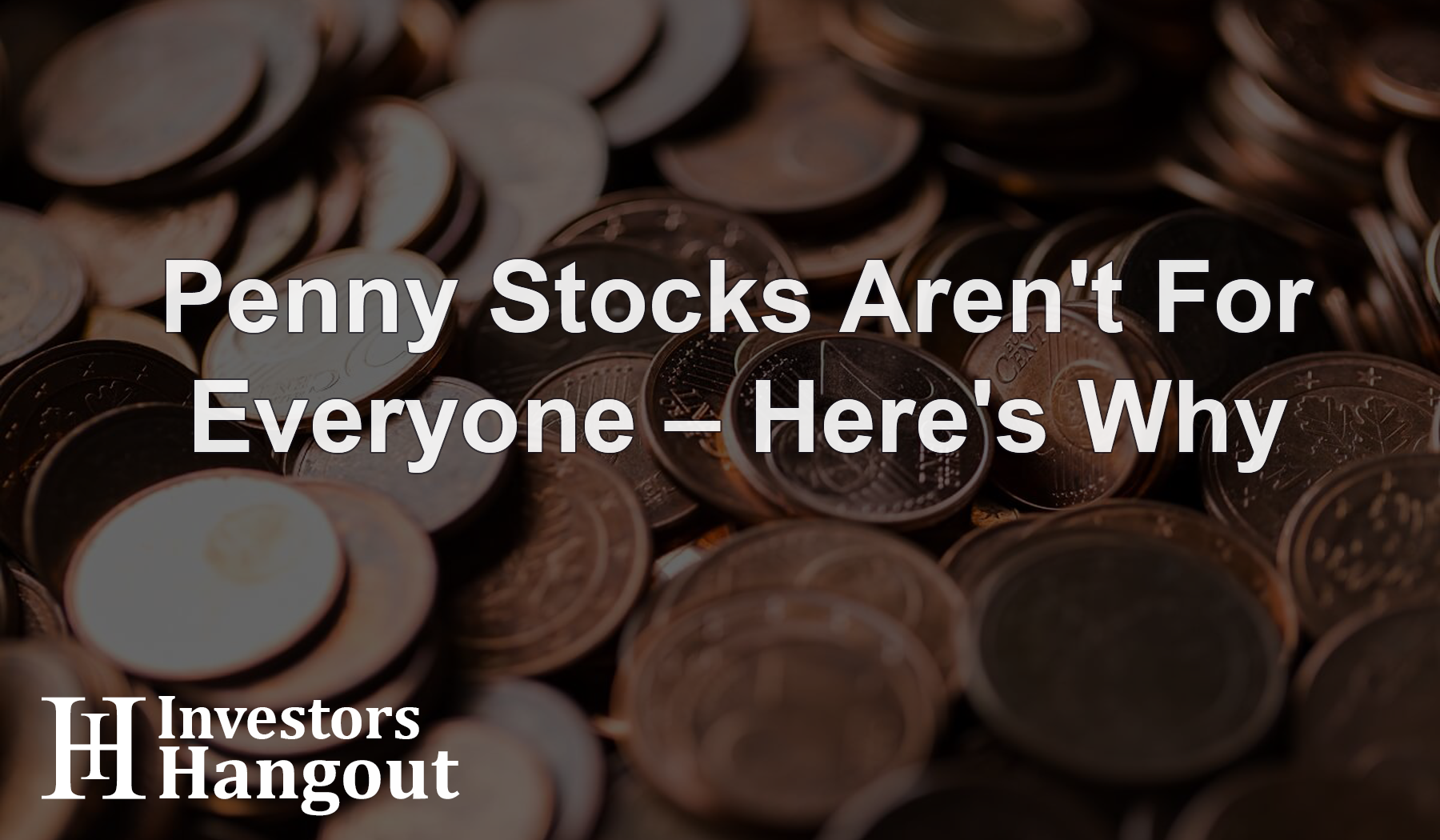 Author: Anita
Views: 1534
Updated: 10-11-2021
Because of their name "penny stocks", most people believe that this refers to shares of stock that trade for $1 or less. In truth, the SEC recently modified the definition and now refers to penny stocks as any that traded at $5 per share or less. These stocks don't trade on the major markets for the following reasons:
their large bid-ask spreads

their limited disclosure and following

their small capitalization

there is an elevated risk due to a lack of liquidity

they are highly speculative
In most instances, a penny stock represents smaller companies offering shares that are extremely speculative and highly illiquid. Additionally, they are not subject to the SEC's filing and listing requirements or their regulatory standards.
The 411 on Penny Stocks
Penny stocks are traded in one of two exchanges, either the OTCBB (Over-the-Counter Bulletin Board) or in the Pink Sheets. Because the SEC has no filing requirements for them, you should approach either of these exchanges very cautiously, especially if you're trading in the Pink Sheets. Furthermore, don't get the idea that OTCBB-traded stocks are any better. Here's why.
Gathering information for the formulation of a logical conclusion is extremely difficult with some penny stock companies. Whether you trade on the OTCBB or in the Pink Sheets, you may have a difficult time finding credible information about some companies. Just remember that there's no minimum standards required by either exchange to remain on them.
More about Penny Stock Scams
Scammers are able to deceive naïve or novice investors because they have little if any experience in the stock markets. As a result, scammers are able to deceive them and entice them into investing their money in cheap, worthless penny stocks. Although we're not going into detail at this time, some of the more common you hear people talk about on the Investors Hangout forums are:
The Guru scam

"No Net Sales" scams

Mining scams

Offshore scams

Pump-and-Dump schemes

Reverse Merger

Short-and-Distort
So how do you avoid becoming a victim of a penny stock scam? You can rest assured that chicanery, fraud, and manipulation are already running rampant in the penny stock market. However, you can still stay safe by looking up information at quality forums. But as a fledgling investor, you need to be aware of these abusive practices, even if they aren't an exclusive in that domain. Here are some suggestions on how to avoid these penny stock scams:
Avoid promotion – do your research

Evaluate the company's financials

Find out if the company's business plan is achievable

Look for their Quality of Disclosure

Research the credibility of their management
Once you've learned how to avoid the scammers, you have to determine whether or not penny stocks are for you. And if they are, then you need to learn more about specific stocks before you actually put down the money.
Are Penny Stocks really for You?
Aside from the higher risk element involved with these types of stocks, you have to think about one of the more important aspects of penny stocks – whether or not they're really for you. Let's look at things realistically. Investing in penny stocks shouldn't be pursued by anyone who doesn't have a high tolerance for risk. They exhibit a higher volatility level compared to traditional stocks. This results in a potentially higher risk-reward level. So be sure you take every precaution necessary.
An example of this would be the investor that has a stop-loss order in his or her mind before they ever enter into a transaction. In other words, know when to leave the market if the stock moves in the opposite direction of what you anticipated. Keep in mind that thousands of investors have lost their shirt with penny stocks, sometimes more if they placed a margin order.
Make no mistake about it, penny stocks can make some dramatic if not explosive moves. So it's extremely important that your expectations are realistic. Keep in mind that it can take weeks, months, even years for any gains to materialize. Any investor, no matter experienced or inexperienced he or she is, is going to be very disappointed, if they think that they can invest $100 and get a $50,000 return.
The Negatives
Be sure that you understand all of the negatives regarding penny stocks before you decide to invest your money. Remember that the majority of the investors out there have been unsuccessful and have lost money investing in low-quality companies. Also, this is an extremely risky and highly volatile market compared to the major stock markets. Most importantly, you're subject to fraudulent schemes, a lack of credible information, and numerous scams.
The bottom line is that it pays to do your research when investing in penny stocks. Investors Hangout wants you to succeed in your investment endeavors. We offer investment tools such as FREE forums and stock message boards. We even host live feeds and streams that feature what we feel are the hottest stocks to consider out there. Feel free to visit our website anytime and get the latest information that you need.