OTCMKTS:TRTC (Terra Tech Corp) Stock Price Continues Sideways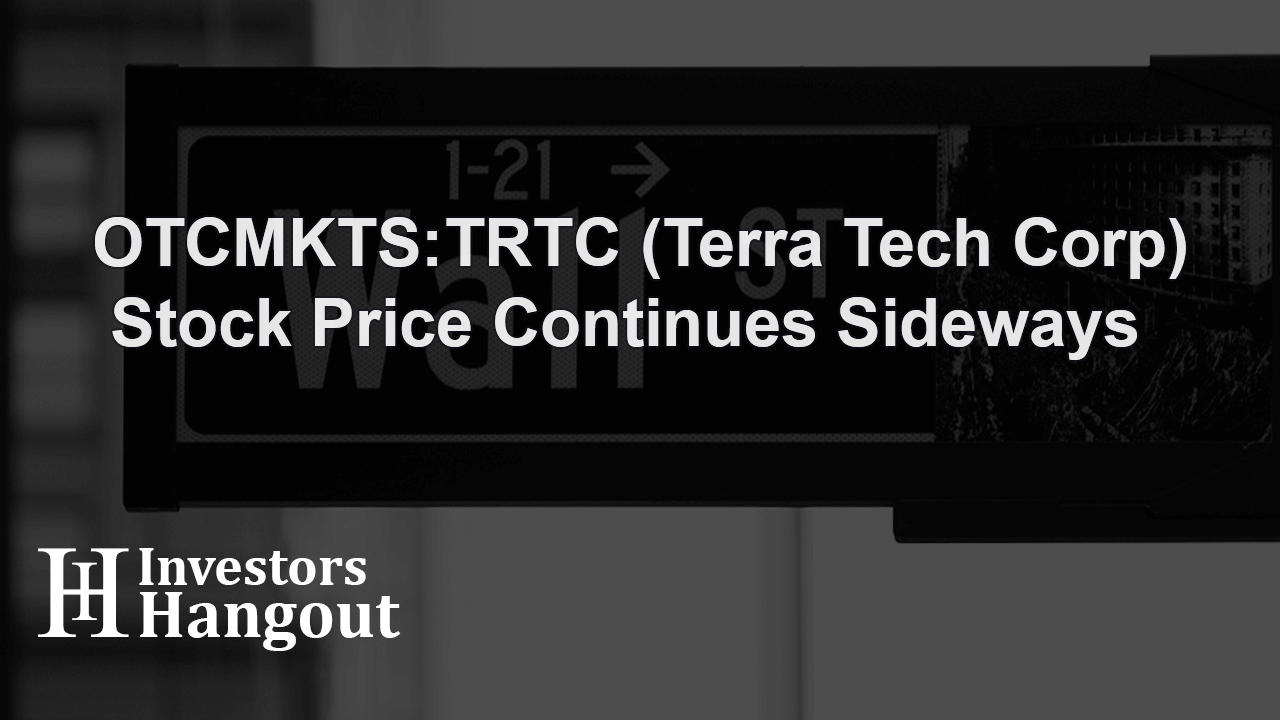 OTCMKTS:TRTC Stock Current Trading Conditions
TRTC Stock is currently traded at .93 with 305K shares traded so far today 04-05-2019. The current stock price is under the key indicators I look for 10, 20 and 30 day simple moving averages. As of right now the 10 day and 30 day simple moving averages are at .95 with the 20 sma at 1.00. The RSI is at a nice medium of 49. In my opinion, with some decent volume, TRTC could breakout. We'll discuss that shortly.
Past Trading Conditions
Terra Tech Corp began a nice rally back on February 22nd when the stock price broke the 10 day simple moving average. This small climb continued for another 4 days when on 02-28-2019 TRTC broke the 30 sma and began breaking out. This rally continued from 02-28-2019 – 03-12-2019 when the stock price per share went from .72 to the high of 1.88 on March 12th 2019. This bringing a total gain of 161% for those who were lucky enough to buy the bottom. From March 12th the stock price began to drop and fell below the 10 day sma on 03-15-2019 and then falling below the 20 sma on 03-20-2019. Since then, OTCMKTS:TRTC has struggled to stay above those key indicators and trading sideways.
TRTC Stock Chart Bottom Line
Although the stock has been trading sideways I believe the stock chart is still healthy overall finding a solid support around .90. The only thing lacking here in my opinion is volume. What I will be watching for is a break of .95 where the 10 and 30 moving averages are currently at. If you break .95 the next level of resistance is 1.00. A dollar break for TRTC could begin another rally and possible breakout. So, when you think about it, you're not too far off of these current levels. Key resistance levels .95/1.00 and Key support levels .90/.80. 80 cents is a must hold area for this one and like I said, if you break 1.00 this stock could rally. If you are hoping for a breakout soon I would really want to see .90 hold more than anything and not even drop to .80. This would show some weakness on the chart.
What do you think about TRTC? Let us know on the TRTC Message Board
TRTC Stock Chart Analysis Video (Terra Tech Corp.) - 04-06-2019
TRTC Stock Chart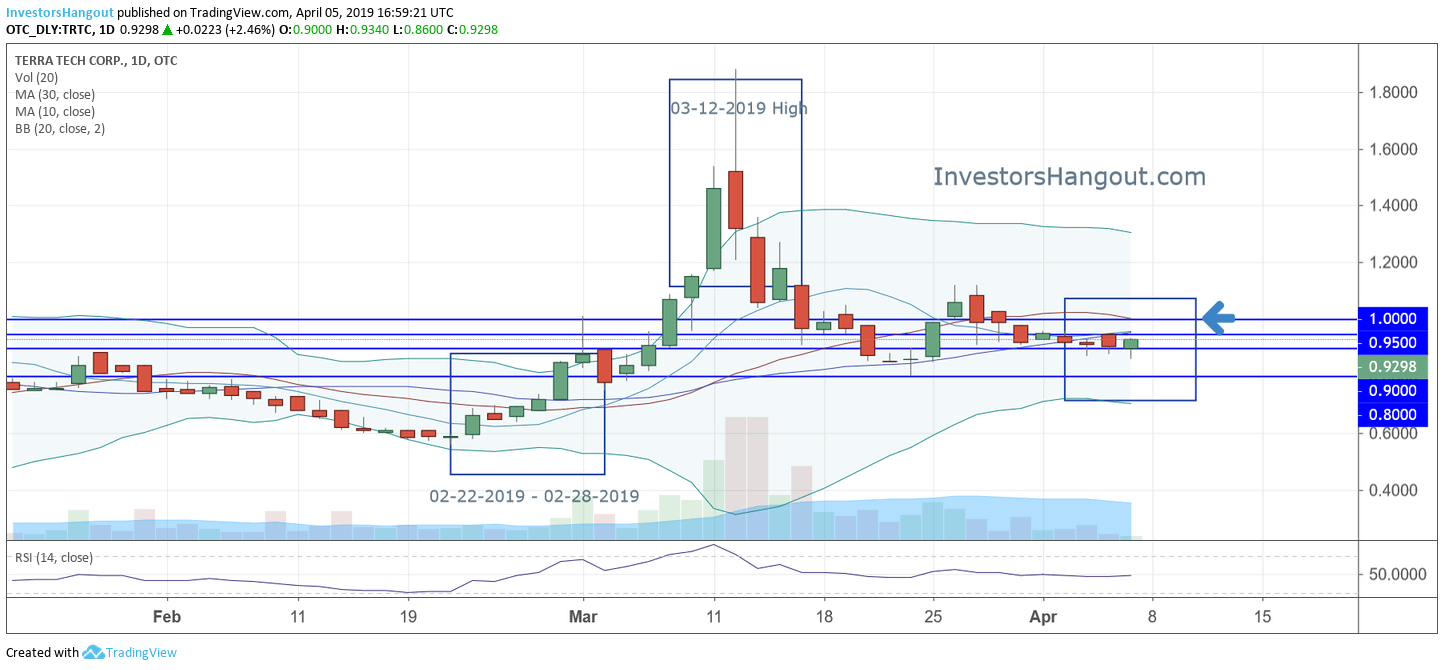 TRTC Recent News
On March 19th 2019 the company put out a press release stating that the City Council of San Leandro, CA voted last night to approve an ordinance for adult-use cannabis sales in the City of San Leandro. The ordinance is subject to a second reading which is scheduled to occur on April 1, 2019 and will go into effect on May 1, 2019. The ordinance would allow for existing medical dispensaries to sell cannabis to recreational users 21 years of age or older, starting May 1, 2019. The Company currently operates the only licensed medical cannabis dispensary open in the City at 1915 Fairway Drive San Leandro, CA, 94577.
Derek Peterson, CEO, said, "This ruling by the City Council of San Leandro brings us a step closer to serving the adult use market in that region. The Blüm, San Leandro medical cannabis dispensary opened in January this year, to strong demand, and we are excited to prepare for a ramp in sales. We are currently developing proprietary cannabis strains and genetics at our West Grand Avenue cultivation facility, which we plan to sell through our San Leandro dispensary under our IVXX® premium brand, and it is our expectation that, following the start of adult-use sales in May, the store will have the potential to generate a $5 million run rate."
About Terra Tech Corp
Terra Tech Corp is a vertically integrated cannabis-focused agriculture company. We're pioneering the future by integrating the best of the natural world with technology to create sustainable solutions for medical cannabis production, extraction and distribution, plant science research and development, food production and Closed Environment Agriculture (CEA). Through this development, we have created relevant brands in both the cannabis and agriculture industries.