Making Money In Penny Stocks With Little Money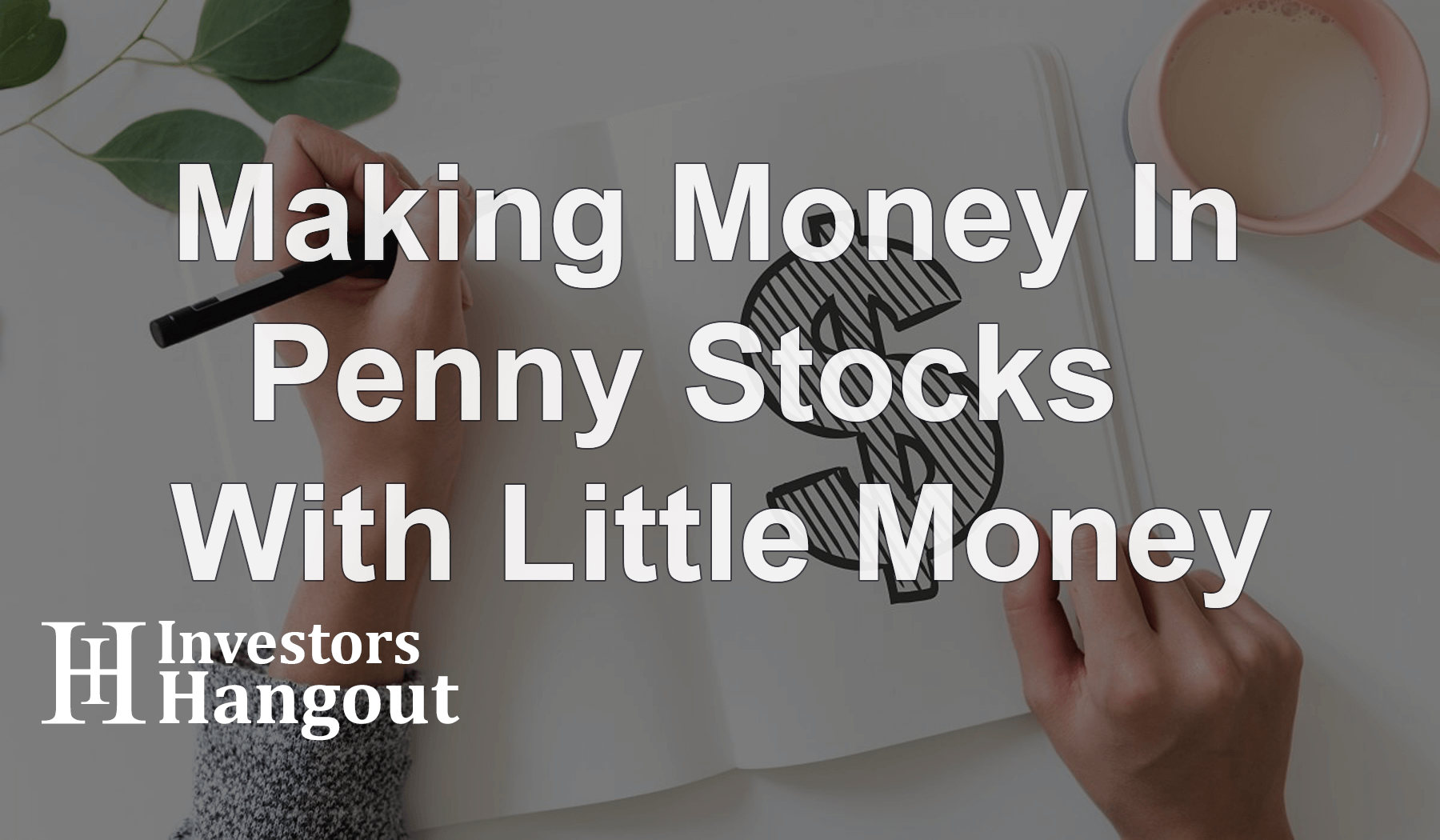 Author: Samuel
Views: 1339
Updated: 10-11-2021
Today, penny stock trading is skyrocketing in popularity because of low costs of entry and also the ability to turn a small amount into huge profits. When you plan to trade these penny stocks, you have the potential of making quick profits although some of the investors might lose their shirts.
So, is it possible to make good returns on penny stocks when you have little money to invest? Yes, but it's essential to know that when you are trading penny stocks, it is not similar to selling common stocks. So that you can generate profit from penny stocks, you have to understand the ins and outs of this trade before diving in.
Finding Good Penny Stocks
The part of the penny stock investment challenge is to find good penny stocks out there. For you to locate an undervalued stock in the market is an incredibly difficult task since most of the investors have money-making stock. So, to invest in penny stocks, you have to find these undervalued stocks with a promising outlook, strong financials, and positive values.
Since you aim at making money as you sell penny stocks, you have to look for a person you can sell to at a bargained price. So, if a shareholder expects a turnaround from the company, he can hold the shares until he reaps off the rewards and therefore difficult for you to purchase.
After purchasing these potential lucrative penny stocks, it's essential to be sure you can also turn around then sell them. Moreover, it's possible to hold them waiting for a better chance of them becoming hot soon. When no one is looking to buy, you can get it at a bargain.
After all the considerations, you have the hopes of making money trading penny stocks, but after finding the hidden gem, purchase at a bargain price and then hold for the future until the organization rebuilds itself and get back on market exchange.
Finding Penny Stocks Using Scanners
For you to have success in penny stocks, you have to find a company with a higher probability of becoming big. Most of the investors and traders use scanners. The traders will use stock screeners that help them in narrowing their vast lists of the stocks available to the smaller list having the characters they want.
When you apply a filter to your stock screen list, it results into the stocks that can only fit your parameters. Some of the popular filters you can use include price, chart patterns, volatility and performance that is essential in helping you get penny stocks that have the highest potential for a huge return.
However, there are specific parameters you can use to find these penny stocks and include:
Breaking news: You have to look for penny stocks that gap up because of lucrative news from the company. However, you can avoid the penny stocks having publicity buyout because it means loss of shares or breakeven.
Float: For float, they are the number of shares that are available to trade and results from subtracting insiders' shares, the company's stock ownership plan and employees. Ideally, it means you are aiming for the float to be lower than $100 million shares. If stock will have fewer shares for trading, it means there is more buying interest driving the price higher.
Higher relative volume: the traders use the relative amount as an indicator to know whether the current size is comparing with the past volumes within a certain period of the year. However, it helps with the "in-play" idea of a specific stock. If the relative volume is higher, it means more traders are watching and providing plenty of liquidity so that it can trade.
Besides, you need to create a watch list and wait for the stock market to open and know whether there is a breakout or bullish flag pattern that signals a higher move.
Effects of Cheap Exchange-Listed Stocks
When the stocks are listed on the reputable exchanges, they aren't penny stocks despite having low prices. For example, when a company drops a couple cents per share suddenly, it will not mean that the organization is a penny stock company. However, if it will continue meeting the standards required in exchange, it's therefore not a penny stock.
The NASDAQ or NYSE demands a minimum share price and market cap and also annual listing fees. If the stock is dipping below the point where the price per share or capitalization is low, and it can't meet the set standards, the market can delist the stock and even remove it from the stock exchange. It makes the stock move into an OTC market.
In case you have a delisted company's share, you will continue owning the shares. Here are the ways you can make good money using penny stocks even with your little capital:
Purchase Penny Stocks From Organizations With A Strong Balance Sheet
Investing in penny stocks is similar to other equity investments and therefore essential for you to establish the company's financial strength.
However, even if you want to invest in stocks, it doesn't matter whether the share price is $5 or $1000, you need to focus on those companies having a strong balance sheet. No debt is desirable and especially the time interest rates continue to rise and therefore not practical.
It's the same with penny stocks because most are at their early development stages. So it could be wise to follow the two rules:
• Invest in those companies having long-term debt of 50% of the equity shareholder or less. When a company has $2 million debt, let the shareholder equity be at least $4 million.
• Keep your penny-stock bets only to those organizations having long-term debt less than the market cap: the more its lower, the better the company to invest.
Purchase From Profitable Companies
As a wise investor, you will only need to limit your investments only to profitable businesses. In this idea, you can use the two schools of thoughts:
When investing in publicly traded companies, it will provide you with more liquidity than private investments. So, it can exit quicker justifier and therefore the higher the risk at the arena and can accept a generation of outsize future gains.
For private investments, on the other hand, they have a more extended holding period that are built into them making the investors less concerned more on the gains as they continue growing.
However, it will depend on the ability you have in holding uncertainty. It could be wise to invest in penny stocks from the companies that are currently making money. Anything less than that is speculation and novice investors ought not to consider.
A Clear Understanding Of The Business
All businesses are equal and therefore vital for you to know the company you plan to invest in, including purchasing of penny stocks.
An old saying states that when you are not able to explain especially on what a company does in a sentence or two, then you don't need to invest. Moreover, you have to stick only with what you understand and especially with capitalized penny stocks.
It's essential for you to diversify your penny stocks, similar to any equity investment. What's important is for you to be at three or four sectors in an economy that is growing and healthy. When given the risk of penny stocks, they are significantly higher than the large-cap stocks and therefore essential for you to diversify the investments.
Only Risk What You Afford To Lose
It's more likely to lose money trading penny stocks than other investments and therefore essential for you to understand that you don't have any guarantee. So, you only need to risk the amount of money that you can afford losing. For example, you may have a vital project you plan to start and all the funds you have been allocated in the budget; so it's better you keep off the funds.
Conclusion
It doesn't matter whether the stock contains a higher price, but with a small amount, you can easily double or triple the investment with penny stocks. So, you have to be calm and careful. You have to make sure you have done in-depth research. However, you can't get rich by spending all of your available time looking for undervalued stocks that cost less than a dollar, but it's possible to make a lot of money when you value invest stocks that are worth hundreds per share. So, you have to remember that the cost of one stock represents the company's value and mostly the amount of money that the company can produce with time, the overall market sentiment, and the money that is expected to be returned to all the shareholders after selling everything off. It's therefore for you to limit your penny stock on the price that is below a dollar, you can end up looking for businesses that have a long shot to success. When you guess right, you can be lucky, and when you do it repeatedly, you have to do it right in dramatic ways.