How to get started Investing in Penny Stocks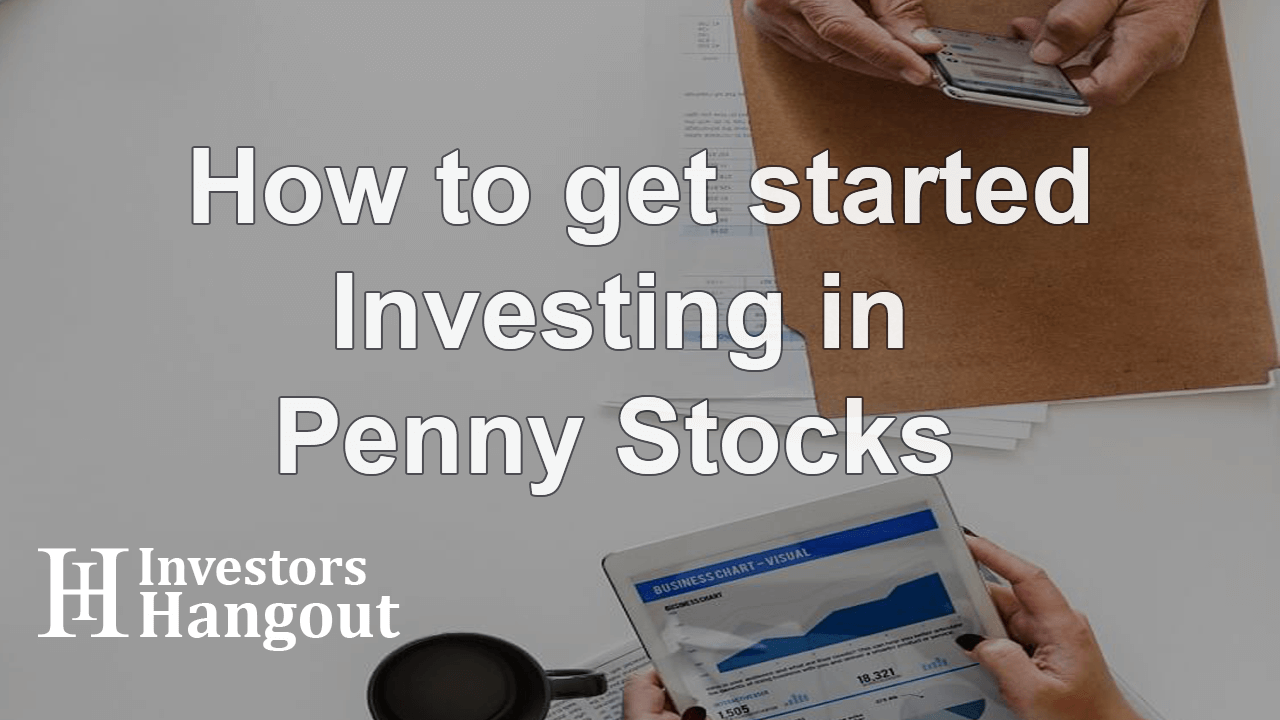 Author: Anita
Views: 700
Updated: 10-11-2021
For many beginners, penny stocks are the logical first step. So if you've considered investing in them, but you're unsure about how to get started, Investors Hangout is here to help. We've spent countless hours researching this topic and compiled the following information to help the beginner get started investing in penny stocks. You'll quickly find that these types of stocks require that you're on top of your game when actively buying and selling them.
Penny Stock Definition
Penny stocks are defined by the SEC (Securities and Exchange Commission) as "…a security issued by a small-cap or micro-cap company that trades at less than $5 per share." The logical assumption is that penny stocks trade for $1 or less. However, when you take the inflationary trend over the past 3 or 4 decades, you can understand why the breakpoint is $5.
Most penny stocks have very little financial history if they have any at all while others have bad ones. You'll quickly discover that these stocks trade off the major markets (NASDAQ and NYSE) due to their listing requirements for companies wanting to trade on them. (See NASDAQ rule 5550(a) – failure to have a minimum bid price of $1 per share for primary equities will result in the stock being de-listed.)
What You need to know going in
No matter what type of stock investment you want to buy and sell, there is always a certain element of risk involved. It's no different with penny stocks. Granted, there is an upside or benefits in that shares of these stocks can be purchased quite cheaply. Therefore, it's possible to for you to earn enormous gains when you make higher volume purchases. Investors Hangout just wants you to be aware that there is a downside to trading penny stocks as well.
For instance, there may not be a great demand for them. Since they aren't very liquid, finding a buyer could be difficult when you decide to sell. Cheap stock issuer's financial profiles may be fragile and their market position may be weak as well. This can make penny stocks a risky investment. Basically, you have to be prepared to lose the money you invested. Here are 3 factors we want you to consider with penny stocks:
Because of their speculative nature, investors take a "do it yourself" to these stocks and frequently purchases them through online brokerages

Penny stocks aren't traded on the NASDAQ or the NYSE, it's best to purchase them without the assistance of a broker.

The infrequent of trading these stocks can make it difficult to sell your shares after purchasing them
The bottom line is that you need to understand the risks involved when buying penny stocks. One of the key reasons that these stocks don't have much of a following in the investment arena is because index funds, money managers, mutual funds, and other institutional investors are prevented by charter from trading them.
Tips for purchasing Penny Stocks
If you're planning on investing in penny stocks, you don't want to get into them without understanding the mechanics. The following are some basic tips Investors Hangout has compiled to help you get started:
First and foremost, do your homework – you'll be investing your money in small, emerging companies. So it's wise to research several of them to see which ones offer the best opportunities for earning a profit. Although gathering information can be a bit challenging, it's important to learn as much about each company's financial health as you possibly can.

Sign up at an Online Brokerage – since you won't be using a live broker, you'll be trading at online sites such as E-Trade or TD Ameritrade. These sites allow you to constantly monitor your stock movements. Consequently, they work well for buying and selling penny stocks.

Start trading – once you're comfortable with what you're doing (understanding the mechanics and risks involved), you can begin trading. When purchasing penny stocks, placing "limit orders" will allow you more control of transaction pricing unlike "market orders." There's a greater chance of encountering inflated stock prices with the latter type of orders.
Most importantly, know when to sell – the penny stocks sector is one based on short-term trading. So long-term, purchase-and-hold investments are a rarity.
In order to profit from buying and selling penny stocks, you need to find solid stocks that are being offered at good prices. This is an area of great concern for many investors as you could be exposed to fraudulent penny stocks and scams. Whenever possible, you should look at "turnaround" companies. These companies are restructuring after filing bankruptcy and their stocks will usually be cheaper. This could potentially be a sound investment if they are successful and their stock prices increase.
For more information on penny stocks or to chat with knowledgeable investors, visit Investors Hangout today. We have an exciting forum with plenty of investors and stock market analysts that can help you with your queries and questions to help you better invest your money.