How to Buy Stock – Guide to Getting Started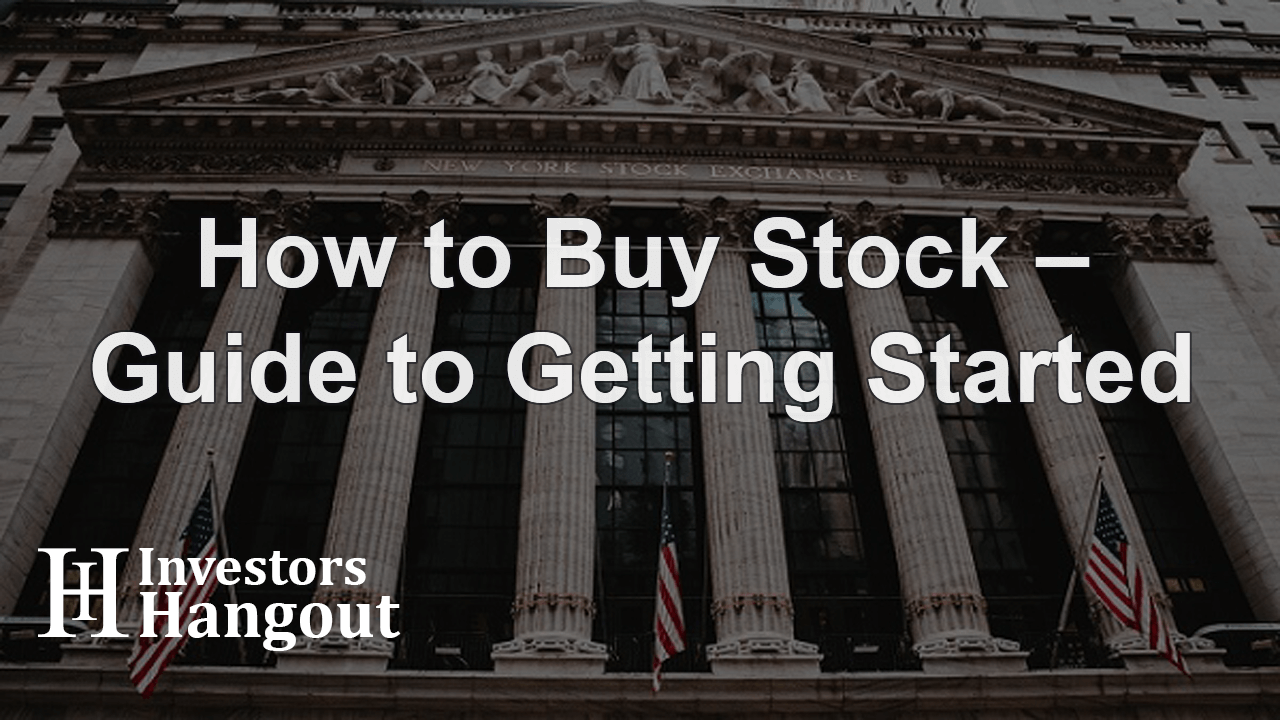 Author: Sejal
Views: 1941
Updated: 10-11-2021
Stock trading is a great way to earn huge money but, before getting into stock trading, you should educate yourself well with the basics of stock market, it's functioning, important metrics and definitions of stock trading and so on. Here is the complete step-by-step guide on getting started with stock purchasing. This guide is divided into three major parts to give a better idea of how to purchase your first stock.
Part 1: Developing Investment Framework
Step 1: Set your goals
Stock trading is a big decision, so you should be clear with your objective on why you are considering stock trading. Spend some time to figure out these necessary questions:
Are you buying stocks to build emergency funds for the future?

Are you investing in stocks to purchase your dream house or to fulfil your dreams?

Are in investing in stocks for your retirement?
Discover your motive and set your goals and figure out the amount of money you will be requiring to accomplish your goals. This will help in focusing on your goals and will make your vision clear.
Step 2: Determine your investment horizon
Your goals will determine for how much time period you need to invest in stocks. Your investment horizon may be short-term or long-term depending upon the funds you will need to accomplish your goals. Ideally, you should keep your investment horizon for a longer duration (like 7-10 years) to get higher returns on your investments.
Step 3: Understand your risk tolerance
Stock trading is full of a high level of risks. The possibility of losing some of your money always remains when you invest in stocks. The level of risk you can take or you are willing to take is your risk tolerance.
Before investing, do your self-assessment on risk-taking, ask yourself how much risk you can take if something not worked as per your plan. For stock trading, your risk tolerance should be very high. You never know what might happen in the next second. As stock market is very uncertain so, no one can predict what will happen next.
Step 4: Calculate the investments you need to accomplish your goals
With an investment calculator, calculate the rate of return you must earn and the investments you need to make in order to accomplish your goals.
Part 2: Choosing Investment Types
Step 1: Understand different investment types
After developing the framework of investment, the next step is to select that investment type which you think will be most appropriate for you. Consider that stock type through which your goals can be reached. But before that, understand the different types of stock investments available in stock market.
You can purchase shares of particular companies. Buying shares of a specific company will make you the shareholder of that company and you will be regarded as one of the owners of that company. The performance of company will decide your profitability rate. If the company sees a boost in its sale, market share and profit; you will be in profit too. The downfall of company will result in your loss. The prices at which you purchase and sell the share will determine whether you will make profits or not.
You can also invest your money in mutual funds. In mutual funds, many people invest together in different stocks. Market risk is low in mutual funds but the return on investments is also low if the investment is made for a short time period (3-4 years).
Exchange Traded Funds(ETFs)
Exchange Traded Funds are also known as index funds. These funds are quite similar to mutual funds. ETFs are stock portfolios which are not typically overseen by a manager. They are traded on market just like stocks. An ETF's value can change in a single day course.
The advantage of index funds is that they are diversified in nature. An investor investing in ETFs can make his portfolio diversified. One can easily invest in ETFs because these funds are also available for very little or zero commission.
Step 2: Understand key metrics and definitions
To best understand stock market and to track the performance of different stocks, it is important to know and understand the basics of finance, key metrics and definitions used in stock trading. Some of the key metrics with their definitions are listed below:
Market Cap is the total value of all the shares of a company. The overall value of a company is represented by market capitalization.
Earnings per Share (EPS) is that part of company's profit that is paid to stockholders of that company. It is important to know about EPS if you are in hope to earn dividends on your investments.
Beta is used to measure the volatility of a stock. To assess the level of risk, beta is considered a very useful metric. Stocks with beta less than 1 shows low volatility and with beta greater than 1 represents higher volatility.
It is that amount of income which a company generates with respect to the amount of money invested by the stockholders. To compare profitable firms of the same industry, return on equity is used as a measurable index.
It is the average price per share of a company over a specific time period. Moving average is a great metric to determine whether the current price of a given stock is a profitable deal or not.
Step 3: Pay close attention to stock analysts
If you are a rookie investor, then analyzing stocks can be a time-consuming as well as a hectic process. In that case, you can seek the help of stock analysts who can help you in your stocks research and analysis process.
You can get synopses of analysts' opinion on different companies on various free, reputed websites. Apart from this, you can also get guides and demos by financial experts that will explain different terms which are used by each company.
Step 4: Design your stock trading strategies
Once you are done with your research and analysis work, it's time to work upon your stock trading strategies. Each trader has its own strategy which he applies to win the next big stock. Design your own strategies in such a way so that you are able to build a strong, diversified portfolio.
Part 3: Buying Your First Stocks
Step 1: Open an account in full-service brokerage firm
To buy stocks, you need to first open an investment account in a brokerage firm. Full-service brokerage firm is ideal for those traders who are completely new in stock trading. Though these brokerage firms are expensive, they offer great expert advice.
In full-service brokerage firm, commission fee is quite large. You need to pay comparatively high commission than online brokerage for each stock you buy in order to execute the trade.
Step 2: Consider an online broker
You can also choose online brokers and open an account over there if you do not want to pay a very high commission for your stock trading activities.
The advantage of trading via online brokerage is that you will buy stocks and execute trading strategies at a very low commission. On the other hand, the disadvantage of it is that you will not be able to get expert advice which you can get if you trade via full-service brokerage firm.
Charles Schwab, Interactive Brokers, TD Ameritrade, E*Trade, etc. are some of the renowned online brokerage firms.
Step 3: Look for direct purchasing options
Through these direct purchasing plans, you can buy stocks directly from the firm of your choice. There are two types of direct purchase options available: direct investment plans (DIPs) and dividend reinvestment plans (DRIPs).
These plans reduce the gap between stocks and traders. There is no need for any broker while purchasing stocks through these plans. Both of these plans are inexpensive and investors can easily buy stocks even with a smaller amount of money at regular time intervals.
Direct investment plan (DIP) and dividend reinvestment plan (DRIP) require some paperwork which needs to be done in order to buy stocks via these plans. You need to complete all the forms and review the statements for each company if you are buying stocks of several companies.
Step 4: Purchase a stock
Once you are done with account set up, make your first transaction by buying stocks of your choice. This process again depends on the type of brokerage and the direct plan you have chosen.
Step 5: Monitor your investments
The stock market is highly volatile. It is very important to monitor your stocks as values of these stocks move up and down very rapidly, especially in the short run. Change your portfolio by investing in other stocks if the earlier purchased stocks are not performing well.
The Bottom Line
Stock trading requires good subject knowledge and winning strategies. By following these steps you will be able to buy your first stock. Good Luck!