Getting the Most Out Of Stock Message Boards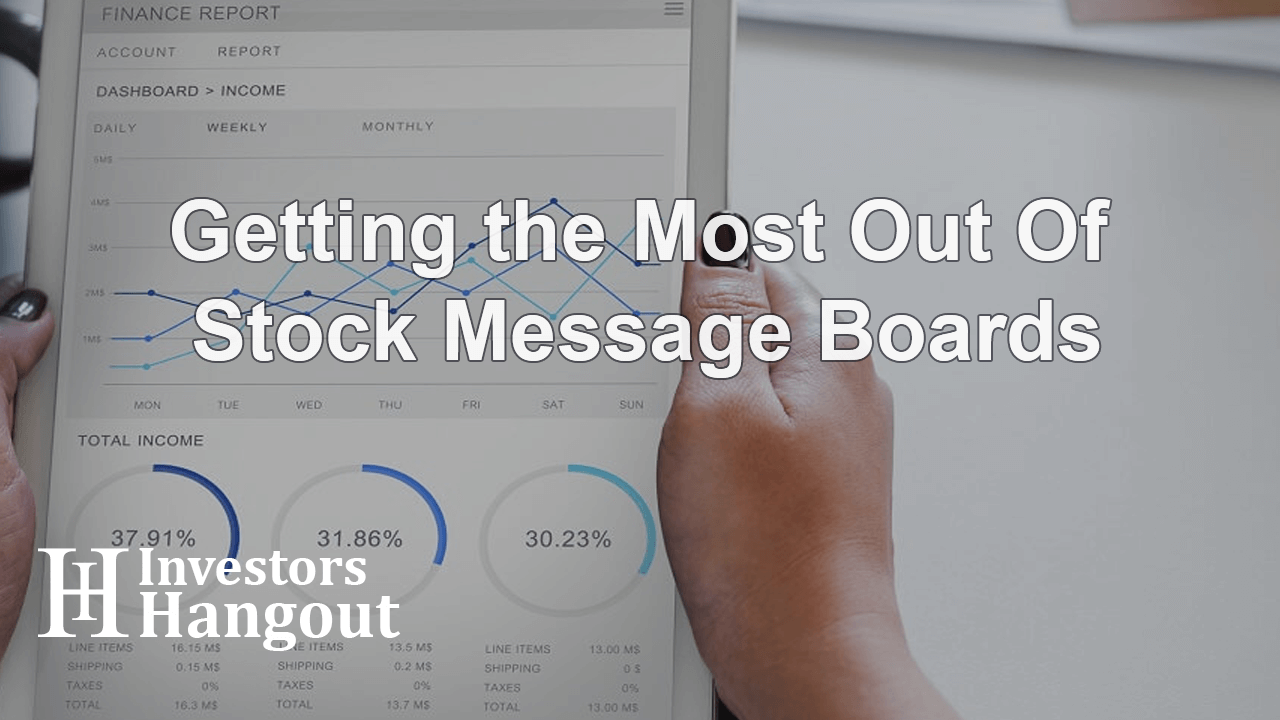 Author: Anita
Views: 763
Updated: 10-11-2021
The Internet is a great tool for stock investors; however, it is also a great tool for impostors as well. Smart investors need to learn how to spot and stay away from Internet fraud.
Stock message boards have become a popular way for investors to share information. While some messages may be genuine, many turn out to be fake or even scams. Impostors often "pump up" a company or pretend they know "inside" information about products, new profitable contracts, or unreleased announcements. You can never know for sure who is making the posts. These people can easily be paid promoters, company employees, or large shareholders. One individual can easily create the impression of widespread interest in a stock by posting several messages under various names.
No question, if you are a stock investor, it's a good idea to keep abreast of what is being discussed on the stock message boards. On top of the independent research you do (and you should always conduct your own independent research!) you'll get an idea of what other investors regard to be the most and least profitable stocks. Just be aware that what you read on the stock message boards may not always be true!
The stock message boards are also a great place to go if you are new to stocks. You will often pick up a lot of the information you need about stock trading. One great way of building up your knowledge is to methodically go through the archive of previous message threads. While some threads may not be particularly useful, others will provide you with invaluable insights and advice on all aspects of investing in stocks.
Of course, it's one thing to browse the archives or become a "lurker" who merely observes what is being discussed. Another benefit of visiting stock message boards is the opportunity to have your questions answered. If you have questions about the "tricks of the trade" you should post them to the board and see what people think. There are also educational sections on many of the stock message boards which provide a lot of documentation and information you can use to educate yourself about penny stock investing.
A major benefit of participating in the stock message boards is to be aware of fraudulent stocks. Respected, busy and moderated message boards are often the first to discuss scams and frauds. Someone who has had a negative experience is likely to share it with the board... others will respond... and before you know it, another scam is uncovered. Similarly, if you receive a tip about a hot stock, then the best place to verify if the tip is valid is often on the message boards.
Of course, because message boards are free-flowing conversations between all kinds of people, you shouldn't always believe what you read. It's always crucial that you do your own research and never accept what someone says on a stock message board at face value.
Finally, to get the most out of the stock message boards, you should also consider them as networking opportunities. Such message boards allow you to meet like-minded investors. In other words, you can use the boards to make friends and network with other people in the business. This can be a major benefit because you may end up receiving reliable tips from people you trust.
If you want to stay away from fraud, you must get the facts. By no means, ever, buy a stock based only on what you read on a stock message board.
Here are four actions you can take to avoid scams:
Get financial statements from the company and be able to analyze them.

Verify posts about new products, announcements or new contracts.

Call suppliers and/or customers of the company and verify their relationships with the company.

Research the management of the company and find out if they've ever made money for investors before.
If you are a stock investor, definitely pay attention to the stock message boards. These are a great place for you to find answers to your questions and meet other investors.