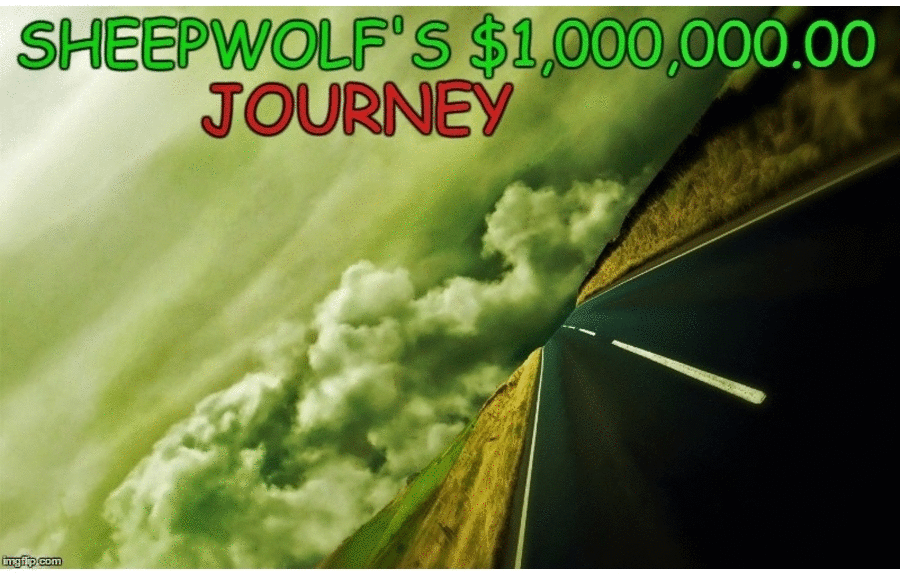 Many traders with small accounts long to make a great living trading but either lack the experience, drive, or commitment. I started this board to demonstrate what is possible. With preparation, determination, continuously acquiring knowledge, and patience I believe a trader can take a small account and run it to $1,000,000.00.
This is not a race to $1,000,000.00 but a dedicated, determined move towards that goal. If it takes a year, 2 years, 3 years, I consider it well worth the time and effort.
I hope that this board will encourage other traders as they follow SHEEPWOLF on this $1,000,000.00 journey.
Rules:
1. Spam of any type will not be tolerated
2. Abusive or foul language is unacceptable
3. Posters are to be respectful of other posters; no personal attacks will be permitted.
4. The only topics allowed are related to stocks and associated companies and trading ideas.
5. Off topic post will be removed and if the poster continues he/she will be banned.
6. This board is a great place to share market ideas, please feel free to post info, charts etc.
7. Absolutely no links will be allowed to other web forums, e.g. ihub, yahoo, stocktwits, etc..
Disclaimer:
The information provided on this board and accompanying material is for informational and inspirational purposes only. It should not be considered legal or financial advice. You should consult with an attorney, financial advisor or other professional to determine what may be best for your individual needs.
No one should make any investment decision without first consulting his or her own financial advisor and conducting his or her own research and due diligence. To the maximum extent permitted by law, this board disclaims any and all liability in the event any information, commentary, analysis, opinions, advice and/or recommendations prove to be inaccurate, incomplete or unreliable, or result in any investment or other losses.
Content contained on or made available through this board is not intended to and does not constitute legal advice or investment advice. Communication from this page should never be used as a basis of making investment decisions; always do your own due diligence. Moderators of this board are not financial advisors or consultants and are therefore unqualified to give investment recommendations. This board is entirely for inspirational purposes only. Your use of the information on the website or materials linked from this website is at your own risk.
ADDITIONAL DISCLAIMER
Disclaimer