AMRN Stock Chart (Amarin Corporation plc) Analysis 02-26-2019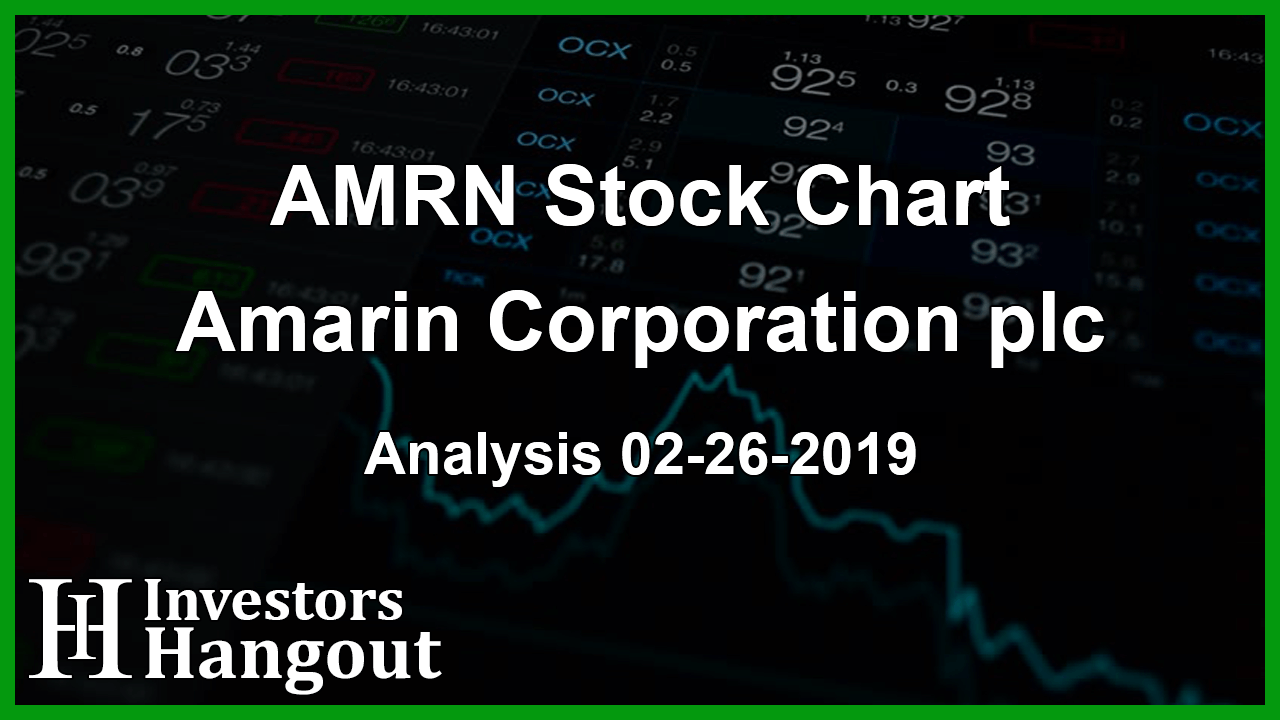 AMRN Stock Chart Analysis 02-26-2019
As of today AMRN is currently trading at 20.05.
Support Levels
Resistance Levels
About Amarin Corporation plc
Amarin Corporation plc is a biopharmaceutical organization. It's centered focus is around the commercialization and advancement of therapeutics to improve cardiovascular wellbeing. Its items incorporate Vascepa. The firm has Improvement and Commercialization of Vascepa working fragment. It for the most part works in the Unified States.


Video Transcript:
AMRN right now is currently trading at $20.05. If we look over here the last few days have been a few really nice moves and had some serious volume coming in here around 28 million which is going to be probably one of the higher volume days and on February 22nd. We see that right here going back a little bit the last was going to your on January 10th of this year we had 32 million shares being traded so again over here on the 22nd that is going to be one of the biggest volume days since January which is going to be a positive note here zooming out a little bit from the stock chart what we're going to watch for again is this right here with the $20.05 close. A really positive note would be to see us get above that $20 mark going back a little bit further we do have a little bit of resistance around this area, but after that especially once we get above the $23/$24. Getting above those highs I think it's going to continue to move a lot more, but again if we go back to last 2 weeks are riding up this 30-day simple moving. We can see that first break over here on January 10th where we had that big volume push that we were just talking about coming back up riding the 10 day simple moving average coming down to the 20 day simple moving average you got a few bounces down to that 30-day and that 30-day you guys did have that nice bounce that brought it back down right before that big volume day February 21st. Making its last touch the wrong at 20 and 30 and then again on February 22nd when you got that volume push to push you guys back up to these levels are you guys are currently out right now. What I would be watching for is a continuation of this volume. The volume does look steady. If we look over here after that big day in January, it did fall off pretty quick as far as volume goes, but again this volume right now is actually building back up. I think it's going to be normal for the most part but as long as it just doesn't go away and we can see the last few training sessions that volume starting to pick back up again we are going to continue to watch this one AMRN again if you guys are new here make sure you stop by and join investors hangout. For AMRN just go up to the top right-hand corner type in your ticker to pull up the board right here. You going to have access to everything including the time and sales, recent news, filings, financials. The time and sales is going to give you all the historical trades.