How about the citizens of YUMA last year when some


Post# of 93386
Posted On: 09/21/2022 10:50:46 PM

How about the citizens of YUMA last year when some 800 migrants showed up and the fed warehouses were almost empty?
BP went into the local grocery stores and bought up baby food, diapers, cereal, fruit, and enough groceries to feed the 800 for a couple of days until they could be bused to Tucson or Phoenix.
Locals went grocery shopping only to discover BARE shelves!
Tucson church mobilizes volunteers to help surge of migrant families
It was about 9 a.m. on Oct. 5, when the call came: Word was that immigration officials would be releasing hundreds of families in Southern Arizona over the weekend. It was Friday.
A few hours later, following a national phone conference with social-service organizations and conversations with local Immigration and Customs Enforcement officials, Teresa Cavendish of Catholic Community Services got a confirmation.
More than 700 parents and their children recently apprehended by the Border Patrol — at least 470 in Yuma and 285 in Tucson — would be released in less than 24 hours.
Yuma can keep up to 350 people in custody, whether that's a family or single adults, said Henry Lucero, ICE field office director in Phoenix, "and over the last few weeks they were operating above capacity with some days 400 to 450 in custody."
Yuma had also started to transfer people to the neighboring Tucson sector, risking filling another sector.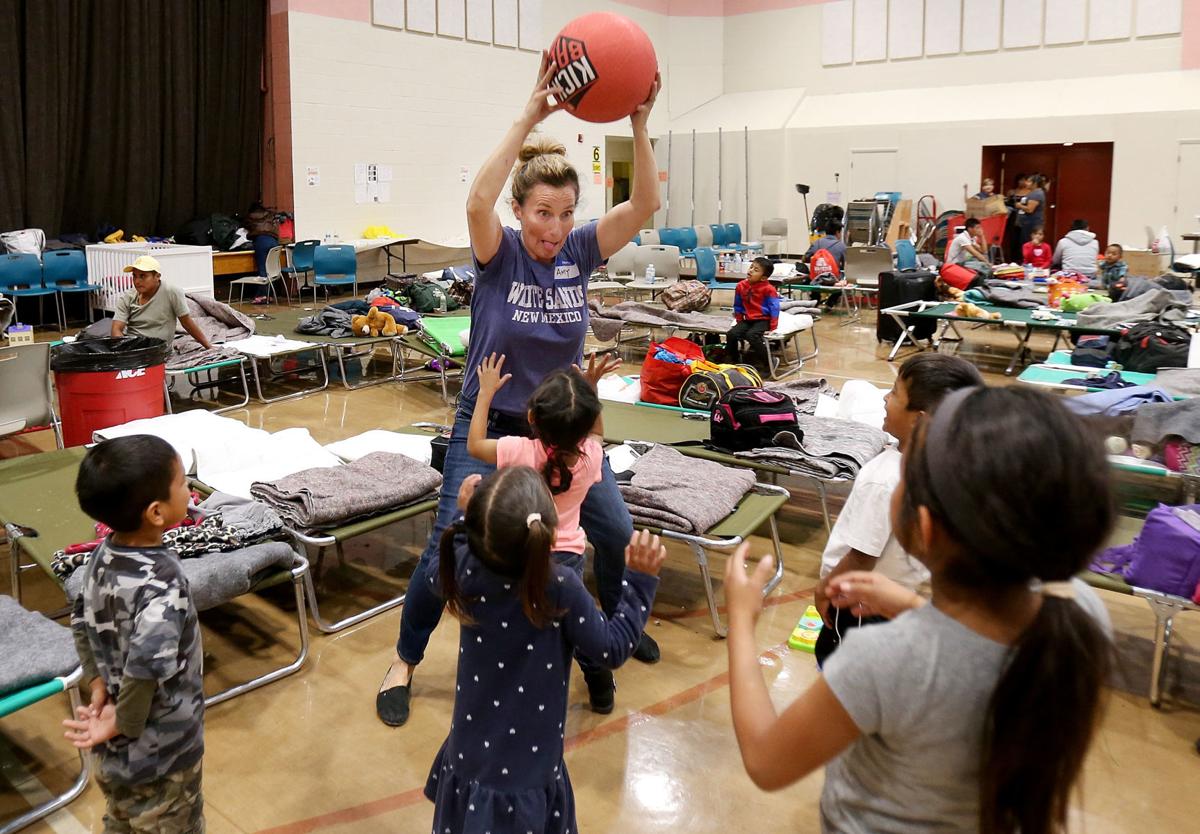 When church member Paul Flores picked up the phone he was only asked, "What's the capacity at your church?" Catholic Community Services didn't know for how long it would need the space, he said, or exactly how many people it would end up receiving, only that the families needed a place to stay as they made travel arrangements.
ICE has the capacity to process about 120 family members a day, but the Border Patrol in Arizona was apprehending near 200, which led to a backup. "We couldn't continue to do business as usual."
Volunteer Joan Kaltsas, a self-described bossy 74-year-old, arrived Saturday morning.
Nobody had any practice doing this kind of work on this scale, she said, so she started to walk around to see if she "could make some order of the chaos."
She put out a call for towels and helped set up a showering and laundry system.
Often the clothes the migrants are wearing are the only things they have. So when the person exits the shower with their dirty clothes in hand, there's someone who gives them a plastic bag and a number.
Other volunteers stop by throughout the day to take the clothes home to wash and bring back before the families leave.
The support was overwhelming, Kaltsas said, with people arriving daily who heard about what was happening from Facebook or through a neighbor, asking, "What can I do? How can I help?"
Teachers and students spent their fall break sorting clothes and playing with the kids. Doctors left football games to tend to the sick. People stopped by in between work meetings.
Kaltsas tells them, "I can't pay you, but I can give you a hug."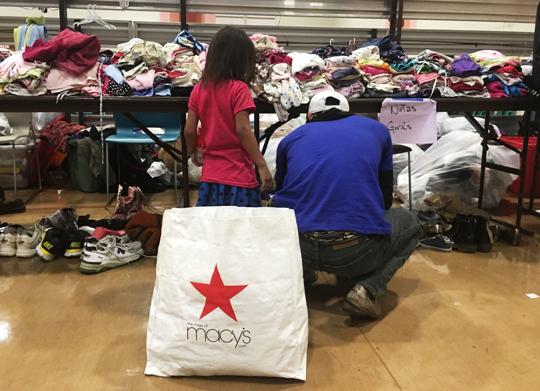 A father and his daughter look for shoes at a Tucson church that has been converted as temporary shelter space for the dozens of families being released on a daily basis by immigration officials. Nearly 200 were dropped off Saturday by U.S. Border Patrol agents.
The first thing they do when they arrive, Kaltsas said, is to look for shoes and clothes for their kids, not for themselves.
A station was set up to wash feet and cut toenails! Volunteers canvassed local stores for donations of toothbrushes, paste, soap, shampoo, etc.
https://tucson.com/news/local/tucson-church-m...a8f43.html

(0)

(0)
---