We've come a long long way together Through the


Post# of 23030
Posted On: 05/02/2021 11:45:11 AM

We've come a long long way together

Through the hard times and the good
I have to celebrate you baby

I have to praise you like I should
Seems like a video the Verb team would have fun making, even remotely
We know Rome wasn't built in a day...
We know it takes an Army
So who is in the Army?
We know Verb leverages external partners
But when and for what expertise?
Who are these companies that are an extension of the Verb team?
"Trusted by the Top VCs and Startups"
Who does the Verb Trust, trust?
"Services That Optimize Your Paid Acquisition & Growth"
What is Paid Acquisition pray tell?
This article puts it in simple terms
When & Where to start Paid Acquisition (PPC)?
https://www.pierrelechelle.com/paid-acquisition-saas
Once you read that, you are ready for the big boy article that goes into detail
Full Guide To Paid User Acquisition For 2021
https://marketsplash.com/paid-user-acquisition/
red, what does any of this have to do with Verb?
I thought you'd never ask
Startups typically will start out with free advertising as they may get more than enough customers that they can handle
When they are ready to turn on the spigot and scale exponentially they often move to Paid Acquisition
But red, I am not seeing these ads
Good, then the company isn't wasting money advertising to the wrong audience
But, but red, other than Buffi saying she sees ads, how do we know Verb actually took the step and moved from the free ad model to the paid model?
We'll you never really want to stop the free model but check out the link below
About 10% down the page you'll see Verb is a customer
About 75% down the page you'll see a Video that contains some of their customers including few snippets of Denise praising CoEfficient Labs
https://www.coefficientlabs.com/
ok, red I get your point. Just because we don't see it, doesn't mean nothing is happening like the prisoners on Shutter Island spend all week saying
But why doesn't Verb tell us these things?
Ahhh, because they are growing a business and every minute they spend handholding is one less spent on increasing shareholder value
Got it, red!
But wait, there is more...
This is what I love about Verb's new Attribution feature. It's hard to acquire customers at any company.
Hard to find good sales people, real ads are not cheap, lot of competition, etc
If you read the article above, they describe...
7 Types Of Paid User Acquisition
Video Ads, Social Media advertising, Facebook Ads, Instagram Ads, Twitter Ads, etc
red, don't they do that already? I follow Verb on twitter and I see them post message, pictures, videos, etc everyday
We'll a lot of those people that follow Verb are investors, traders, partners or existing customers. They aren't the ones that are going to be buying
Paid Acquisition is putting those ads on social media that you are probably scrolling by. Monday.com is a SaaS company that heavily uses Paid Acquisition
so you were mentioning something about Attribution, red?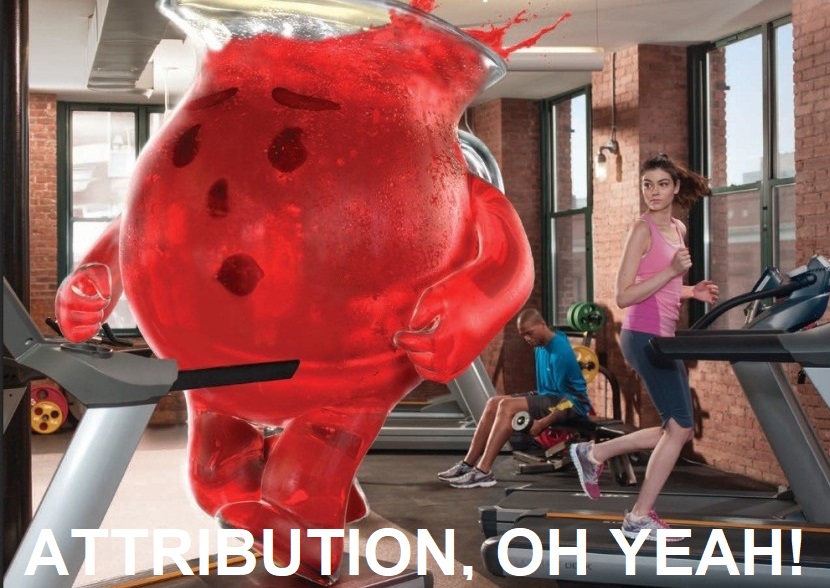 Was just getting warmed up
Setting the table as they say...
What is the 8th type of Paid Acquisition?
you are trying to trick us red, the article said were only 7
That is right
Were
only 7
Verb's Attribution feature is a game changer
A paradigm shifting technology
Did you ever buy something and they said if you refer another customer to you, we'll give you X dollars?
You know, you bought a car and they said tell a friend and if they buy, we'll give you $100 as one example
Exactly how does that work?
Would you even remember the offer?
If it actually happened, how would you get paid?
Would go down to the dealership and tell them my buddy bought a car last month so give me my $100
There is too much friction there, but you know one thing is for certain, the dealership would be happy to only spend $100 to get a customer
Enter the Verb Attribution
But this isn't a Paid Ad were 'maybe' you get someone into the top of your sales funnel
It is truly
Paid Acquisition
. You are only paying when you get a new customer
Do you know what the best way to get a customer?
It's through genuine referrals. People that used the product, can vouch for it and answer any questions.
I got a Greenworks electric lawn mower years ago and I can't tell you how many times someone comes up and asks me about it.
"it's so quiet red!"
Be pretty cool if I got $10 every time someone bought one because of my glowing recommendation. Much better to see, hear it first and then reading reviews on Amazon some of which are fake.
I don't think this exist in the market place today or certainly not at any scale
It's complicated to do, because you could have a number of layers/levels
Hey, which company has years of that type of experience?
Which company actually has patents on some of this?
Systems and Methods for Enhanced Networking, Conversion Tracking, and Conversion Attribution
Patent number:
10467317
Type:
Grant
Filed:
September 6, 2017
Date of Patent:
November 5, 2019
Here's one, but you might want to break open a bottle of advil as it gets complicated
https://patents.justia.com/patent/10467317
Now what patent applications did they add recently to include additional Attribution features?
Took about 5 years to get the one above so stay tuned
Note, it's not when you get the patent although those are definitely nice, but more importantly who filed first.
One more thing about Verb's Attribution feature
The market really doesn't know about it yet
Heck, I think most people don't really understand it
But they will
They will
But wait...There is even more
This was from 3:59 PM EDT Apr 30
Bullish Trend Analysis
The RSI Oscillator points to a transition from a downward trend to an upward trend -- in cases where VERB's RSI Oscillator exited the oversold zone, 10 of 11 resulted in an increase in price.
Analysis proposes that the odds of a continued upward trend are 90%.
The Momentum Indicator moved above the 0 level on April 28, 2021. You may want to consider a long position or call options on VERB as a result. In 37 of 40 past instances where the momentum indicator moved above 0, the stock continued to climb.
The odds of a continued upward trend are 90%.
The Moving Average Convergence Divergence (MACD) for VERB just turned positive on April 21, 2021. Looking at past instances where VERB's MACD turned positive, the stock continued to rise in 15 of 16 cases over the following month.
The odds of a continued upward trend are 90%.
Following a +15.65% 3-day Advance, the price is estimated to grow further. Considering data from situations where VERB advanced for three days, in 75 of 86 cases, the price rose further within the following month.
The odds of a continued upward trend are 87%.

(21)

(0)
Verb Technology Company, Inc (VERB) Stock Research Links



---
"Do your own DD and don't get your investment advice off of a message board"
You got a complaint?
Make it loud and clear...
File a SEC Complaint