The recent paper "An Update on Glioblastoma Biol


Post# of 89669
Posted On: 05/02/2021 9:01:10 AM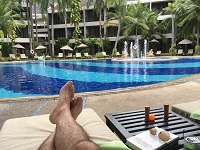 The recent paper "
An Update on Glioblastoma Biology, Genetics, and Current Therapies: Novel Inhibitors of the G Protein-Coupled Receptor CCR5
", posted in this board (sorry, forgot who posted it) is a very good read, not only for the treasure trove on bibliography but for the very relevant/current advances in understanding Gliobastoma and other cancers in the context of CCR5.
The conclusion: we are in the middle of it.
Which we knew anyway.
Below some excerpts taken from different sections in the paper:
Quote:

---

We recently reported that the G protein-coupled receptor CCR5, which contributes to stem cell expansion in other cancers, is overex pressed in glioblastoma cells. Overexpression of the CCR5 ligand CCL5 (RANTES) in glioblastoma completes a potential autocrine activation loop to promote tumor proliferation and invasion. CCL5 was not expressed in glioblastoma stem cells, suggesting a need for paracrine activation of CCR5 signaling by the stromal cells.

---
Quote:

---

The role of CCR5 in the growth, invasion, and metastasis of cancer has been extensively investigated. CCR5 is overexpressed breast prostate pancreatic, colorectal head and neck gastric and esophageal cancer as well as acute lymphocytic leukemia, melanoma, Hodgkin's lymphoma, and other tumors [. In humans, CCR5 has the peculiar characteristic of being a developmentally nonessential gene, which participates in diverse pathological processes, including infection with HIV, progression of stroke, and cancer metastasis. Although metastasis involves multiple distinct steps, CCR5 was shown essential to govern the homing step of breast cancer metastasis in mice, as demonstrated by the anti-metastatic activity of the CCR5 inhibitor maraviroc. Subsequent studies showed the importance of CCR5 in both the formation of new metastasis and the growth of previously formed breast and gastric cancers.

---
Quote:

---

Thus, CCR5 signaling can favor cancer progression either directly by affecting proliferation, cell survival, and migration of cancer cells, or indirectly, by recruiting protumor and/or anti-inflammatory effector cells. GBM cells express both CCR5 and its ligand CCL5 promoting cell-autonomous signaling.

---
Quote:

---

CCR5 plays a significant role in three major processes promoting GBM progression through expression on GSCs, GBM, and cells within the GME. Since maraviroc significantly inhibited CCL5 and MSC cells induced GBM and GSC invasion, we proposed targeting the CCL5–CCR5 signaling axis as novel glioblastoma therapeutics.

---
Quote:

---

CCR5 inhibitors may therefore enhance the tumor-specific activities of DNA damage response-based treatments and allow a dose reduction of standard chemotherapy and radiation. Recent studies have shown functional synergy between the DNA damaging agent, doxorubicin, and the CCR5 inhibitor maraviroc DNA damage repair pathways also contribute to the therapeutic resistance of GSCs, and therefore, maraviroc and leronlimab are good candidates for adjuvant GBM therapy

---
As if we needed more scientific support

, however good week-end read.

(18)

(0)
CytoDyn Inc (CYDY) Stock Research Links



---