So, this is the news we were expecting. Main ta


Post# of 66617
Posted On: 10/20/2020 8:37:04 AM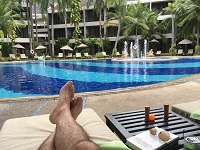 So, this is the news we were expecting.
Main takeaway:
the DSCM has found out that Leronlimab works.
Why ?? trial continues and if we did not have any hope of meeting statistical significance they would not had recommended to continue the trial.
So this is the second time Leronlimab performs (first one being HIV), but more importantly now:
IT WORKS FOR COVID-19.
This is extremely important.
As for the modifications to the trial:
We must have a very good p-value as the DSCM recons significance can be met @ 295 patients. Something important that has not been discussed here is that of the power of the trial. One can have a superb p-value, say 0.005 and still have a power of, say, 75%. The power of the trial depends on the number of patients and guarantees that there is no Type II error (so called false-negative error). The DSCM obviously accounts for this and that is why the
interim
values are way more stringent. The scheduling of another
interim
says that they forecast probable significance even with the lower levels of enrollment at that time.
The 42 days follow up is also positive. IF LL is showing benefit at 28 days, mostly with Critical, the statistics (SOC vs LL) will diverge as time goes by. So, this is an indirect differentiation of Critical patients and the DSCM has seen that monitoring patients will be beneficial (meaning it was beneficial to start with).
All together excellent news for us investors (long term). Leronlimab works in the COVID-19 world!!!!

(24)

(0)
CytoDyn Inc (CYDY) Stock Research Links



---