This was posted here before. NIH begins large c


Post# of 63063
Posted On: 10/17/2020 10:01:52 AM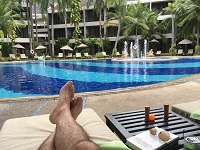 This was posted here before.
NIH begins large clinical trial to test immune modulators for treatment of COVID-19
https://www.nih.gov/news-events/news-releases...t-covid-19
Quote:

---

ACTIV-1 IM is a randomized, placebo-controlled trial that uses an adaptive master protocol. One of the hallmarks of master protocols is that they allow coordinated and efficient evaluation of multiple investigational agents as they become available. This enables maximum flexibility to swiftly weed out drugs that do not demonstrate effectiveness, identify those that do in a short time frame and rapidly incorporate additional experimental agents into the trial.
The ACTIV public-private partnership selected three agents for the study from a pool of over 130 immune modulators initially reviewed based on several factors, including their relevance to COVID-19, strong evidence for use against inflammatory reaction and cytokine storm and availability for large-scale clinical studies. The initial agents are infliximab (REMICADE), developed by Janssen Research & Development, LLC., one of the Janssen Pharmaceutical Companies of Johnson & Johnson; abatacept (ORENCIA), developed by Bristol Myers Squibb;

and Cenicriviroc (CVC), an investigational late-stage agent developed by AbbVie.

---
This is insane, they will be evaluating Cenicriviroc (CVC) a small-molecule antagonist for CCR5. This is very likely inferior to Leronlimab and is being tested for HIV and NASH similarly to us.
Quote:

---

All participants in the trial will receive remdesivir, which is the current standard of care treatment of hospitalized patients with COVID-19. Convalescent plasma and dexamethasone will be allowed at the discretion of the site investigator and in accordance with national guidelines. They will be randomly assigned to receive a placebo or one of the immune modulators as an add-on treatment. The trial will study the different combination treatment regimens with respect to illness severity, recovery speed, mortality and hospital resource utilization.

---
Why on God's earth not try Leronlimab that is already demonstrating strong immunomodulatory effects in-vivo with demonstrated clinical improvement??
And why on Earth are they still using Remdesivir as the SOC for these trials (I think I have the answer to that question).???

(7)

(0)
CytoDyn Inc (CYDY) Stock Research Links



---