Presentation Beckman Coulter with Notes (from Yaho


Post# of 36923
Posted On: 05/22/2020 12:01:25 PM

Presentation Beckman Coulter with Notes (from Yahoo-Board):
Dr. Bruce Patterson thanks Beckman Coulter for the invitation.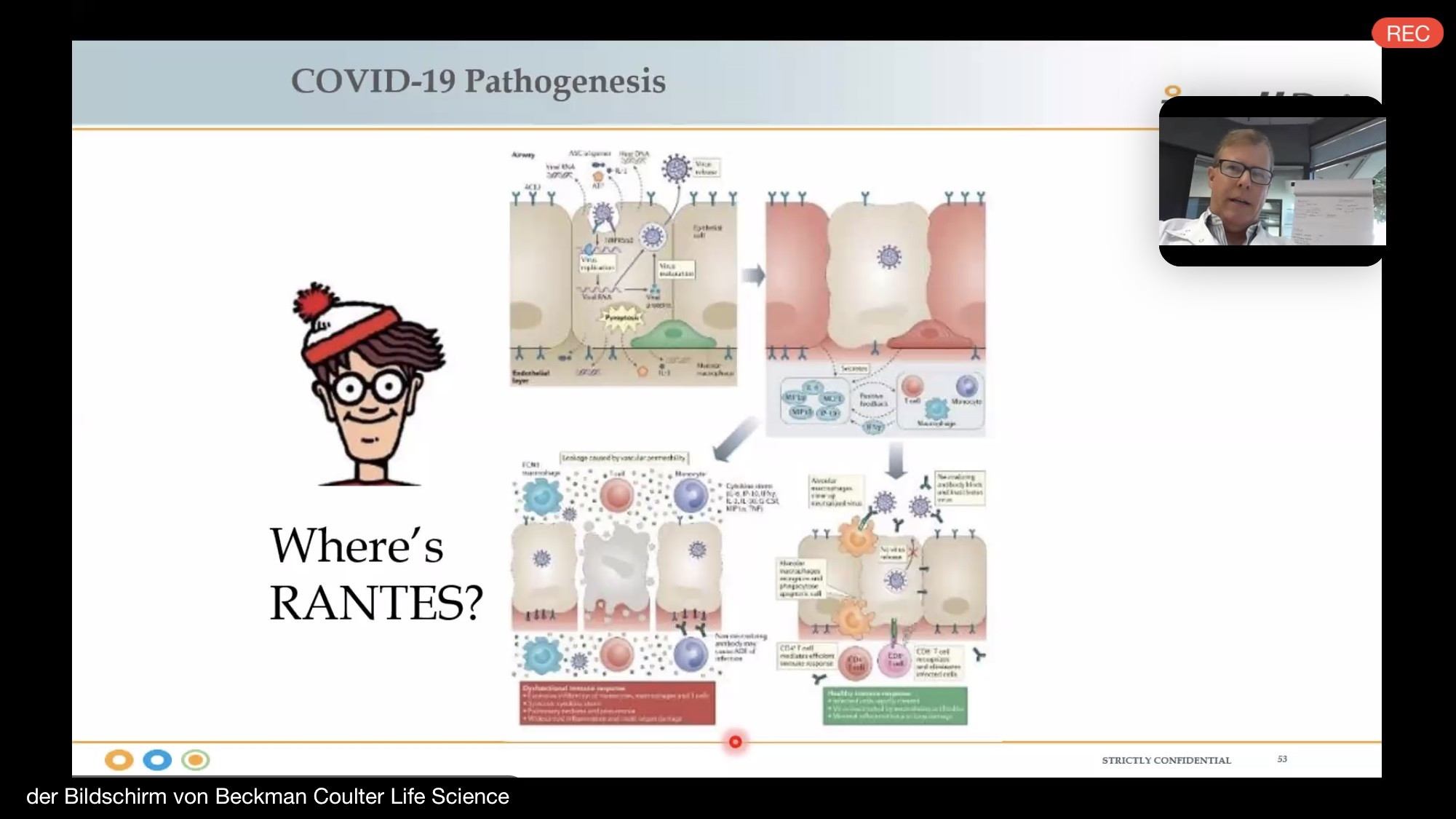 He wants to talk about Rantes/CCL5.
These are levels we've never seen before in Covid patients.
How do these immune cells get to sites of inflammation?
Rantes is an "immune magnet."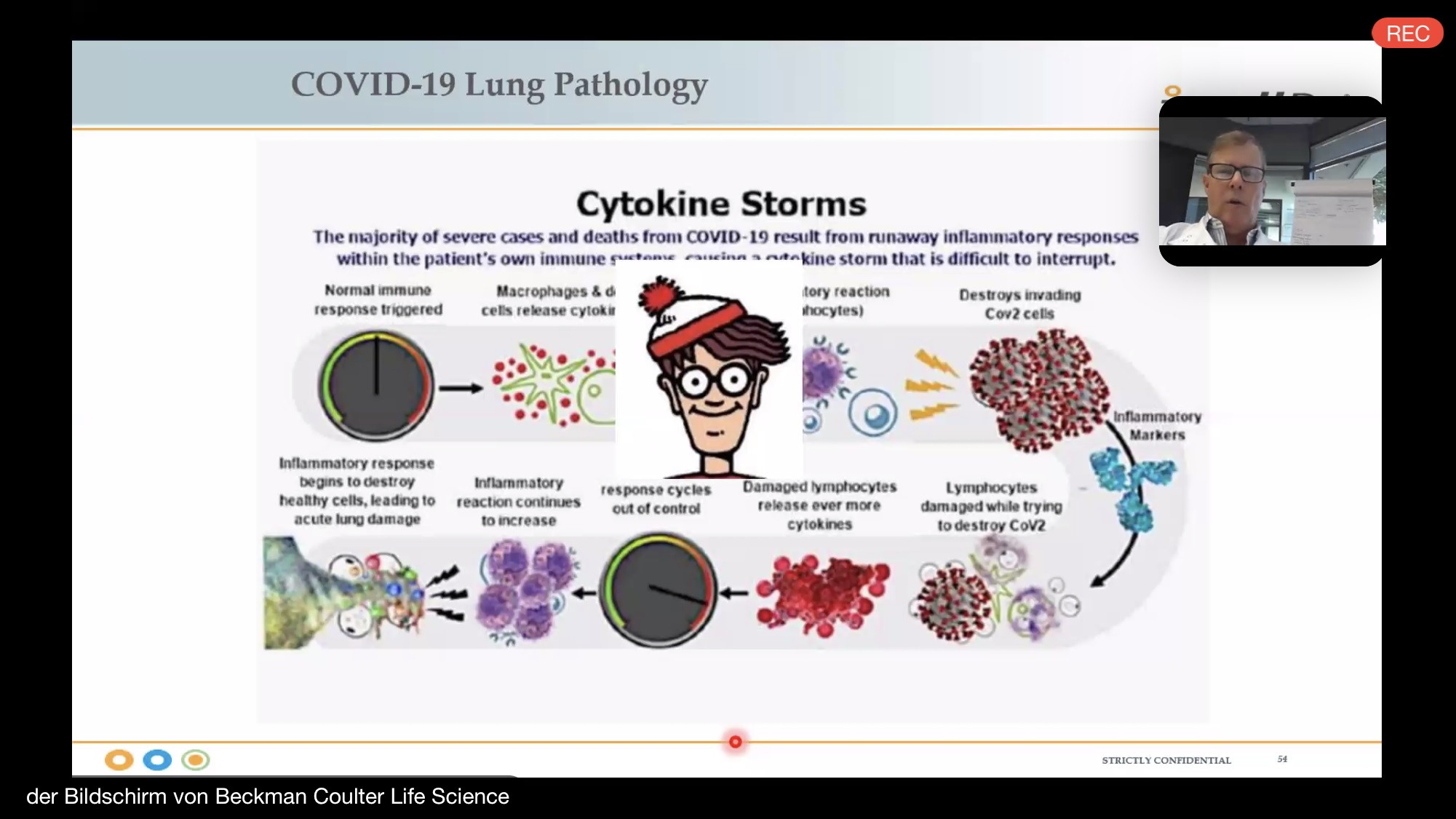 We have looked at a set of very critical patients at Albert Einstein.
You see a very complex disease.
Rantes seems to be acting as the quarterback to bring cells to where they are needed.
But it brings them to such an extent that you get sequestration in lungs, liver, etc. The cytokyne storm is triggered.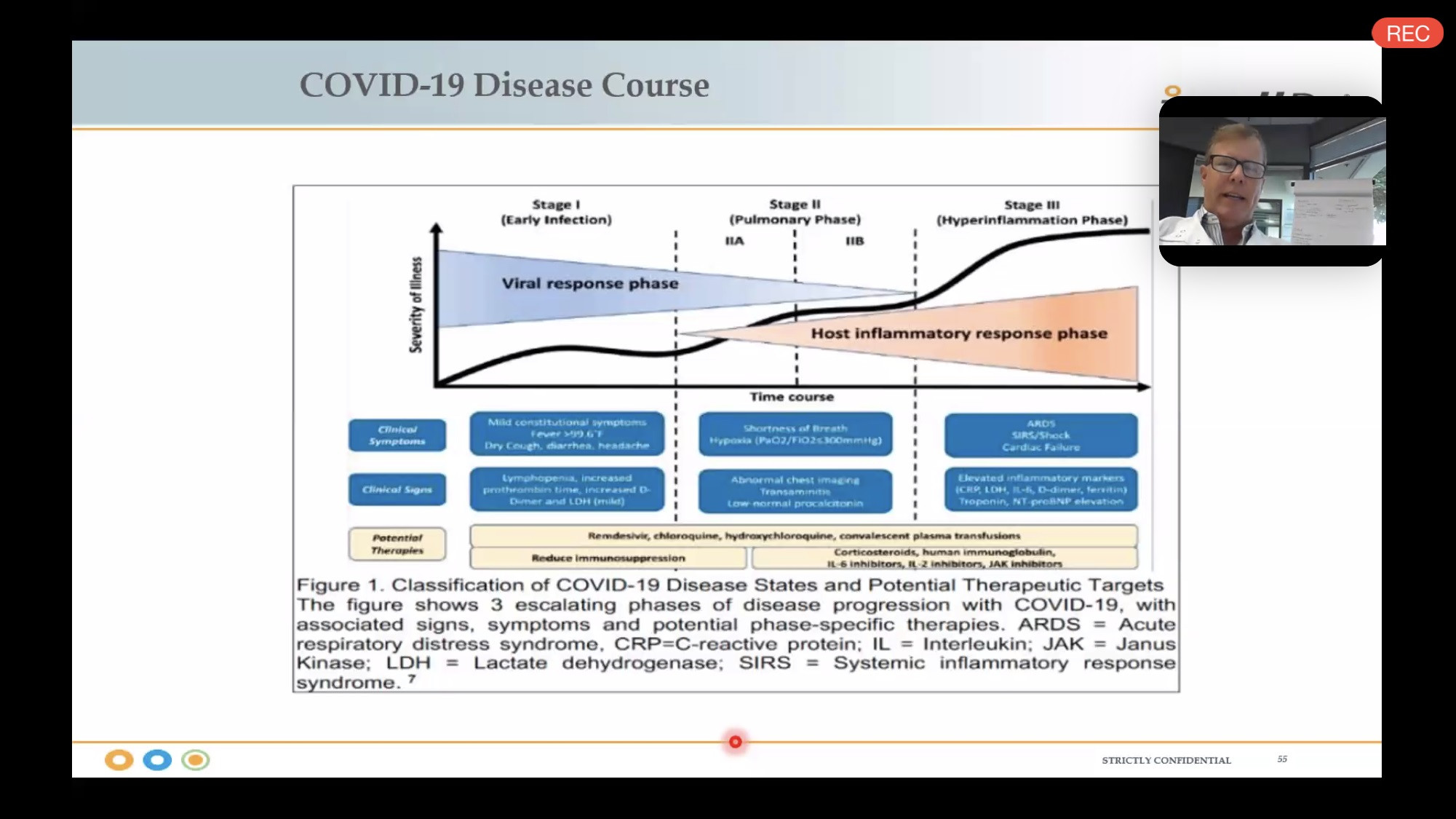 Macrophages and NK cells and lymphocytes come in and bring in new cells.
See in mild to moderate patients but this immune disruption/chaos doesn't start for a while.
It is tipped from the expression of Rantes.
It is well described in slide - initial virologic phase/sometimes asymptomatic - then uncontrolled response which leads to immune chaos/immune suppression and more cytokines.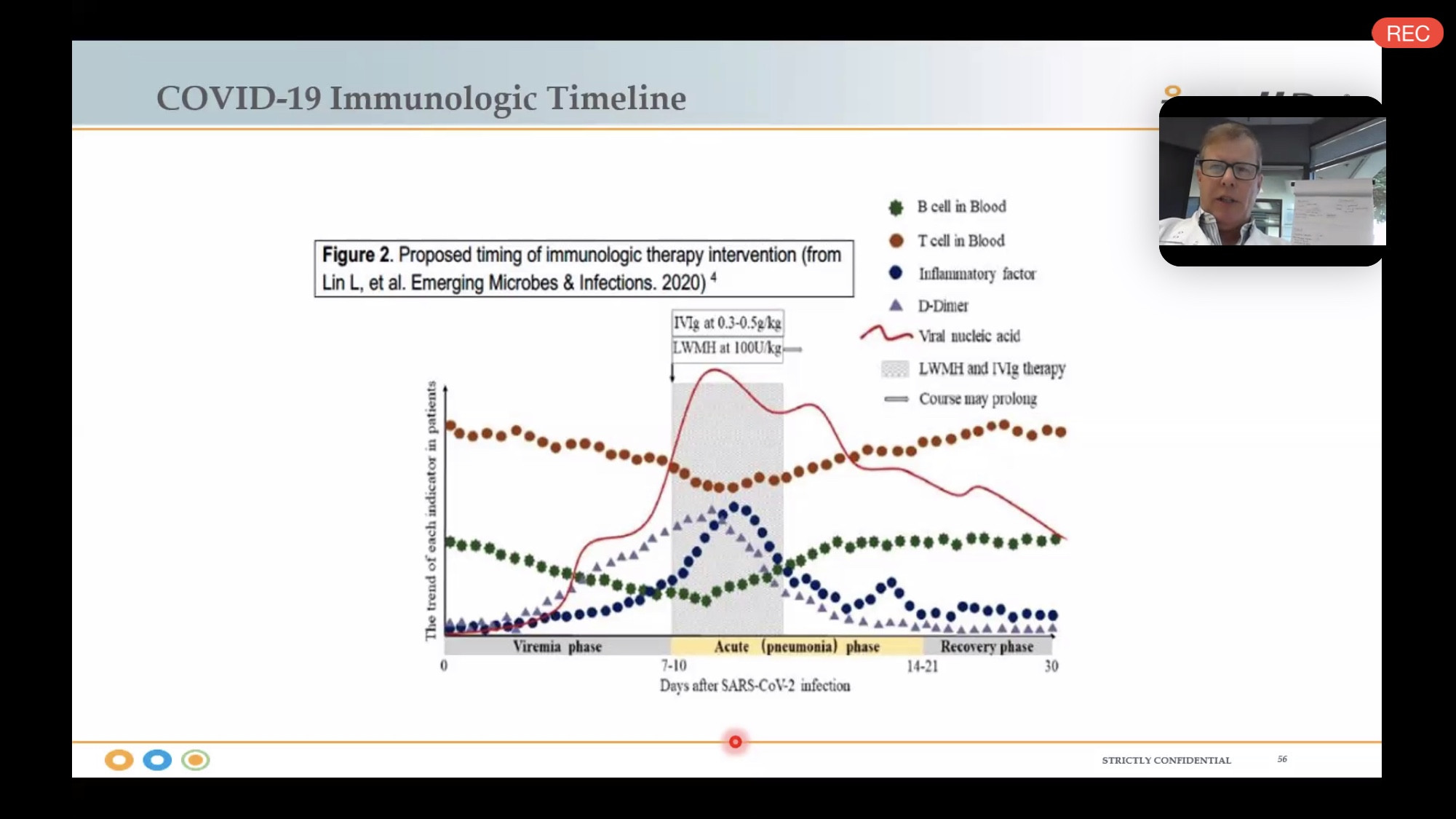 We were always trying to find a way to control.
Leron blocks binding of CCL5/Rantes and controls all the effects of Rantes.
We also found the immune disruption.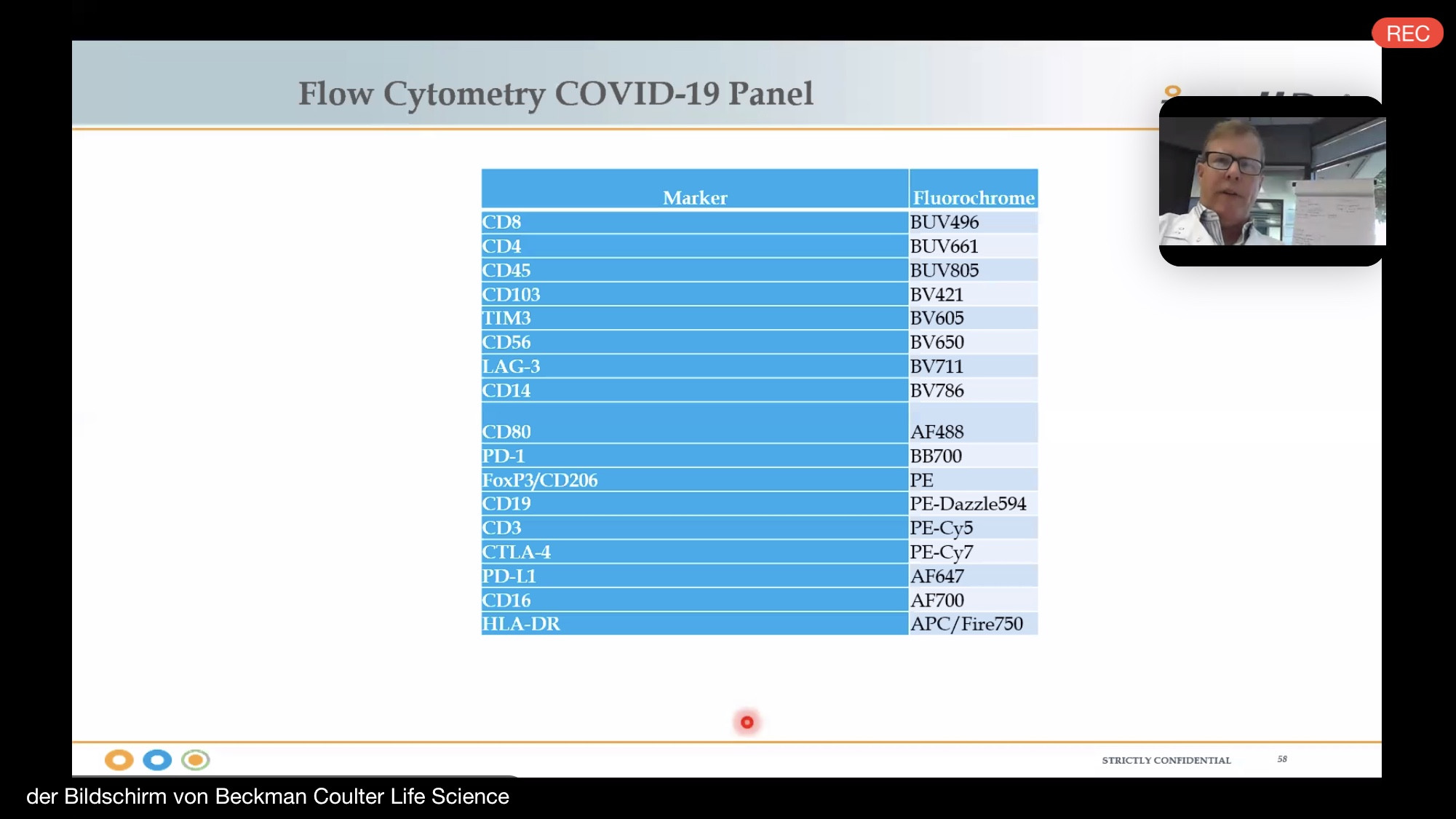 Severely decreased CV4-CV8 cells also present.
We've been luck that we have tools to measure all the manifestations of Covid.
[Brags on his hardware]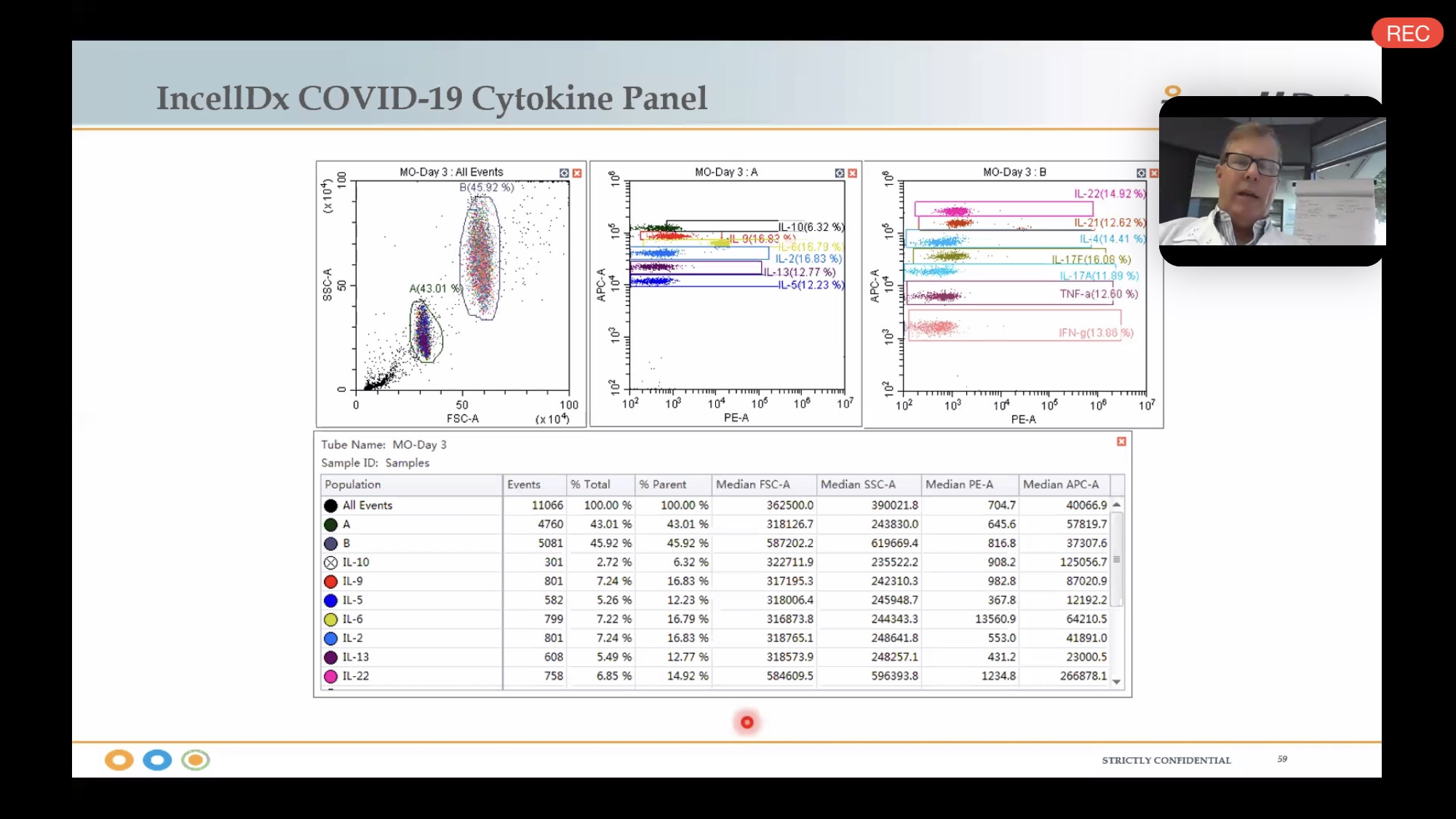 One of the discrepancies in the world is that no one knows why these drugs are working.
We have developed a suite of diagnostics that show what is happening.- i.e. increasing cells, decreasing IL6, decreasing viral lode.
This is the panel we've been using: i.e. T-Cell exhaustion.
We see dramatic decreases in IL6 in patients across the country
We are able to do cytokine panels right on the cytoplex.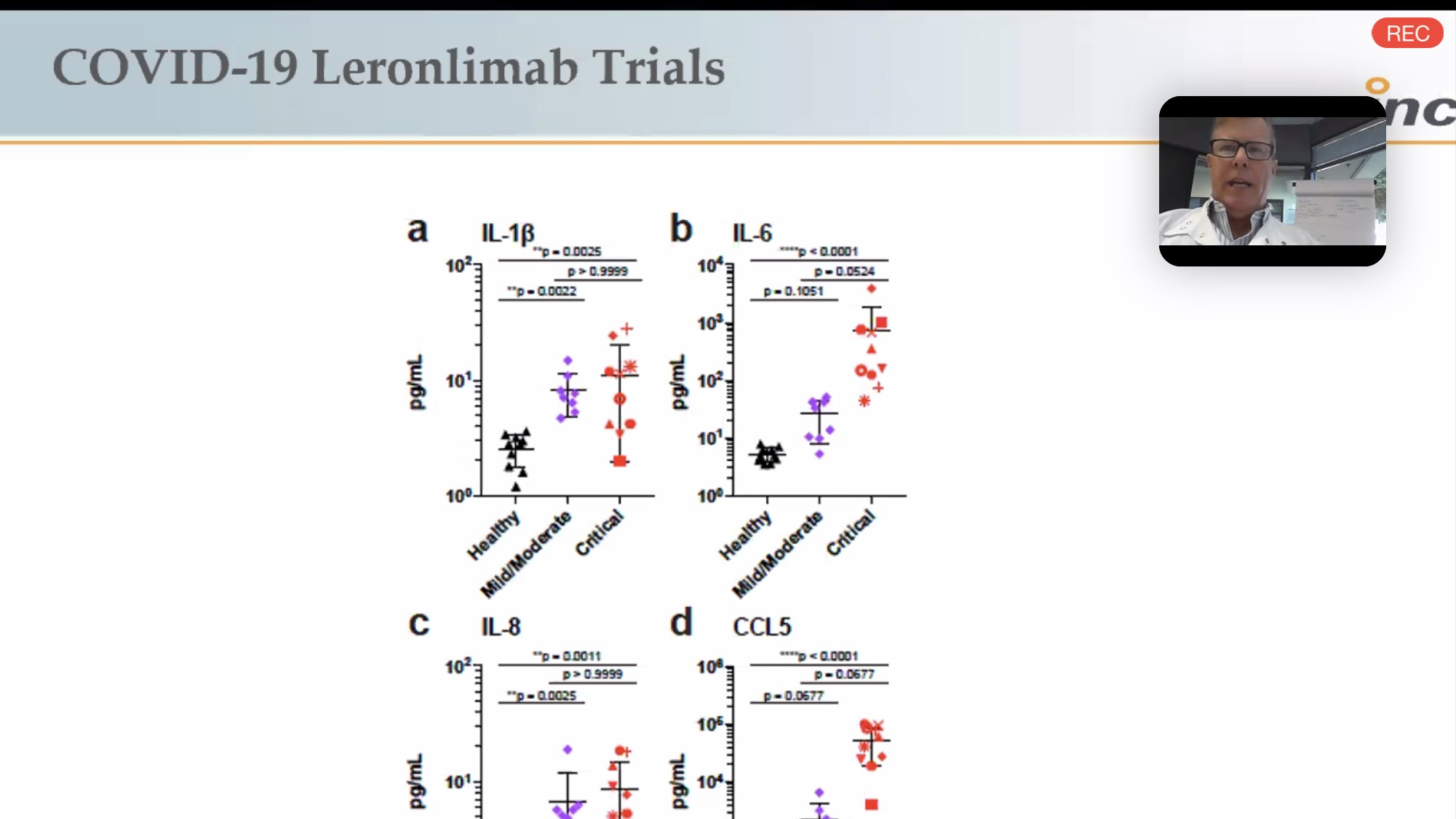 We can do profiling all on the same machine with three different assays.
In Covid patients, Rantes is increased to 3x to 5x quickly and that's the trigger from a viral disease to an immune disease.
That is borne out.
Platelets go up and are activated.
You can see why there may be issues with Thrombosis and coagulation.
C-reactive protein is high and it is brought down significant in patients on Leron.
Liver enzymes come down on Leron.
Recurring theme. The body is on fire in Covid. When you put out that fire, the viral load goes down which is remarkable.
These are all the key parameters. A lot of people talk about targeting various items i.e. IL6.
The diff with CCL5 is that it is initiating this storm.
The beauty is that Leron blocks CCL5 and brings down IL6.
The amazing thing about Rantes is that it crashes at day 14.
In some of the very severe patients, it comes down at day 21.
It determines two things 1) when do you initiate and 2) when do you stop.
The most astonishing finding in study under peer review: we were first to find and quantify viral load using droplet ...ICR. It is perfect technology.
We did find it in every single patient.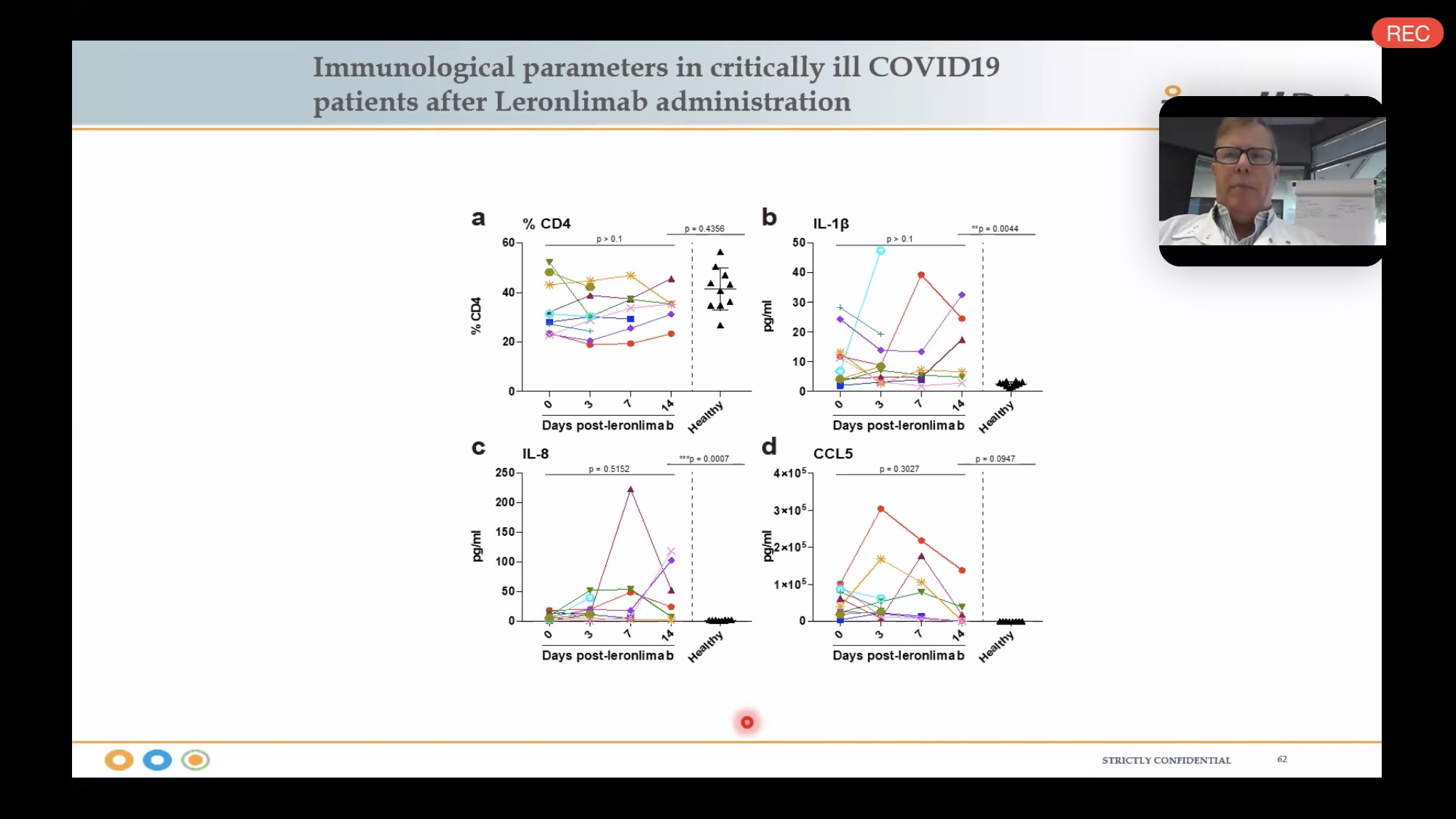 Plasma viral load came down in these patients on Leron even though it is an immune modulator.
It essentially restores the immune system.
And quiets the cytokine storm.
All viral loads went down to undetectable at day 14.
Some things are not in paper.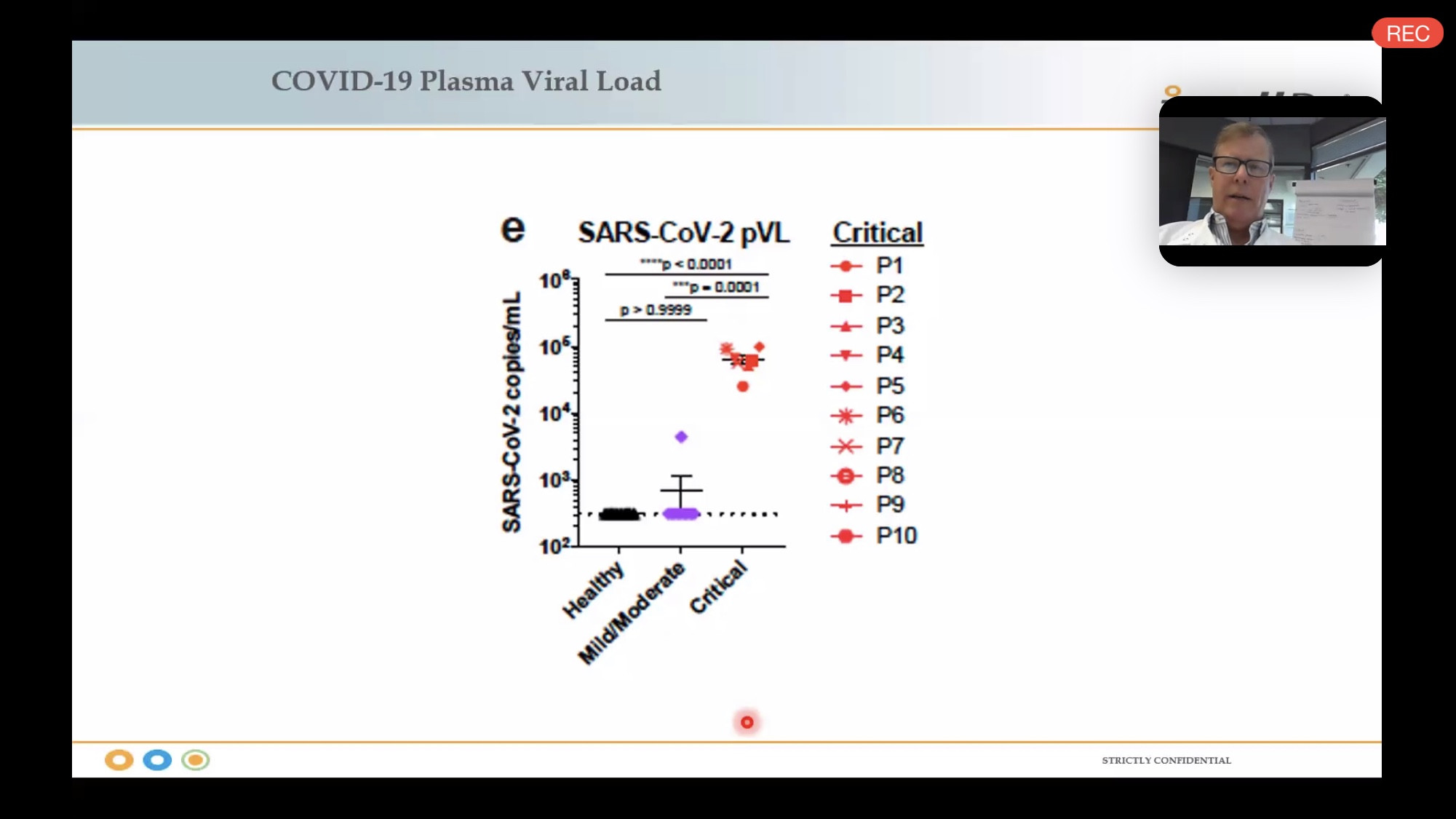 We saw decreases in immune exhaustion and markers.
Patients with renal failure had higher exhaustion.
The data has already been submitted for Leron in HIV.
Initially, when we advanced the theory that Leron might be effective in Covid, there was criticism, but we found the Rantes issue.
What we are finding in Covid immunologically also impacts the research in cancer and HIV.
All needs far more invest.
But these are exciting mechanisms previously undescribed.
In summary Covid, is biphasic heterogenous in 4 stages.
Very different distinctions in these phases.
Rantes signals the transition from virologic to immunologic disease.
Some patients were on life support and came off life support and are now home and at rehab facilities.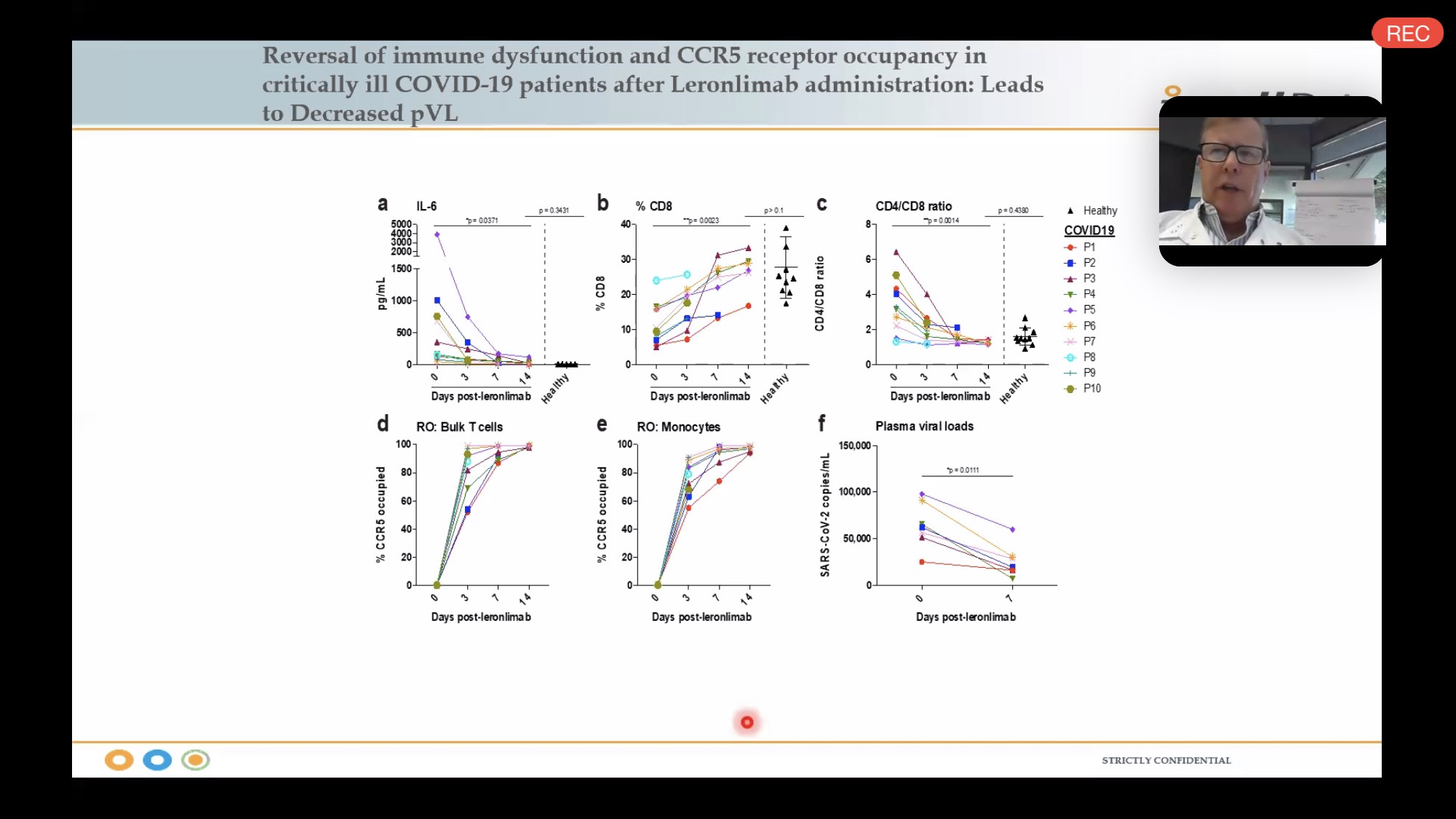 It is anectodal, but my response is anectdotes don't come off life support.
We know what we have to do to prove to the community at large, but with 25 years experience, you know when something is working.
The effect is dramatic in moderate and severe.
The double blind studies are underway.
To date, there has been a disconnect between mechanism and outcome.
We see that in several other agents.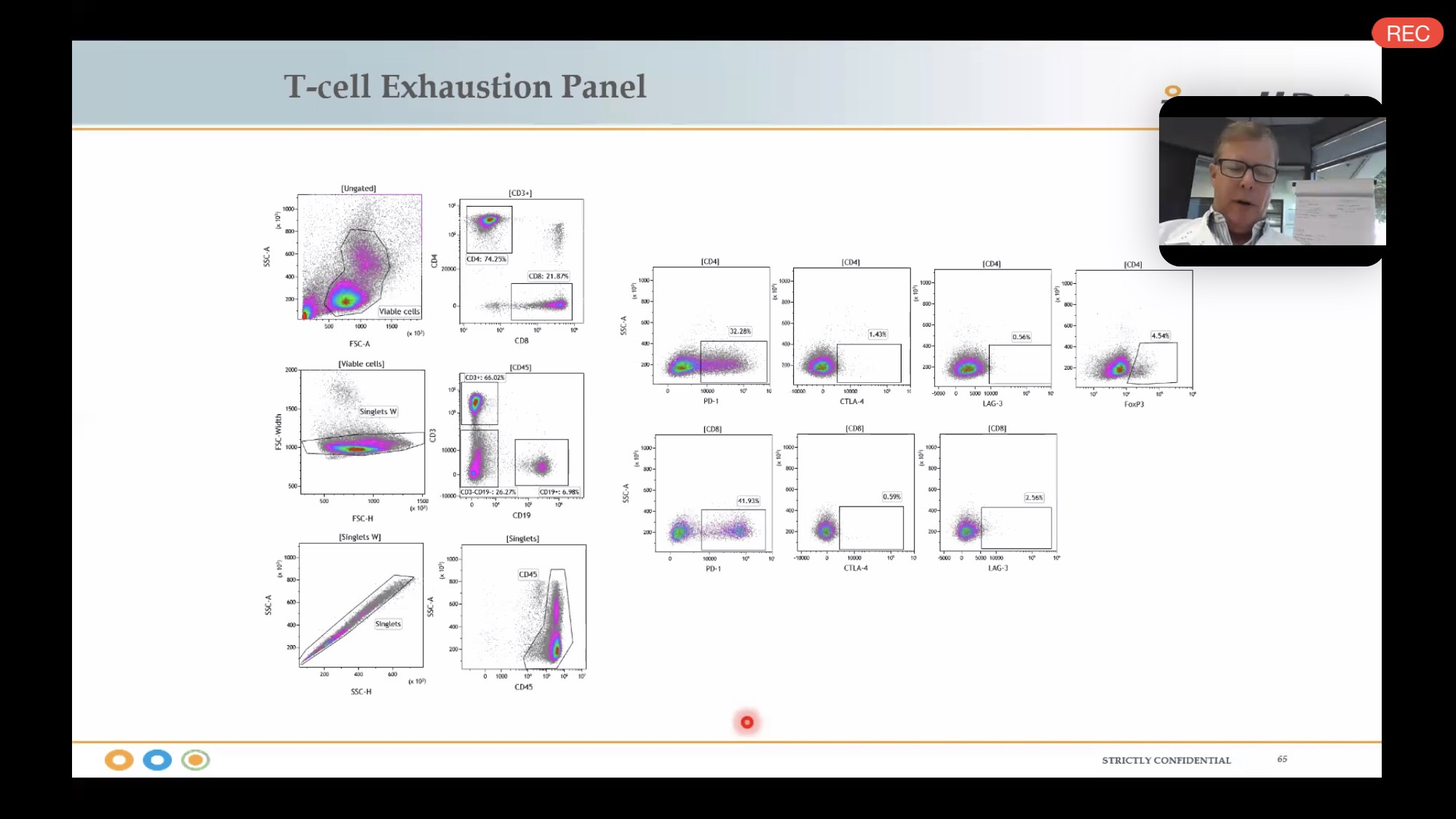 There are a number of hurdles for other drugs that can't be used.
By looking at immunology of covid, we've learned a lot about this drug.
It is exciting to see something work like this beyond simply blocking a cytokine receptor.
Now questions:
Any competitors that have drugs that do same?
A: there are, like
___, which make CCL5 inhibitors. But, Leron is very close to submitting its trials to the FDA and we have a body of data that aligns the mechanism of operation with outcome. If we can remove the specter of death and intubation, we can get back to normal.

(20)

(0)
CytoDyn Inc (CYDY) Stock Research Links



---