On the topic of Dr. Patterson's paper: The plas


Post# of 36923
Posted On: 05/22/2020 10:17:52 AM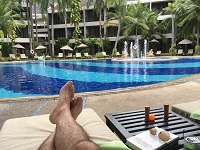 On the topic of Dr. Patterson's paper:
The plasma viral load is reduction is one of the most striking findings of his paper. We discussed before that Leronlimab is not an anti-viral drug for COVID, however reduced the viral load with statistical significance (p=0.0111), as opposed to Remdesivir that didn't and is touted as an anti-viral drug

However, in his paper there was only data till day 7 (as opposed to the other markers which had data up to 14 days).
I asked Dr. Patterson why. This was his answer:
Quote:

---

Day 14 pVL will come out in the revised article. That is what we had when we submitted because we had to develop the super sensitive ddPCR method in short order!

---
So, we will have the data of plasma viral load for day 14 in the final article which, if the trend continues, should show even lower loads. This should "wake up" lots of people to the real effect of Leronlmab, at the end of the day the defeat of the virus will be demonstrated by the reduction on the loads.
And, IncellRx had to measure with droplet digital measurements to quantify the viral load (much more sensitive than quantitative PCR).
Looking forward to the publication of the paper. !!!

(11)

(0)
CytoDyn Inc (CYDY) Stock Research Links



---