Gotta hand it to those who know


Post# of 423
Posted On: 03/17/2017 6:19:46 PM
Gotta hand it to those who know how to soft bash for loading (on the iScam board) This post was deleted from iScam for being "off topic".
PGUS is definitely worthy of doing what you can to build a solid position. But I prefer to bring others along with me to share in success, no need to be overly greedy. I like the idiom "pigs get fed/fat, hogs get slaughtered". So okay to be a bit piggish - I am, I like big $$ gains. But I don't want to be a hog.
I want to point out to my friends, family and other followers here that it only takes looking back at the post history to see what's going on. One who points out that they're loading up now and building
their
position writes as if they KNOW so much about ProGreen and real estate that "this stock will probably go up by 100% to 200% by the end of this year." Ha! PGUS is
so undervalued
with the tangible (ag & real estate land, 1st produce contract) and intangible assets (strategic JV agreements & Procon real estate subsidiary, key management team leader, relationships, "secondary advisory board&quot

. PGUS should easily be in the $0.10++ range. Once we're in the 15 cents range, then if people are talking about how the price should grow by 100% to 200% by year-end... I'll listen, and maybe we can even have a conversation.
So one who previously had nothing but negative comments and disbelief (early loading) and now downplays every new business milestone and accomplishment - even the BIG news - is now still loading... sure, I'm pretty happy to be able to keep loading in this price range, too. But this IS the time to load for the best future benefit. We ARE still early on the expontential curve. But we ARE on the exponential rise, there is absolutely no doubt about it. Just take a look at the ACTUAL plot of the price movement, comparing it to a PURE exponential curve (below).
ProGreen's stock has been on a price correction movement for quite some time, and we've got a long way to go JUST for the correction. And THEN we will be seeing continued value and price improvement going forward as Jan continues to deliver on the plans - see the baseline growth goals that he set during the CC on Feb 23. That's JUST the BASELINE. And we know Jan always strives to exceed expectations... and usually does!
So do your DD and make decisions based on that. Not from "opinions" and downplaying that you read on message boards. I've put out quite a bit of DD and valuation estimates based on facts that you can find in the post history. But don't just take my word for it, plug in your own numbers.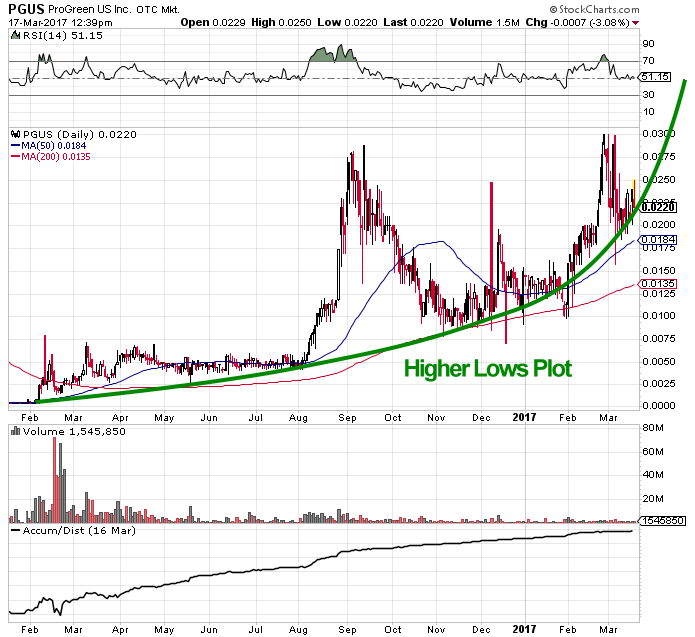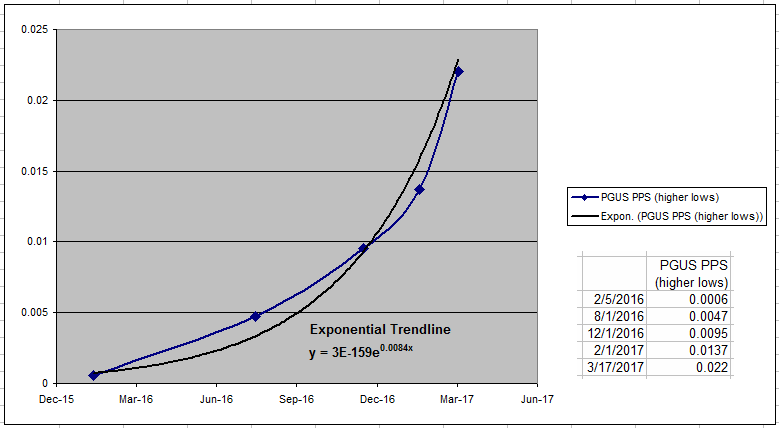 (1)

(0)
---