Whitelist Investors Hangout >
Our website is made possible by displaying online advertisements to our visitors.
Please consider supporting us by disabling your ad blocker.
WHEN TO EXIT: (there are no hard


Post# of 31395
Posted On: 03/01/2017 11:36:10 PM
WHEN TO EXIT:
(there are no hard , fast rules but good practices)
When the ticker nears resistance (chart) and or volume (interest) starts to dwindle is a good time to take profits. Additionally, any time you are pleased with your profits to the extent it doesn't matter where the ticker goes after you sell...take the profits and have no regrets. Never fall in love with any ticker; you can never go wrong taking a profit.
Example OTTV today:
OTTV closed yesterday @.0027 gapped up (opened at .00375). Gaps usually fill and this one did near end of day and then closed .003. The idea thing to do would have been to sell the gap .0037 area and buy back on the dip at .003 if one still wanted to own the ticker. There is no exact science but these are good rules that can protect profits and prevent many losses. Always have a mental stop loss when you enter any trade.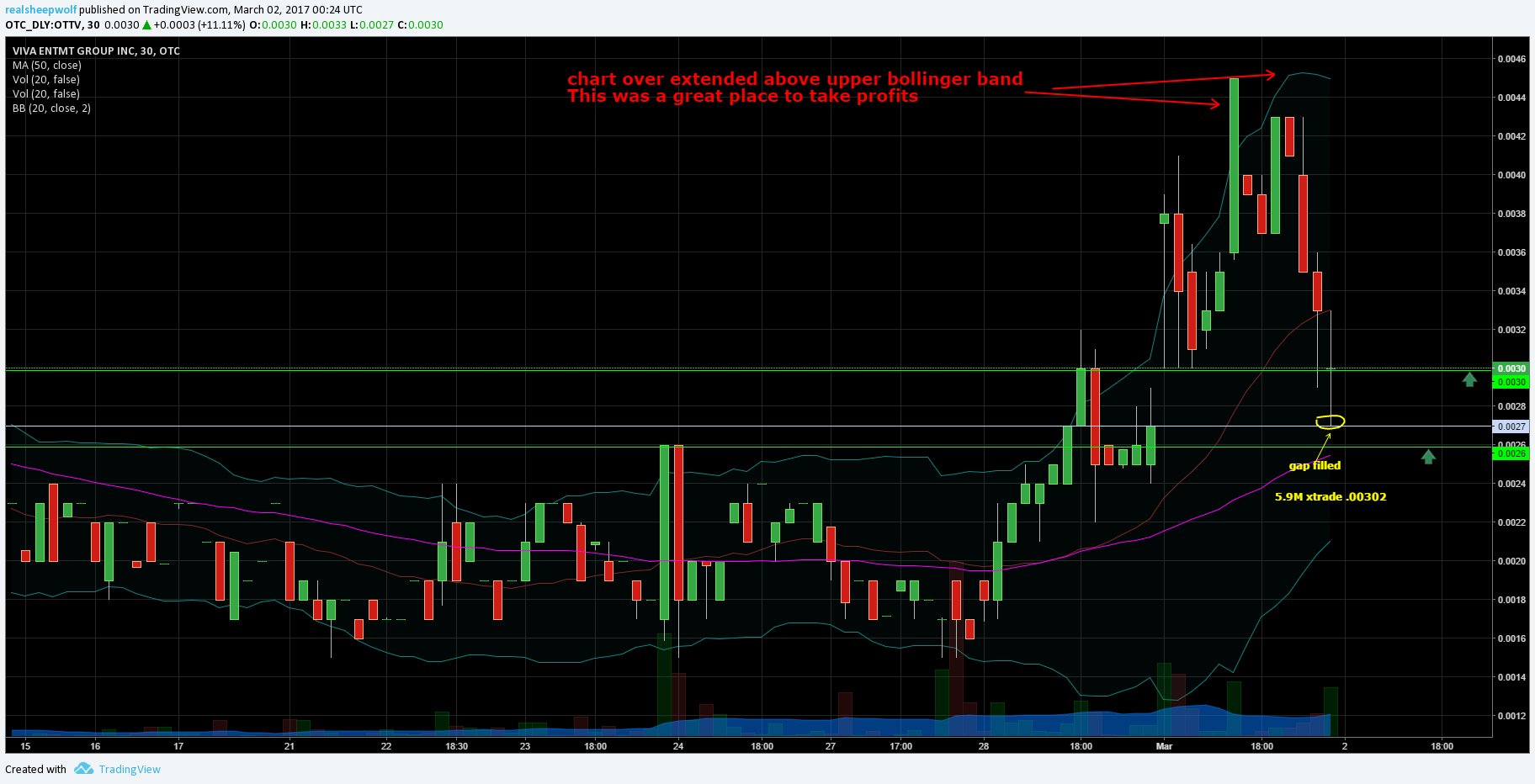 WHEN TO ENTER:
A good entry is so important to a profitable trade; you don't want to start a trade at a disadvantage. I look to enter a trade at chart support, could be historical support level or bottom bollinger band.
NOTE:
Learn the stock's share structure e.g., authorized, outstanding, and float. Try to determine if dilution (scourge of the otc) is present. Use Level II and get familiar with market makers that tend to dilute eg... BMAK , VFIN, VNDM,..

DO NOT EVER CHASE AND DON'T BUY THE GAP UP:
EXAMPLE:
http://investorshangout.com/post/view?id=4348809
HEAD FAKE EXAMPLE:
(stock appears to run up only to fall back sharply to support)
Question:
SHEEPWOLF - GUESSTIMATE FOR ENTRY BACK INTO QSIM?
http://investorshangout.com/post/view?id=4384937
Answer:
I'll let the chart speak.
http://investorshangout.com/post/view?id=4384966
$QSIM closed today at .0078 (right near support, good re-entry)

HOPE SOME OF THIS IS HELPFUL. MANY OTHERS HERE CAN HOPEFULLY CONTRIBUTE.

(21)

(0)
---
Sojourner here following God, obeying God, and cleaving to Him. The journey is onward.