Whitelist Investors Hangout >
Our website is made possible by displaying online advertisements to our visitors.
Please consider supporting us by disabling your ad blocker.
$LXRP cannabinoid technology Bot


Post# of 53571
Posted On: 01/11/2017 6:30:02 AM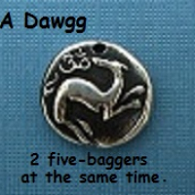 $LXRP cannabinoid technology
Bot $0.33


Diligence post
iHang 1/4/17




Website


From Seeking Alpha:
Nov. 3, 2016

First of Eight Patents Issued: I think this could prove to be a defining moment in the history LXRP and it is the main reason for the timing of this article. On October 26, 2016, LXRP announced the U.S. Patent and Trademark Office ("USPTO&quot

issued U.S. Patent No. 9,474,725, Cannabinoid Infused Food and Beverage Compositions and Methods of Use Thereof, pertaining to LXRP's method of improving bioavailability and taste of certain cannabinoid lipophilic active agents in food products. This patent has a priority date of June 10, 2014, a publish date of October 27, 2016, and protects the Company's technology for twenty years

Their patented technology to infuse edibles enables you to manufacture a better tasting, faster acting and more potent edible cannabinoid product.




LXRP controls a technology that results in the more complete and rapid ingestion of fat-soluble molecules.(more) Extensive testing has shown it produces excellent results for both 'cannabidiol' usually referred to as simply CBD and 'trans-Δ 9-tetrahydrocannabinol' more often referred to as tetrahydrocannabinol or THC. The major medical benefits of marijuana are attributed to CBD while THC is the principal psychoactive constituent.

When assessing the ingestion of substances, there are four factors to consider: taste, the impact of stomach acids, the filtering effects of the upper intestine and processing by the liver. In non-technical terms, the LXRP technology encapsulates the bioactive substance (eg. CBD) at the molecular level with, for example, sunflower oil. This has the following impact: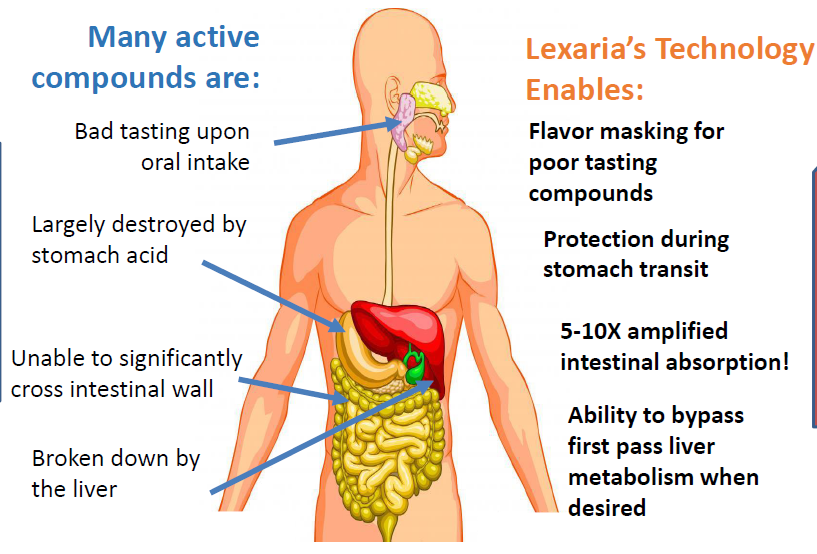 1.The "marijuana" taste of CBD is neutralized which is important in edibles.

2.The CBD is protected from stomach acids so less source material is required to deliver the same dosage to the bloodstream.

3.More CBD passes directly from the upper intestine to the bloodstream. This delivers more source material to the bloodstream sooner, and,

4.More CBD, bypasses liver filtration and is absorbed instead through the lymphatic system, speeding and increasing overall delivery.

Advantages of the Technology: The bottom line is there are three primary benefits: higher bioavailability by quantity of bioactive substance absorbed and a reduction in the processing time all at a low cost.

(NYSE:A) Testing reveals a 5 to 10 times increase in the amount of ingested CBD entering the bloodstream. This means the same dose is delivered using only 10% to 20% of the source material. Alternately, the amount of the source material can be left the same resulting in more CBD delivered to the bloodstream.

(NYSE:
Testing shows CBD enters the bloodstream faster. Systemic absorption normally takes up to 90 minutes. With LXRP's technology, the time drops to the 14 - 32 minute range. This is an improvement of 65% to 85%.

(NYSE:C) Management estimates these benefits can be delivered at a cost of 1/20 to 1/3 of a cent per dose.

This technology has an added advantage because scientifically, it should work on any fat-soluble molecule such as vitamins A, D, E and K; non-steroidal drugs such as aspirin or Tylenol; and nicotine.



(0)

(0)
---