Sad story about the only known jaguar in Arizona w


Post# of 62206
Posted On: 12/11/2012 1:34:13 PM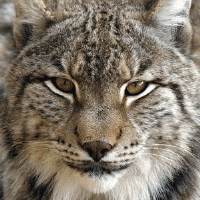 Sad story about the only known jaguar in Arizona who was captured in Feb. 2009. He died shortly after government agents got through with their research when he was released back into the wild. This tragedy was caused by government IDIOTS!
Snared Macho B was unable to break free and exhausted himself trying to climb the tree in an
effort to free himself. He suffered a broken canine tooth and other injuries!
One of Macho B's canine teeth broke off during a desperate struggle to escape the snare --

a battle that lasted up to 24 hours.
After capture, biologists covered Macho B's head and conducted research -- taking his temperature, getting feces and blood samples and doing other tests.
TROPHY PICTURES BELOW  - SHAME ON THEM!

Game and Fish biologist Thorry Smith raises Macho B's head after the jaguar was tranquilized and removed from a snare.
Arizona Game and Fish biologist Michelle Crabb lifts Macho B's head after the jaguar was tranquilized and removed from a snare.
Still woozy from being tranquilized, a collared Macho B begins to revive with a collar on his neck and a yellow tag on his ear.
Back in the wild he did not survive long as his health deteriorated due to stress. He was
captured a second time and loaded into a helicopter and transported to the Phoenix Zoo
where he was euthanized based on a diagnosis of kidney failure.
In June 2011, a helicopter pilot with the U.S. Border Patrol watched a large, spotted feline amble through the Santa Rita Mountains south of Tucson.
The sighting meant that Macho B, the nation's only known wild jaguar when he was unlawfully captured and then euthanized in 2009, finally had been replaced. The revelation came just as the University of Arizona's Wild Cat Research and Conservation Center received a $771,000 federal contract to study jaguars.
Scientists are setting 240 motion-activated cameras along wilderness trails to monitor the endangered species' travel and habitat. They will also use a specially trained dog to find scat for genetic analysis.
The research, financed by the U.S. Department of Homeland Security, has major implications for the border-security fence in southern Arizona. It also may influence the outcome of legal battles over the designation of jaguar habitat.
In a news release, project manager Lisa Haynes described the contract as a "significant win" for the wild-cat center because there was stiff competition for the money. Another faculty member, Kirk Emerson, added, "We look at this project as an opportunity for a fresh start regarding jaguar monitoring in the United States."
The news release did not mention that some members of the university's study team played prominent roles in the saga of Macho B.
One of the researchers, Ron Thompson, was the Arizona Game and Fish Department's large-carnivore biologist when Macho B died. Emil McCain, who was convicted in the case, told The Arizona Republic that Thompson pressed him to snare Macho B and afterward to cover up . E-mail records show that Thompson was advised of the snares, sent messages encouraging McCain, and celebrated the capture.
Agents with the U.S. Fish and Wildlife Service referred Thompson for criminal charges, according to federal records, but the U.S. Attorney's Office declined to prosecute.
In interviews with federal agents and The Republic , Thompson denied plotting to catch the cat or knowing that snares were set in the jaguar's vicinity.
Thompson now serves as field biologist and security adviser for the wild-cat center's study. His student son, Kyle, also is listed as a field biologist on the project.
Jack Childs, another member of the university's team, was co-director with McCain at the Borderlands Jaguar Detection Project, a non-profit organization that used trail cameras to monitor Macho B. He helped develop capture plans for the Jaguar Conservation Team, an agency run by Arizona and New Mexico wildlife officials.
Federal investigators concluded that the Jaguar Detection Project arguably was part of a conspiracy in Macho B's capture. Childs was referred for prosecution but not charged. In interviews with law-enforcement agents and The Republic , he denied participating in such a plot.
Jeff Humphrey, a spokesman for Fish and Wildlife's Arizona Ecological Services, defended UA's selection of Thompson and Childs as researchers.
"The pool of skilled jaguar surveyors isn't real deep," Humphrey said, "and the recruitment of those two adds to the credibility of the team."
According to criminal-case records, Fish and Wildlife biologist Erin Fernandez also became a focus of the investigation. After Macho B died, Fernandez told investigators: "I feel really bad, like I should have connected those dots. ... Being jaguar lead, I guess I should have had responsibility."
Under questioning by agents , Fernandez denied advance knowledge of plans to capture the jaguar and claimed only a vague awareness that snares were set in an area recently visited by Macho B.
However, agents discovered e-mails showing she was advised of trap locations, jaguar sightings and inquiries about the proper anesthesia for jaguars. The criminal report says that Fernandez failed to provide those e-mails to investigators and that they had been deleted from her computers shortly before investigators interviewed her. Under a heading of "Laws Violated," investigators listed "obstruction of justice" and "fraud and false statements."
Fernandez, who declined to comment for this story, was referred for prosecution but not charged. She remains the federal jaguar lead, overseeing research and recovery planning for the cats in Arizona and northern Mexico.
Humphrey said administrators in his agency never obtained the law-enforcement division's report concerning Fernandez. "We haven't seen it," he said.
Rep. Raúl Grijalva, D-Ariz., who originally requested the criminal investigation, said Monday that his previous attempts to get answers were stymied but that he is determined to learn more about prosecutorial decisions and the continuing role of key officials in federal jaguar studies.
"It's hard to describe," Grijalva said. "Not only the tragedy involved, but the attempt to manipulate and cover up."
veil of secrecy
It is unclear how the UA team won the jaguar contract because government agencies failed to provide the relevant public records and key officials declined to comment.
The Fish and Wildlife Service released some documents, but pages were heavily redacted in apparent violation of the Freedom of Information Act. For example, the agency deleted the number and identity of contract bidders, the contents of their proposals and factors used in selecting the winner.
UA released documents last week but blacked out numerous sections in violation of state public-records law. For example, university officials redacted all references to Childs, Thompson, McCain and the Borderland Jaguar Detection Project. They also deleted paragraphs explaining objectives of the research.
Haynes, a former Game and Fish biologist who is managing the study, declined to be interviewed because the research team is working under a "bubble of quiet."
"I think people understand this is for the best welfare of the project, the cats and the stakeholders," she added.
Critics, including Arizona Game and Fish Department leaders who vied for the $771,000 contract, don't see it that way.
Gary Hovatter, the agency's deputy director, said he is mystified at Fernandez's continuing role as well as the research-team membership.
McCain, the biologist held legally culpable for the jaguar Macho B's capture, also expressed bewilderment.
"Now, the man that organized the capture of Macho B and ... placed all blame on me is being paid, along with his son, to conduct the study that I proposed, designed, wrote and presented to federal agencies," said McCain, who is banned from conducting U.S. research for five years under terms of a federal plea agreement.
"My professional career has been ruined over the Macho B incident, but the man who was my supervisor with the government agency who instructed me to try to catch the jaguar has skated unscathed through the whole thing."
"Isn't it freaking shocking?" agreed Janay Brun, a whistle-blower who exposed the plot to capture Arizona's only known wild jaguar.
Seeking federal funds
Macho B was snared and released with a collar in the Atascosa Mountains near Nogales, Ariz., on Feb. 18, 2009. The trap was set by McCain, a state subcontractor, and tended by state Game and Fish biologists.
Authorities initially maintained that Macho B was caught accidentally in a snare set for mountain lions and bears. After the aged cat died, Brun revealed that female jaguar feces were used to bait the trap.
During the next 2½ years, McCain was convicted of taking an endangered species and reviled as a rogue scientist who duped negligent government bureaucrats.
State and federal records suggest, instead, that Macho B fell victim to environmental politics and a quest for federal Department of Homeland Security money now going to UA researchers.
The funds were appropriated after Congress passed the Secure Fence Act mandating construction of a barrier along 700 miles of the U.S.-Mexican border to block illegal immigration and smuggling.
The fence — up to 18 feet high — had a collateral impact: Wildlife, including jaguars based in Sonora, no longer could roam freely across the border. That environmental issue was so politically hot that Homeland Security under then-President George W. Bush announced plans in 2008 to spend $50 million on ecology studies related to the fence.
Records show that McCain and the state Game and Fish Department wanted a chunk of that cash — and realized that putting a GPS collar on a jaguar would give them the inside track.
As the fence was going up in 2007, McCain was the subject of a story in High Country News . He took the reporter to a location where, two years later, Macho B would be snared. Then, referring to the 31-mile segment of fence near Nogales, he said, "This will be the end of naturally occurring jaguars in the United States."
For two years, McCain and officials discussed capture plans and spoke with federal officials about their chance to get the "cash cow" or "pot of gold."
Written conversations were often cautious because of another consideration: Environmental organizations opposed the capture of Arizona's only known wild jaguar and had previously created a firestorm when the idea was broached. As one federal agent put it: Game and Fish employees maintained a "don't ask, don't tell" policy.
Still, plans were drawn up in early 2009 with a $1.4 million budget proposal for monitoring a collared jaguar. The first page of that Game and Fish document announced that state and federal wildlife officials were authorizing capture — "likely a jaguar referred to as Macho B."
Thompson later told investigators, "I think everything boils down to two things. One is ego and the other is money. ... When the fence started to go up and the prospects of millions of dollars for supportive projects went up, then immediately, the interest broadened."
The cat was caught two weeks later. Stressed by the ordeal, it died. But the federal money was still out there.
Territorial dispute
The Endangered Species Act was passed by Congress in 1973 with jaguars inexplicably absent from the list. Conservation groups such as the Center for Biological Diversity and Defenders of Wildlife were angered and have been fighting federal and state wildlife agencies ever since.
Michael Robinson, an advocate for the biodiversity group, said jaguars once ranged from California to the Carolinas. Beginning in the 1800s, however, cattle ranchers pressed federal wildlife authorities to do something about cow-killing cats.
"The livestock industry mobilized the government to hunt down, poison and trap all of the jaguars in the United States," Robinson said, "until they were exterminated."
By the mid-1900s, there was virtually no breeding population in the country, just occasional strays from Sonora. Environmentalists demanded protection for those cats, but also a recovery plan and conservation lands. The U.S. Fish and Wildlife Service balked, arguing essentially that the species was already history.
At least four lawsuits were filed and fought.
In 2009, a federal judge ordered the Fish and Wildlife Service to produce a recovery plan and identify critical habitat. The agency is grudgingly trying to complete a draft plan by next month.
The agency created a Jaguar Recovery Team and proposed a map of critical habitat — 1,310 square miles near the border — that immediately spurred protest.
Robinson contends that map misrepresents historic territory. "It excludes the best habitat in the United States for jaguars," he said.
The Center for Biological Diversity wants a plan that will restore jaguars across more than 9,000 square miles from the Mogollon Rim above Payson into the Gila Wilderness of New Mexico. It also proposes a reintroduction plan similar to the controversial program for Mexican wolves.
State wildlife officials and ranchers are horrified at such ideas. While Arizona may have been a home to jaguars long ago, they contend, it comprised less than 1 percent of their turf. Moreover, economic and political realities make it impossible to re-establish the species.
In an October letter, Game and Fish Director Larry Voyles told federal planners that no land in Arizona or New Mexico is vital to jaguars because there is no breeding population to save.
Voyles compared the species with brown pelicans that sometimes visit the desert. He warned that legal protections would result in ranchers and other landowners killing endangered felines to avoid government regulation.
The question of jaguar turf has major implications because developments in protected zones would face environmental reviews and potential lawsuits. Already, environmentalists are arguing that a trail-camera photograph of a jaguar's tail near the proposed Rosemont Copper Mine about 30 miles south of Tucson should block the controversial project. Habitat designation elsewhere also could have an impact on planned roadways, grazing leases and homebuilding.
Humphrey, the Fish and Wildlife spokesman, said UA's three-year study is likely to play a key role in debates, which may explain the secrecy.
Amid a "raging debate," he noted, researchers are struggling to get approval to put cameras on private property because ranchers and other landowners fear the pictures could lead to government regulation.
Humphrey and Robinson said the study also could influence border-fencing decisions.
Federal law allows the Department of Homeland Security to exempt its southern Arizona barrier from environmental rules.
However, no waiver was issued for the segment between Sasabe and Douglas. Instead, the agency is paying the wild-cat center to find out if fencing disrupts jaguar travel and/or forces illegal border-crossing traffic into critical habitat.
The dispute over jaguar turf in Arizona is expected to climax next year, and early data from the wild-cat center's study could prove crucial.
Already, cameras are set along game trails from the Baboquivari Mountains northwest of Nogales to the Animas Mountains in the southern boot heel of New Mexico. Researchers may get photographs of majestic, endangered felines. But, with an awareness of Macho B's demise, they emphatically reject the idea of snaring a jaguar.
"This project is entirely non-invasive," their study proposal says. "No jaguars will be captured, radio-collared, baited or harassed in any way."

(0)

(0)
---