$GLUU new volume climb Nasdaq


Post# of 268
Posted On: 02/21/2016 6:25:45 PM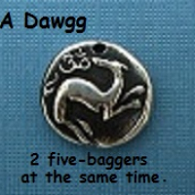 $GLUU new volume climb
Nasdaq GM $3.90
Recent call 2/4/16 $2.67
Can Glu Mobile Keep Going After Last Week's
23% Pop? at Motley Fool(Sun 9:00AM EST)
Website
Shares Outstanding: 131.30M
Float: 96.11M
% Held by Insiders: 19.09%
% Held by Institutions: 50.50%
Shares Short (as of Jan 29, 2016): 14.15M
Short Ratio (as of Jan 29, 2016): 6.15
Short % of Float (as of Jan 29, 2016): 13.59%
Shares Short (prior month) 13.58M
Headlines
Company Profile - Glu Mobile Inc. develops, publishes, and markets
a portfolio of games for the smartphones and tablet devices users.
The company offers free-to-play action, casual, racing, and sports
genre mobile games. It creates games based on its own brands,
including Blood & Glory, Contract Killer, Deer Hunter, Diner Dash,
Eternity Warriors, Frontline Commando, Gun Bros, Heroes of Destiny,
Racing Rivals, and Tap Sports: Baseball, as well as based on third-party
licensed brands, such as Kim Kardashian: Hollywood, Robocop: The
Official Game, and Hercules: The Official Game. Glu Mobile Inc. markets,
sells, and distributes its games primarily through direct-to-consumer digital
storefronts worldwide. The company was formerly known as Sorrent, Inc.
and changed its name to Glu Mobile Inc. in May 2005. Glu Mobile Inc. was
incorporated in 2001 and is headquartered in San Francisco, California.

(0)

(0)
---