American tourists go to tijuana bull fight and aft


Post# of 3035
Posted On: 09/15/2015 11:44:24 AM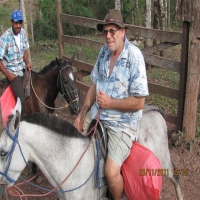 American tourists go to tijuana bull fight and after the "show," they head out, following the groups, to the local, famous, bulls restaurant -

Gringos ordered and begin to feast - suddenly, a ruckus and everyone applauding at a distant table - the server, ceremoniously and with pride delivers an interesting plate - curiosity drives the cheles to that table to inquire the dish.

The person eating it responds: its the bulls testicles - the bull that just died. Its a delicia.

The tourist just had to have this dish and orders it - well, says the waiter, sir; we will have to put you on the waiting list. Yankee says: yes!

Half a year later, white guy gets the call - jubilee! Finally. Heads, rushes out to San Diego and across Tijuana to the restaurant.

Waits and suddenly the procession with his long waited special meal.

He devours every bit of his immaculately prepared dish and summons the waiter for a post meal question. "Amigo, porque ser balls muy small?" "Otra ocasion I see bolas muy grandes.?!"

Waiter replies, in perfect, acoustic english - almost with a hint of a british accent and with an elegant stance: "Sir, sometimes the bull wins."


(0)

(0)
---