Deleting posts like what?? dang/// If you think i


Post# of 127
Posted On: 03/12/2015 2:43:49 PM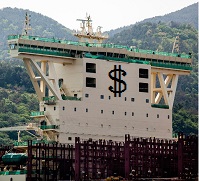 Deleting posts like what?? dang/// If you think it helps your campaign or maybe it make you feel better....

Wow! Guys lets not go jumping to conclusions…. My god man.
Getmore, gitreal, 1man, Dunphy, malc, rbtree, brucebill – Guys, I said it once and I'll say it again this thing is getting really messy…. So CC not tomorrow but next Friday, see this the kind stuff I'm talking about with this guy. "This guy" ha ha " This Guy"
This MNGG ticker is on verge of suspension unless he provides "Real" Audited Financials soon. I'm serious this guy is on bubble, this kind shenanigans won't hold water any longer.
The fed is sweeping across all of these chump stocks to push them out of existence ( An SEC initiative since 2013) As a manager I want to see results out of my staff. If I was on the Board who hired this guy, I would have rifted him a long time ago. So now the CC is next Friday, at list it's the first day of spring. LOL LOL , IMO IMO.

(0)

(0)
VALIANT EAGLE INC. (PSRU) Stock Research Links



---