Newswire report on Breakdown of merger and shares


Post# of 136
Posted On: 11/05/2014 5:27:19 PM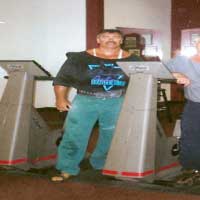 Newswire report on Breakdown of merger and shares
Here To Serve Holding Corp. Sells Its Membership Interests in Transaction
2:04 PM ET 11/5/14 | Marketwired
Here To Serve Holding Corp. (PINKSHEETS: HTSC) - (www.htshc.com), today announced it has sold its membership interests in Here To Serve - Missouri Waste Division, LLC, Here To Serve Technology Division, LLC and Here To Serve - Georgia Waste Division, LLC.
On October 17th, HTSC entered into a Membership Interest Purchase Agreement with Brooklyn Cheesecake & Desserts Company, Inc (OTCQB: BCKE). On October 22nd, 2014, BCKE filed an 8K disclosing the executed agreement. On October 31st, 2014, BCKE acquired the membership interests in Here To Serve - Missouri Waste Division, LLC, Here To Serve - Georgia Waste Division, LLC and Here To Serve Technology Division, LLC.
BCKE is a fully reporting company trading on the OTC QB exchange. Prior to the acquisition, BCKE had 1,139,284 Outstanding Shares. Immediately following the close of this transaction, BCKE will have 9,963,418 Outstanding Shares.
The current management and board of directors of BCKE will be replaced over the next several weeks by Jeff Cosman, who will survive as the Chairman and CEO of BCKE. There will be a new management team put in place and will be announced in the coming weeks. Mr. Cosman will re-name and rebrand the company to reflect the new company in the month(s) ahead.
In this transaction, HTSC will receive 9,054,134 newly issued restricted shares. The shareholders of HTSC will keep their HTSC shares, as well as receive their pro-rata shares as a dividend at a future date once the company announces the date of record for its shareholders. The newly issued restricted shares will be issued to HTSC until the shares become free trading shares and the dividend is announced. For example, if a shareholder holds 1000 shares of HTSC, they will retain their 1000 shares of HTSC plus they will receive 153 shares of BCKE (1000 x .153 = 153). BCKE has filed a "Super" 8K with the Securities and Exchange Commission ("SEC&quot

.
HTSC will survive and continue to trade on the OTC Pink Sheets following this transaction. Mr. Cosman will continue to control HTSC and expects to build shareholder value with other revenue and positive cash flow opportunities in the future.
Here To Serve Holding Corp. encourages the investment community to follow all HTSC developments as it starts its practice of releasing news and other financial and product updates on its Facebook page at www.facebook.com/HereToServeHoldingCorp as well as its Twitter feed at
https://twitter.com/htshc
.
ABOUT HERE TO SERVE HOLDING CORP. Here To Serve is a holding company with a mission to grow shareholder value and demonstrate positive cash-flow through the acquisition of strong operational companies in the southeast, ranging from telecom to manufacturing to medical devices.
Forward-Looking Statements
Comments are based on current management expectations, and are considered "forward-looking statements," generally preceded by words such as "plans," "expects," "believes," "anticipates," or "intends." We cannot promise future returns. Our statements reflect our best judgment at the time they are issued, and we disclaim any obligation to update forward-looking statements as the result of new information or future events. We urge investors to review the risks and uncertainties within its filings with the OTC Markets and/or Securities and Exchange Commission.
Contact:
Jeff Cosman
(678) 871-7457

(0)

(0)
Here To Serve Holding Corp (HTSC) Stock Research Links



---