T.FRC | 2 days ago TSX - FRC CAL


Post# of 4
Posted On: 10/23/2014 1:29:24 PM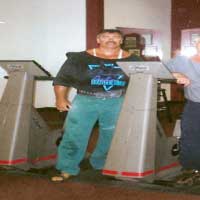 T.FRC | 2 days ago
TSX - FRC
CALGARY, Oct. 20, 2014 /CNW/ - Canyon Services Group Inc. ("Canyon&quot

intends to release its third quarter 2014 financial results on Thursday November 6, 2014 after the close of the market.
Canyon will host a conference call on Friday November 7, 2014 at 9:00 a.m. Calgary Time (11:00 a.m. Toronto Time) to discuss Canyon's financial results for the third quarter 2014 followed by a question and answer period.
To participate in the question and answer session, please call the conference operator at:
403-532-5601
Calgary
780-429-5820
Edmonton
514-687-4017
Montreal
613-212-0171
Ottawa
416-623-0333
Toronto
604-681-8564
Vancouver
855-353-9183
Canada & USA
800-9358-7111
International
Enter participant code 51215# at least 15 minutes prior to the start of the conference call.
A replay of the call will be available until midnight, February 1, 2015.
To listen to a replay of the call:
1.Toll Free: 1-855-201-2300 (Canada and USA)
International: 403-255-0697
2.Enter the 7 digit Conference Reference Number, 1166706 followed by the # key.
3.Please also key in the participant access code 51215 followed by the # key.
SOURCE Canyon Services Group Inc.
Canyon Services Group Inc., 2900 Bow Valley Square lll, 255-5th Avenue S.W., Calgary, Alberta, T2P 3G6, Fax: 403-355-2211; Brad Fedora, President & CEO, Phone: 403-290-2491 or Barry O'Brien, Vice President, Finance & CFO, Phone: 403-290-2478Copyright CNW Group 2014
Canada Newswire
October 20, 2014 - 4:44 PM EDT
Read more at
http://www.stockhouse.com/news/press-releases...VAYkFbS.99

(0)

(0)
---