More News NioCorp Announces Metallurgical Flowshe


Post# of 30
Posted On: 09/30/2014 12:00:11 PM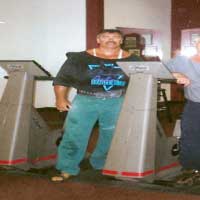 More News
NioCorp Announces Metallurgical Flowsheet
VANCOUVER, BRITISH COLUMBIA--(Marketwired - Sep 30, 2014) - NioCorp Developments Ltd. ("NioCorp" or the "Company&quot

(TSX VENTURE:NB)(OTCQX:NIOBF)(FRANKFURT:BR3) is pleased to announce updates regarding the ongoing metallurgical testing program of the ore from the Elk Creek deposit, along with a preliminary metallurgical flowsheet.
Commencing in April, the Company initiated a metallurgical testwork program to demonstrate the production of a ferroniobium product from the Elk Creek Ore. The program has been designed around a series of bench-scale tests that will be used to design a pilot-scale testing program, which in turn will be used in process plant design and in a feasibility study for the project.
Highlights of the results from the bench scale tests at SGS in Lakefield, Ontario include:
•Flotation test F55, which demonstrated a niobium recovery of 61% to the flotation concentrate;
•Hydrometallurgical tests (PL13, PL15, PL16, AB13, AB15) of pre-leaching and acid baking on the flotation concentrate, demonstrating a combined extraction of 98% of the niobium contained in the flotation concentrate;
•Additional hydrometallurigcal tests (Test NbP25) demonstrating the recovery of 98% of the niobium contained in the pre-leach / acid bake products into a precipitate containing 21% Nb by weight.
The company is currently working with SGS to complete testing on the balance of the flowsheet, including precipitate dissolution, solvent extraction and aluminothermic reduction, which should result in the production of a ferroniobium final product. The company is also pleased to report the completion of initial pilot scale grinding tests on a 1.2 tonne sample of the Elk Creek resource, which will be followed in the coming weeks by a pilot scale flotation testing. Finally, the company has committed to drilling three dedicated metallurgical holes at the Elk Creek property, in order to obtain 25-35 tonnes of the resource. This quantity of material will be used to supply a larger scale pilot plant that is expected to commence operations later this fall.
"The metallurgical program has advanced quickly since April, and has delivered high metallurgical recoveries across the process steps that have been tested to date," stated Mark A. Smith, CEO of NioCorp. "We look forward to moving quickly through the balance of the metallurgical test program as we continue to de-risk the project through increased technical knowledge of this world-class deposit."
Qualified Persons:
Alain Dorval, B.Sc, Roche Consulting Group Limited, a Qualified Person as defined by National Instrument 43-101, is responsible for the Elk Creek mineral processing program and has read and approved the technical information contained in this news release.
Eric Larochelle, B.Eng, Roche Engineering Inc, a Qualified Person as defined by National Instrument 43-101, is responsible for the Elk Creek hydrometallurgical program and has read and approved the technical information contained in this news release.
About the Company: NioCorp are developing the only primary niobium deposit known to be under development in the U.S., and the highest grade undeveloped niobium deposit in North America, located near Elk Creek, Nebraska. The Company has filed an NI43-101 compliant resource report, available on SEDAR, and is in the process of filing an updated NI43-101 compliant resource estimate reporting an Indicated resource of 28.2 Million Tonnes grading 0.63% Nb2O5, containing 177 Million Kg's of Nb2O5, and an Inferred resource of 132,800 Million Tonnes grading 0.55% Nb2O5, containing 733.7 Million Kg's of Nb2O5, (at a 0.3% Nb2O5 cutoff grade). Niobium is mainly used in the form of Ferro-Niobium to produce HSLA (High Strength, Low Alloy) steel, to produce lighter, stronger steel for use in automotive, structural and pipeline industries. The U.S. imports 100% of its niobium needs.
ON BEHALF OF THE BOARD
"Peter Dickie"
Peter Dickie, Director, President and Corporate Secretary
Neither TSX Venture Exchange nor its Regulation Services Provider (as that term is defined in the policies of the TSX Venture Exchange) accepts responsibility for the adequacy or accuracy of this release.
Certain statements contained in this press release may constitute forward-looking statements. Such forward-looking statements are based upon NioCorp's reasonable expectations and business plan at the date hereof, which are subject to change depending on economic, political and competitive circumstances and contingencies. Readers are cautioned that such forward-looking statements involve known and unknown risks, uncertainties and other factors that may cause a change in such assumptions and the actual outcomes and estimates to be materially different from those estimated or anticipated future results, achievements or position expressed or implied by those forward-looking statements. Risks, uncertainties and other factors that could cause NioCorp's plans or prospects to change include changes in demand for and price of commodities (such as fuel and electricity) and currencies; changes or disruptions in the securities markets; legislative, political or economic developments; the need to obtain permits and comply with laws and regulations and other regulatory requirements; the possibility that actual results of work may differ from projections/expectations or may not realize the perceived potential of NioCorp's projects; risks of accidents, equipment breakdowns and labour disputes or other unanticipated difficulties or interruptions; the possibility of cost overruns or unanticipated expenses in development programs; operating or technical difficulties in connection with exploration, mining or development activities; the speculative nature of mineral exploration and development, including the risks of diminishing quantities of grades of reserves and resources; and the risks involved in the exploration, development and mining business. NioCorp disclaims any intention or obligation to update or revise any forward-looking statements whether as a result of new information, future events or otherwise.
NioCorp Developments Ltd.
(604) 568-7365
www.NioCorp.com
http://www.otcmarkets.com/stock/NIOBF/news/Ni...38&b=y

(0)

(0)
NioCorp Developments Ltd. (NIOBF) Stock Research Links



---