http://www.journaldemocrat.com/article/20140918/NE


Post# of 30
Posted On: 09/18/2014 9:21:12 PM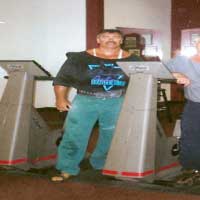 http://www.journaldemocrat.com/article/201409...10082/NEWS
Niobium mine discussed at chamber meeting
By Laramie Werner
Posted Sep. 18, 2014 @ 9:55 am
NioCorp is a name that is gaining recognition in Syracuse and surrounding areas.
The company has been drilling near Elk Creek for a rare metal called niobium.
Right now, they are in the planning and analysis phase, but the company believes there's a high probability of a large mine that would bring hundreds of jobs to the area.
Niobium is mainly used in the form of Ferro-Niobium to produce HSLA (High Strength, Low Alloy) steel, to produce lighter, stronger steel for use in automotive, structural, and pipeline industries.
The U.S. imports 100 percent of its niobium needs; 99 percent of it comes from Brazil.
Currently, the company is drilling in Elk Creek for metallurgical analysis. This will more accurately reveal how much is extractable and what percentage of that can be used.
The Syracuse Chamber of Commerce invited a guest to speak about the mine and what it could mean for our area. According to Tony Fulton, who serves on NioCorp's Board of Advisors, this particular mine seems to hold a much higher concentration than what has been found in the past. The samples are being analyzed to gain a classification from the Geological Society of America.
Fulton said once the analysis is complete, the company will do a Feasibility Study in order to determine how long the mine could reasonably be expected to run.
Current estimates are 30 years. At that point, fundraising would begin for building and opening the mine.
Initially, in the building phase, they would need 800-1000 construction workers to get it up and running. The construction would be expected to last for 18 months to two years.
Once that is complete, the mine would employ around 300 long-term employees.
If the mine came to the operations phase, there could be an influx of people into Elk Creek and the surrounding area. Syracuse is only 30 minutes from the potential site, and it has been suggested that the community could see construction and mining families moving into the area.
The chances of a mine are still only a possibility. Fulton said that he believes that they will definitely get the classifications and feasibility study done which will show the potential profitability.
However, after that, he said it will depend on raising the funds to construct and open the mine.
Though nobody seems to be making any immediate plans for adding housing to Syracuse on speculation of the mine, it is a possibility that many will consider.
The Chamber of Commerce members plan to keep up with the progress in Elk Creek and monitor how it might affect growth in Syracuse.
Read more:
http://www.journaldemocrat.com/article/201409...z3DiiZ4N6e

(0)

(0)
NioCorp Developments Ltd. (NIOBF) Stock Research Links



---