Notification That Quarterly Report Will Be Submitt


Post# of 11
Posted On: 05/16/2014 1:07:44 PM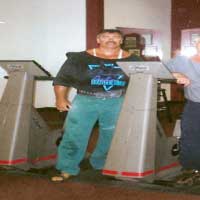 Notification That Quarterly Report Will Be Submitted Late (nt 10-q)
Date : 05/15/2014 @ 1:52PM
Source : Edgar (US Regulatory)
Stock : Formcap Corp. (QB) (FRMC)
IMO, This should see some action soon, The spud date is June 15/2014 and if they announce any current permit approvals, we should see a bounce. The last speculation bounce saw the stock jump as high as $2.00/share. I'm not sure the same people behind that play are still around but given that the next drive will be based on drilling a real oil well in June, a $1.00/share is not unrealistic.
Date : 03/17/2014 @ 5:00AM
"FormCap has acquired a total of 2400 acres of prospective oil and gas leases for a total cost of four hundred and eighty thousand dollars ($480,000) from Kerr and Keta and owns 100% of the Leases (80% net revenue to FormCap; 20% freehold royalty), and will be operator. FormCap will have the option to purchase additional leases in Cowley County from Kerr and Keta under an Area of Mutual Interest ("AMI&quot

, the terms of which are set forth in the Agreement. FormCap is required to drill one (1) well in each of the first two (2) years of the Lease term to maintain its interest in the Leases."
Date : 04/23/2014 @ 5:05AM
"The first location Formcap intends to drill on or before the spud date of June 15, 2014 is a direct offset to a well with significant historical production. Val Energy Inc., Wichita, Kansas, who have a rig on standby and designated for Cowley County will be the drilling contractor. Formcap's leases in Cowley County are in close proximity to other companies in the area that include Sandridge Energy, Taos Resources, Fortune Oil & Gas Corp, Val Energy and Toto Energy among others."

(0)

(0)
Formcap Corp. (FRMC) Stock Research Links



---