Waste Management Acquisition Completed for Here To


Post# of 136
Posted On: 05/14/2014 11:36:01 AM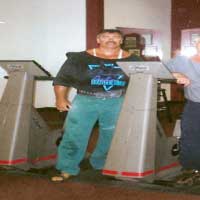 Waste Management Acquisition Completed for Here To Serve Holding Corp.
'Platform Acquisition for Future Growth'
PR Newswire
ALPHARETTA, Ga., May 14, 2014
ALPHARETTA, Ga., May 14, 2014 /PRNewswire/ -- Here To Serve Holding Corp., (OTC: HTSC), a diversified holding company, is pleased to announce that its wholly owned subsidiary, Here To Serve – Missouri Waste Division, LLC, has closed on the previously announced acquisition of nearly all of the assets and operations of its initial waste management company, Meridian Waste Services in St. Louis, MO area.
The acquisition incorporates a nine-year old solid waste and environmental service company that provides waste and recycling services to certain markets around the St. Louis, MO area. Completing this acquisition provides HTSC its first operating asset in its Waste Division.
HTSC says it formed Here To Serve – Missouri Waste Division with the goal of building a regional environmental services company focused on providing excellent service while bringing additional value to municipalities and customers across the Southeastern Conference with its subsidiaries products and services.
"We are excited to partner with the existing management to support their goal of continued growth and high standards of quality customer service," says Jeffrey Cosman, CEO of Here To Serve. "The company, more than anything else, has an outstanding reputation for delivering superior service to its customers and the municipalities they serve. We look forward to working with management to support the company's growth initiatives."
In 2014, we expect as a consolidated company, Here To Serve Holding Corp. will have revenues of over $12 million on an annualized basis; with over $3 million in EBITDA annualized. The $20.6M purchase price consists of stock and cash, in the form of senior debt.
On April 2, 2013, the U.S. Securities and Exchange Commission issued guidance permitting companies to use social media sites including Facebook Inc. (FB) and Twitter Inc. to communicate company announcements. HTSC encourages the investment community to follow all HTSC developments as it starts its practice of releasing news and other financial and product updates on its Facebook page at
https://www.facebook.com/pages/Here-To-Serve-...01?fref=ts
as well as its Twitter feed at
https://twitter.com/htshc
.
ABOUT HERE TO SERVE HOLDING CORP. Here To Serve is a diversified holding company with two distinct divisions: a Waste Division and a Technology Division. The Waste Division is being built through an aggressive acquisition strategy. The Technology Division consists of wholly owned applications, as well as partially owned software products, each creating cloud based mobile platforms for industries ranging from business services, healthcare, law enforcement and governmental services. Here To Serve Holding Corp.'s products include: Interactive Defense System™, for law enforcement and other municipal departments and cConnects™, for efficient communication and fleet/asset management using mobile and web based portals.
Follow us on Twitter:
http://twitter.com/htshc
Forward-Looking Statements
Comments are based on current management expectations, and are considered "forward-looking statements," generally preceded by words such as "plans," "expects," "believes," "anticipates," or "intends." We cannot promise future returns. Our statements reflect our best judgment at the time they are issued, and we disclaim any obligation to update forward-looking statements as the result of new information or future events. We urge investors to review the risks and uncertainties within its filings with the OTC Markets and/or Securities and Exchange Commission.
Contact:
Jim Canouse
(678) 871-7457
ir@htsc.com
SOURCE Here To Serve Holding Corp.
Copyright © 2014 PR Newswire. All Rights Reserved

(0)

(0)
Here To Serve Holding Corp (HTSC) Stock Research Links



---