Last Post: 07/28/2016 12:27:50 PM
Board Marks: 1
Posts Today: 0
Board Views Today: 1
Welcome to the Flux Power Holdings, Inc. (OTCQB: FLUX) message board. Flux is a San Diego, CA based company (Vista, CA to be precise) that has developed proprietary battery management systems and battery pack designs for industrial use - with initial focus on markets that currently use lead-acid batteries developed in the late 1800s!!!
Yes - lithium-ion kicks butt on lead-acid as far as performance but costs more "initially." Over time, lithium costs much less as the packs last 3-5x longer and perform much better than lead acid, without any maintenance - so total cost is dramatically less than lead-acid. Now the trick is to gently introduce a new technology into a marketplace entrenched in a prior technology. It takes time, patience and persistence.
Flux has been at it for a while and is really starting to gain some traction.
Flux is developing lithium ion batteries for industrial markets like motive power (powering machinery) such as fork lifts, tug & tow vehicles and even robotic mining/excavating machines.
Flux also makes packs that provide portable power for remote locations such as entertainment production or military forward operations - generally replacing generators and their noise, reliability, fuel and sound challenges.
A recent update from the CEO is pasted below.
Flux's Twitter page is here:
https://twitter.com/FluxPowerIR
Flux Power's website is here.
Insert-tag-herewww.fluxpwr.com
And you can write us - Flux's IR firm at flux@catalyst-ir.com - we are here to inform investors (not promote) about the Company and its prospects. It's a development stage Company, with all the related financial & execution risks, but for many reasons it seems a very compelling opportunity.
CEO UPDATE July 8, 2014 (link & pasted below):
Insert-tag-herewww.fluxpwr.com/sharing_power/
Dear Flux Power Stakeholders:
We are pleased to launch our Flux Power "Currents" blog to highlight Flux's progress as well as relevant industry news and trends. It is no coincidence we are launching our blog at a time when we have a lot of positive momentum in our business.
We believe our advanced lithium-ion battery packs provide substantial advantages in performance and savings to the markets we are targeting. We are seeing a ground swell of interest in our lithium energy solutions for industrial "motive power," our initial commercial focus, and also for portable and stationary power. For those new to the terminology, motive power refers to energy – electricity in our case – that is used to drive machinery.
Motive Power – LiFT Packs
We rolled-out our LiFT Pack product line initially for small electric lift trucks known as "pallet jacks," typically operated by an individual walking behind it. The reception so far for this solution has been highly positive, but the actual sales cycle is longest at the product launch stage. Flux has to first demonstrate the benefits and reliability of our products, not to mention our own credibility as a company, in order to convert this interest into sales growth.
Accordingly, we have invested time and resources into active sales and marketing efforts. We are gaining early traction towards building a nationwide distribution network of equipment dealers, distributors, and OEMs. And we are receiving initial orders from over a dozen states. Right now choosing the right partners and the right terms and structures in our agreements will critically impact our long-term success, so we are taking the time we need to ensure our interests are well aligned with all of our partners.
The progress Flux has made with each of these important constituents is outlined in more detail below.
Lift Truck OEMs/manufacturers:
Flux is in dialogue and/or testing with several of the top-five North American manufacturers.
Flux has secured technical approval from a leading global Lift Truck OEM and is working to build upon this important industry validation with others.
Lift Truck Dealers:
Flux is currently in discussions with 27 dealers across 22 states, seeking to establish a nationwide distribution network.
We have already completed initial tests and product sales as part of this process, and look to formalize these relationships in the coming quarters.
Battery Distributors:
Battery distributors are an important channel for Flux given their specialized product knowledge and influence, as well as their ability to sell both to equipment dealers and direct to customer accounts.
Battery distributors tend to cover larger geographic territories than dealers, so we can target a smaller universe to reach the same coverage. We are currently in active dialogues with over 18 battery distributors across North America.
Customers/End Users
The customer/end user is the true beneficiary of our products' performance and cost advantages over legacy lead-acid alternatives.
We have received a very positive reception and growing base of interest from national accounts, including Fortune 500 companies, particularly in the material handling-intensive industries of food and beverage makers, grocery chains and logistics companies.
Our LiFT Packs are now in 18 states, primarily being introduced to and tested by national accounts. These customers can best appreciate the multiple benefits our packs deliver in both productivity and profitability, and they have the financial resources to fund large-scale deployment. We have been careful in cultivating new customer relationships to gain their confidence and use their feedback to improve our products. Along with our own rigorous testing process, we have incorporated this customer feedback in making over 15 design and feature enhancements to our
LiFT Pack line.
We really do believe we are on track to begin converting initial tests and orders into broader scale deployments as our customers and distribution partners gain comfort with Flux, our products and customer service.
More importantly, endorsements from large customers drive support from distributors, dealers, and OEM's that will respond to this interest.
Portable and Stationary Power Markets
While our focus has been on motive power and the material handling market, we have also made solid inroads in the markets for both portable and stationary power solutions. Our lightweight battery packs are ideal for applications across numerous industries that require a source of reliable on-demand power that is easily transportable. They are an ideal replacement for portable generators and solve issues including noise, emissions, fuel, maintenance and reliability.
So far we have identified interest within the entertainment and military verticals. In fact, in Q2 we shipped several packs for use in a solar-powered remote military operating base. Both portable and stationary energy storage provide large markets that are both attainable and within our core product capability.
Investor News
Flux is also working to enhance its financial position. We announced last month the conversion of $2.89 million of debt, held by our largest shareholder, into Flux common stock price at $0.24 per share, plus warrants. This conversion eliminated all of Flux's long-term debt and supports our ability to continue our sales and marketing activities.
Finally, we have published a new investor presentation available on our website that provides more details on our strategy and recent progress.
With that, I'll bring this inaugural blog post to a close. We greatly appreciate your interest and support and look forward to keeping you updated through the Flux Power Currents blog.
Sincerely,
Ron Dutt
CEO Flux Power Holdings
July 8, 2014
Flux Power Holdings, Inc. (FLUX) Stock Message Board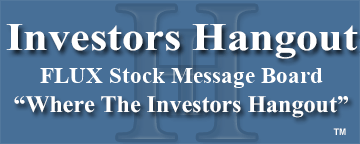 Login
to continue reading.