Last Post: 07/16/2014 5:40:12 AM
Board Marks: 4
Posts Today: 0
Board Views Today: 1
Santeon Files Third Quarter 2012 10-Q and Announces


2nd Consecutive Quarterly Profit
- Quarterly

Revenue of $1.2 million increased by 104%

over prior year - Year-to-date

Revenue of $2.9 million increased by 90%

over prior year-to-date period -

Quarterly Gross Profit of $608K increased by 155%

over prior year -

Year-to-date Gross Profit of $1.3 million increased by 90%

over prior year-to-date period -

Quarterly Gross Profit margin improved 1,000 basis points over prior year from 41% to 51%

- Quarterly and

year-to-date Net Profits of $151K and $77K

, respectively -

$217K of cash generated from operations - Stronger financial position leads to positive outlook -

Third Quarter 10-Q filed prior to November 15th deadline
Our Customers at Santeon Group
Outside News Sources
| Publish Date | Headline |
| --- | --- |
| Nov 2, 2012 | Santeon Files Third Quarter 2012 10-Q and Announces 2nd Consecutive Quarterly Profit |
| Oct 26, 2012 | Santeon Debuts New ubroadcast.com Live Streaming Platform in Collaboration With Georgetown University and OneBlue.TV |
| Oct 23, 2012 | Santeon Announces Release of "Dr.Agile": Agile Practice Self-Assessment Tool |
| Oct 19, 2012 | Santeon and Sentric Partner to Deliver Automated Benefit Carrier Connections |
| Oct 15, 2012 | Santeon Files Second Quarter 2012 10-Q and Announces Highlights of Second Quarter Results |
| Sept 4, 2012 | Santeon and HRMS Solutions Announce eBenefits Network Partnership |
| Aug 22, 2012 | Santeon Teams Up With Sage to Deliver Cloud-Based Carrier Connections |
| Aug 16, 2012 | Santeon Group, Inc. Files 2011 Annual Report and Provides Highlights of 2011 Financial Results |
Hello All
Below here you will see one question and it is why Santeon group I have to say in one answer they are one exciting company to be in right now.
I think you will agree with me once you look at this report below.
I feel this is one of the best managed companies in awhile and I say that carefully.
They have been steady plugging to get to a positive state for years now and our now making it.
They have been restructuring there debt as well as setting the new businesses ahead to match what this country need.,
They now have stepped it up with real profit and huge revenues this quarter and added a few divisions as well when you look at the news below.
They are at an exciting turning point as well for shareholder equity as they are putting money on the EPS line for the next couple of years no0w as they adapt to the new medical laws coming.
I hope you all enjoy reading this report as much as i did writing it and look closely at the news lines and the profit report as well as there customers like Ford Metlife Blue cross and many other below.
have a fun time on this one as this is a money maker the next two years.


Why Santeon Group
Company Profile:
Santeon Group is a multi-national software and technology company committed to creating value for its shareholders, customers, partners and employees by operating in strategic markets, applying world-class technology practices and producing superior, cost-effective solutions, products and services.
How we Deliver our Products and Services?
Santeon Group focuses on emerging and growing markets by securing strong relationships with distribution channels and a network of customer-trusted partners as well as utilizing our internal direct sales model
Why we are Unique?
We identify emerging markets and needs early

We leverage our advanced solution delivery practice

We keep our costs down by utilizing a hybrid on-shore/off-shore development models

We build strategic partnerships with key channel partners

We adopt diversified revenue models (SW Licensing, Fee for Service, Royalties and Transaction based) both Locally (US based) and Internationally

Dear Partner, Customer and Shareholder,
On behalf of our directors, management and staff I would like to welcome you to our company and corporate website. It is very important that our shareholders understand how we run this company and why. I would encourage you to learn about our company to give you more insight into the principles on which Santeon operates and how we intend on growing our business. We pledge to adhere to the highest standards of integrity, on behalf of our users, our shareholders, and our employees. We are focused on growth without compromising our integrity and have set the following corporate principals:
Increase return on investment by our commitments to innovation.
D eliver reliable results by focusing on what's of value
Are ready for change and manage for it through an agile mindset.
Unleash creativity and innovation by recognizing that our employees are the ultimate source of value, and creating an environment where they can make a difference.
Boost performance through accountability for results and shared responsibility for team effectiveness.
Improve effectiveness and reliability through disciplined processes and practices.
With those principals comes a value system that is reflected in the following:
We value our customer commitment and satisfaction over contract negotiations and terms

We value ethics over legal tactics.
Our Corporate accountability pledge:
We believe is setting high standards for our performance and ethical conduct. We approach our business and relationships with noble and honest intentions therefore; we have set guidelines for the ethical conduct of our directors, officers, and employees that is reflected in the following commitments:
The board of directors has set to provide a framework so that management and the Board can operate effectively together to achieve Santeon's objectives for the benefit of our shareholders.
We report our financial results in a clear and straightforward  manner, in accordance with Generally Accepted Accounting Principles (GAAP).
Santeon has provided its employees anonymous methods of reporting questionable accounting, internal accounting controls or auditing matters.
Stockholders may contact our board of directors about bona fide issues or questions about Santeon by sending an email to directors@santeon.com or by writing the Corporate Secretary at the following address:
Santeon Group, Inc.
11720 Plaza America Drive
Suite 150
Reston VA 20190
We are very proud of our accomplishments and our products and services. We are grateful to our customers who entrust us with their business and are committed to do all that we can to continue to challenge ourselves to higher standards or quality and service delivery daily.
We invite you to take a few moments and explore our website and learn more about our products and services.
Best regards,
Dr. Ash Rofail
Chief Executive Officer and Chairman of the Board
Reporting Financial, Accounting or Auditing Concerns
To notify Santeon's Audit Committee of any concerns regarding Santeon's accounting practices, internal controls, financial statements or auditing matters you may mail your concern to the following address:
Santeon Group, Inc.
Attn: Accounting Concerns
11720 Plaza America Drive
Suite 150
Reston VA 20190
Points I will review in the email below now.
1 the assets to liabilities ratio



This is the best company I have looked at in years now. They have a huge assets to liabilities with the same amount of  assets too  debt. This is unheard of now a days and the way companies should run. This is great for shareholder equity for sure, imagine low debt and on even  assets.



2 The management handling of the Fins shows strength in managing shareholder value.



The management handles the money great with more assets then debt and they have a huge revenues increase as well. This company with customers like Siemens Yahoo and many others is an investment for long term and is undiscovered gem for sure.



3 revenues increasing to further future growth



They are having a banner year with revenues almost 100% increased over the last quarter last year .
THE GROSS PROFIT ALSO IS IN LINE AND UP OVER 150% OVER LAST YEAR FOR THIS QUARTER AND FOR THE YEAR. They also now are on track for green revenues of 250k for the year and are green now for the quarter of 150k This brings the three quarter to an increase of 600k over last year or 75 k for the year.
This is huge and the turning point for this company now at a low price as they make a profit.



4 unique product or business plan that will continue growth



THEY ARE NOT UNIQUE OTHER THEN THE FACT THEY HAVE SEVERAL PRODUCTS AND AVENUES OF REVENUES BY BEING A GROUP OF COMPANIES. They have everything from health care to media productions and well diversified with several new revenue streams this year now. They also have some of thew largest corporations on the list of customers and the who is who of medical with blue cross Met and even AEtna companies so make sure and look at the customers bellow or at the website.




5 lower float with room to grow and not maxed out



The float is 480 million with 270 million on the market and is small enough for this companies who has 200 million owned by institutional  funds and insiders so make sure and buy some. I estimate with this float this to be a ten cent company now even with out several new divisions added the last month.



6 Green earnings per share or very near to green now and will be this year



This  quarter they had a huge profit and huge revenue increase over last year. I see this quarter now as the turning point of profit toward shareholders and see them at the least .01 a share this year now in the next 3 months. We are right on time and with huge customers they have.  We will see increases now in the Health field the next two years as OBAMA cares is right up there expertise now and they will benefit from this./

7

increased revenues and news of major growth steps




They have revenues this year almost 90% up for the 9 months and over 100% up for the last three months. I see this will continue and grow to 125% increase as they added several new divisions to add new revenues the rest of this year.




8 board or stock has not been abused by daytraders on the ihub or is not known at all



This si a clean board and the only person who resembles a daytrader on this quiet board is Roy London and he will be gone and sold before we even get the second alert out.




9 the level 2 has room to grow and allow all the Wave readers to get in at a great price


The level 2 is clean all the way to .015 and anything below this price can do as much as a quadruple. Plenty of room for all to buy in beofre the hit a fear point of buying and profit will be huge.


10 after this early alerts the stock still has room for major buyers
to get in and increase volume plus allow profit and increase for all the
first couple of days.
We have room for all the readers to get 1000% and still have room after that to do 500% increase on late buyers so load this one up as no one has this information on IHUB but Waveriders now. We are lookign at an easy ten bagger or .05 a share on this stock now.



Santeon Group, Inc. (SANT)

http://investorshub.advfn.com/boards/board.as...rd_id=5504

http://www.otcmarkets.com/stock/sant/quote

http://www.santeon.com/
Who we are
Dedicated to healthy businesses and a healthy economy
Who we are
Santeon is a technology company that enables organizations to optimize performance and maximize revenues through managed processes- solving complex business process, compliance and integration challenges from both a system integration and a human process perspective.
Santeon was founded to improve the business health of organizations. Santeon believes that whatever your business, you want it to perform optimally with strategy, goals, processes, people and systems finely tuned to optimal performance. We believe that maximizing process efficiencies within and across organizations, and enabling rapid change to these processes, is critical to reach your performance potential. We commit to this goal of developing the potential of our customers.
Santeon provides software solutions for process modeling and simulation, integration, process automation with human review, business activity monitoring and collaboration. Santeon is committed to providing a robust, integrated portfolio of products for the healthy, resilient organization. Santeon designs solutions to transform organizations and provide enduring impact.
Santeon Solutions:
To accomplish this, Santeon solutions:
Bring value without organizational disruption.
Are secure, scalable and customizable.
Fit all organizational sizes and structures.
Fit your budget cost effectively, providing immediate return on investment.
Implement rapidly.
Adapt when your processes and systems change.
Santeon helped us frame issues and articulate goals and impediments to reaching those goals in a way we never could have done ourselves. - Paul RoitmanBardack CEO Non-Profit Organization
Adapt when your processes and systems change.
Below is Santeon's partial client listing.
Healthcare
AAR
United Therapeutics
Aetna
Anthem
Assurant
Avesis
Delta Dental
Fidelity
Great-West
Humana
Kaiser
Medica
Metlife
Premera
Ascentis
Arlington
Sage
Cigna
Maryland
Dep. of Defense
Blue Cross of California
Blue Cross Blue Shield
Gov of District of Columbia
Agile
AAMVA
SECC
Injazat
LinkDotNet
Siemens
RAYA
ITWorx
Raytheon
IBM
Etisalat
Abu Dhabi Police
Vodafone
Fawry
MIBank
CMI
Microsoft
EDC
Coldwell Banker
Blackboard
MIU
Hubicle
Booz Allen Hamilton
Yahoo
Media
Fox Soccer Channel
OTV
Ricall
BrainBox
WDS tv
Yellow Pages
Estella Couture
ANZ
Fosters Group
Burger King
Cadbury
Mobil
Ford
Coca Cola
Goldman Sachs
GSK
Honda
LEE
Lexus
Laing+Simmons
Mars
News Limited
Novartis
Rip Curl
SONY
Energy
DHL
The Neutral Group
I like it a lot. I think it will help to the organization to be better and more efficient in all areas. - Senior Software Engineer at AAMVA


http://www.otcmarkets.com/stock/sant/quote
Business Description
Santeon is a technology company that enables organizations to optimize performance and maximize revenues through managed processes- solving complex business process, compliance and integration challenges from both a system integration and a human process perspective.
Santeon was founded to improve the business health of organizations. Santeon believes that whatever your business, you want it to perform optimally with strategy, goals, processes, people and systems finely tuned to opt...
More >>
Financial Reporting/Disclosure
| | |
| --- | --- |
| Reporting Status | SEC Filer |
| Audited Financials | Audited |
| Latest Report | Not Available |
| Regulatory Agency | Not Available |
| CIK | 0000828940 |
| Fiscal Year End | 12/31 |
| OTC Market Tier | OTCQB |
| | |
| --- | --- |
| SIC - Industry Classification | 7374 - Data processing and preparation |
| Incorporated In: | DE, USA |
| Year of Inc. | 2005 |
| Employees | Not Available |
| | |
| --- | --- |
| Ash Rofail | CEO, President |
Auditor/Accountant
Not Available
Legal Counsel
Not Available
Investor Relations Firm
Not Available
SANT Security Details
Share Structure
Market Value 1

$2,334,437

a/o Oct 25, 2012

Shares Outstanding

476,415,809

a/o Oct 10, 2012

Float
Not Available
Authorized Shares
700,000,000
a/o Feb 01, 2009
Par Value
0.001
Shareholders
| | | |
| --- | --- | --- |
| Shareholders of Record | 223 | a/o Aug 16, 201 |
Short Selling Data
Transfer Agent(s)
Santeon Group Inc (SANT) Stock Message Board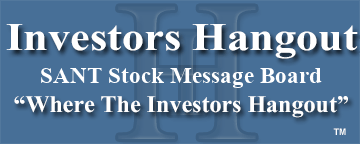 Login
to continue reading.