Last Post: 01/17/2012 12:57:27 AM
Board Marks: 0
Posts Today: 0
Board Views Today: 1
Pure Biofuels is a U.S. company operating in Peru that is committed to leading its industry in the production of a clean and sustainable fuel alternative. With two large refineries, Pure is able to produce over 62.5 million gallons of biodiesel per year, making it one of the largest producers in Latin America.

Pure owns a liquid storage terminal strategically located in Callao, Peru home to the largest port on the Pacific Coast of South America. The storage terminal utilizes an innovative design, developed in accordance with the highest quality standards, that allows workers to load and unload from both sea and land.

Pure's commitment to sustainable fuel production will guide all future product development. Pure creates sound employment in the community, and its dedication to sustainable business practices will ensure its long-term operation. Pure Biofuel is the responsible solution to the increasing global demand for clean fuel.

Vision
To become Latin America´s leading clean energy company.

Mission
Pure Biofuels is devoted to the production and trade of clean energy. We continuously invest in strategic innovation and new technology in an effort to offer our customers the highest quality products. We are committed to providing high quality products while simultaneously protecting our environment and contributing to the development of local communities.

We acknowledge the value of our employees and provide them with opportunities for professional development in our constant aim for growth and improvement. Pure's values will allow it to produce a high quality product, an engaged and empowered workforce, a thriving environment and community, and growing and sustainable returns for our shareholders.

Corporate Values
*Clean energy: We promote the research, development and consumption of clean energy as an alternative to harmful alternatives.
*Quality: Pure is dedicated to producing a quality product that continues to exceed industry standards.
*Innovation: We are committed to our ongoing quest for strategic innovation in an effort to remain a leader in the Biofuels industry.
*Sustainability: Pure adheres to environmentally friendly business practices and work to enhance local communities in an effort to pioneer new practices in social responsibility.
*Shareholder value: Pure combines strict quality standards, strategic innovation, and an ability to respond to changing market conditions to sustain company growth to maximize shareholder value.
*Commitment: Pure will maintain a positive and mutually beneficial relationship our stakeholders by fulfilling our commitments and contributing to the development of our community.
*People: Pure understands the value of an engaged and happy workforce. Our people will remain our greatest asset, and investing in their well being will ensure achievement and positive results.

Pure Biofuels' senior management team has extensive experience and detailed knowledge of the biodiesel industry and the renewable energy sector as a whole. Our team has developed valuable industry relationships and has utilized their acute understanding of the market to develop and deliver a product that is in high demand.
Our management team has many years experience­ in biodiesel production, political and government relations, farm management, commodities pricing, transportation logistics, finance, mergers and acquisitions, and sales and marketing.

Pure has also assembled a skilled team of advisors and contractors in an effort to increase our resources and depth of expertise.

Officers
President and CEO
Mr. Alberto Pinto is currently the President and the CEO of Pure. His relationship with Pure Biofuels dates back to its inception when he and the other founders first envisioned a world class Biodiesel producer and terminal operator. Mr. Pinto has guided Pure from the business plan stage until present day. Mr. Pinto is a global shipping and logistics and international commodities markets veteran. He draws on over 20 years of experience in the petrochemical and shipping industries. Mr. Pinto has substantial international capital markets expertise financing private and public international cross border ventures. He continues to be a top resource assiting in structuring significant transcactions and resolving other key financing issues. Mr. Pinto holds a degree in Business Administration and an MBA from the Boston University School of Management.
General Counsel
Brian Alperstein has been in private practice for over 15 years. His professional care has been primarily focused negotiating complex corporate international business transactions in the United States, Latin America and Europe. He has represented both public and private companies and has specialized in representing start up and venture funded companies in fast growth industries.
Mr. Alperstein received his J.D. from the College of William and Mary's Marshall Wythe School of Law in 1994 and his B.A. from the University of Virginia, where he majored in Foreign Affairs. He is fluent in English and Spanish. He splits his time between Lima, Peru and Washington, D.C.
Sales and Distribution Officer
Mr. Duharte is a senior executive with many years of experience in marketing for large commercial operations. His past roles span a variety of areas including ocean fuel transport, general cargo, container brokerage, port agency relations, foreign and local customer relations, customs agency relations, stevedoring and bunkering operations at ports in South America and the Caribbean.
Mr. Duharte has extensive experience in planning, executing and managing complex supply chains. In addition he has experience dealing with complex contracts related to ocean transport for fuel, purchasing and storage of feedstock, and acquisition of raw materials and heavy equipment.
Plant and Operations Officer
Mr. Vila is a Mechanical Engineer with 17 years of experience in his field. He has been involved in a wide range of investment projects related to mining, metallurgy and fuel oil. Mr. Vila holds an MsC in Mechanical Engineering, a PMP and an MBA from the Pontifica Universidad Catolica of Peru. He is member of the Peruvian Engineer's professional association and holds membership with both ASME and PMI. Mr. Vila' background includes working as a Construction and Project Manager. He has worked for multiple mining, exploration and engineering companies including Centromin Peru, Doe Run, Fluor Daniel and FIMA. Mr. Vila has worked internationally and trained in the USA, Canada, France, the UK and South America.
Investors Relations
The Pure Biofuels web site displays its financial reports in PDF format. If you plan to read the documents off-line or print them for reference, it is advised that you download the PDF version of the document which can be read within Netscape and Internet Explorer using the Acrobat Reader or saved to your hard drive. PDF format documents print as they appear in the original document, and can be used on any computer platform or operating system.
http://www.purebiofuels.com/investors_relations.php
| | | | |
| --- | --- | --- | --- |
| • | 10Q 2009 | August 17, 2009 | |
| • | 10Q 2009 | May 15, 2009 | |
| • | 10k 2008 | March 31, 2009 | |
Pure Biofuels Corp (PBOF) Stock Message Board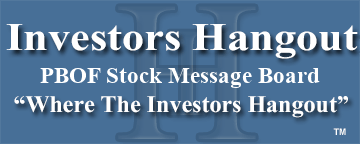 Be the first to post on Pure Biofuels Corp PBOF